Many in the industry fondly recall the retail buyer for his polite demeanor, not to mention his buying power
BLOUNTVILLE, Tenn. — Industry friends and associates described Samuel E. Webb as a legendary buyer in the industry who never let his clout with major retailers such as Heilig-Meyers or Aaron's get in the way of his polite and professional demeanor.
Webb died at his home here on Sunday Oct. 2 at age 80 surrounded by family. To read his obituary, click here.
Noting that Webb probably "wrote more purchase orders than anybody in the history of the business," long-time friend Bob O'Neill described him as a "Southern gentleman" in every aspect of how he dealt with people.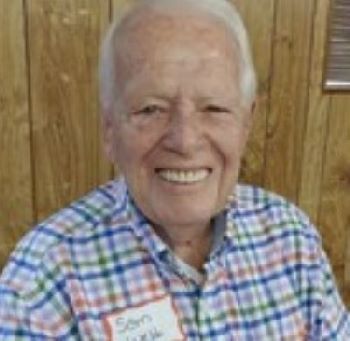 "Even when he didn't buy from you, you weren't mad at him because he made you feel good," said O'Neill, who first met Webb in the mid-1980s when he was working at Reliable Stores and O'Neill was working as a vice president of sales at Rosalco Furniture. "I mean he could actually say no to a salesman and they wouldn't be disappointed because he would give them encouragement that they would sell it on the next order."
"Or he would give them constructive criticism," he added. "He was just a great buyer. Everybody liked him and everybody got along with him."
O'Neill noted that he also traveled with Webb to China in the early 90s when he was still working for Rosalco and Webb was working for Heilig-Meyers as a bedding buyer. After Heilig-Meyers went bankrupt in August of 2000, Webb went to work for Aaron's.
O'Neill added that the size of the accounts he worked for made him a billion-dollar customer for over 30 years.
"He would actually physically write up the orders and would key them in, and at first I would think that it would be somebody from Sears or Levitz," O'Neill recalled. "No one has instituted more POs – it was unbelievable, it was like telephone numbers."
Tom Liddell, senior vice president at Planned Furniture Promotions, said he had known him since Webb was the assistant buyer at Ball Brothers in the early 80s.
"About 10 years ago, I made the point to him that he had probably purchased more furniture than any three buyers in the industry," Liddell said. "He did not disagree!"
He described his passing as "truly a sad day in the furniture industry."
"He always treated me with respect and he was very patient with me as a new rep traveling on the road," Liddell said. "For decades, when I saw him, he always took time to talk, regardless of who he was with or how busy he was."
John Sandberg, president of Martin Svensson Home — formerly Sandberg Furniture — also knew Webb for many years. He described him as a "Titan in the industry," adding, "But he was more than that. He was a true gentleman."
"He was admired by so many, and I think followed by so many in that everyone always wanted to know what Sam was looking at or buying," Sandberg told Home News Now. "If Sam bought it, others were sure to follow because they knew that Sam picked winners."
But he also said that Webb was always polite in how he dealt with people.
"Sam was more often than not a quiet man and didn't go much for chit chat, at least not when he was shopping furniture," Sandberg said. "He was all business and was always polite. If he didn't like something, he found a way to say so nicely. If he did, he'd find a way to make it work for everyone."
He also had a passion for the University of Tennessee football, a subject that would come up during football season at the fall High Point markets.
"The Big Orange never had a more loyal fan, through thick and thin," Liddell said.
"When he had time to talk Tennessee football, that was another story," Sandberg recalled of how he would light up about his Tennessee Volunteers.
"I will miss him a lot," Sandberg said. "The industry has lost someone special."
Others also recalled Webb fondly, agreeing the industry has lost another legend.
He was a one-of-a-kind great guy," said industry veteran and executive Larry Crink, who first met Webb 25 years ago. "He was a professional through and through."
"Sam Webb was without a doubt, one of a kind…his keen eye for the right item made him unique," said Dan Angus, a former sales and merchandising executive with Ligo Products and Progressive Furniture who knew Webb for more than 20 years. "He treated everyone with respect, and I for one, will always fondly remember our times together and cherish his memory."