LAVONIA, Ga. – Latexco US has received GOLS certification for its NaturalFoam™ line of natural latex mattress cores, toppers and pillows.
NaturalFoam™ GOLS certified products are made from 100% natural latex that has been harvested from plantations free from chemical herbicides, pesticides and fertilizers. Extracted from the Hevea Brasiliensis tree, NaturalFoam™ has excellent ventilation and maintains the healthiest microclimate.
GOLS is the Global Organic Latex Standard recognized and supported around the world by manufacturers and stakeholders in the latex industry to certify that the products are made from natural latex organically grown progressively over time. It provides assurance of a traceable path and procedure from the farm source to the certified organic latex product manufacturer. Among other factors, manufacturers approved under the GOLS logo must follow mandatory social and environmental regulations monitored and certified by the Control Union.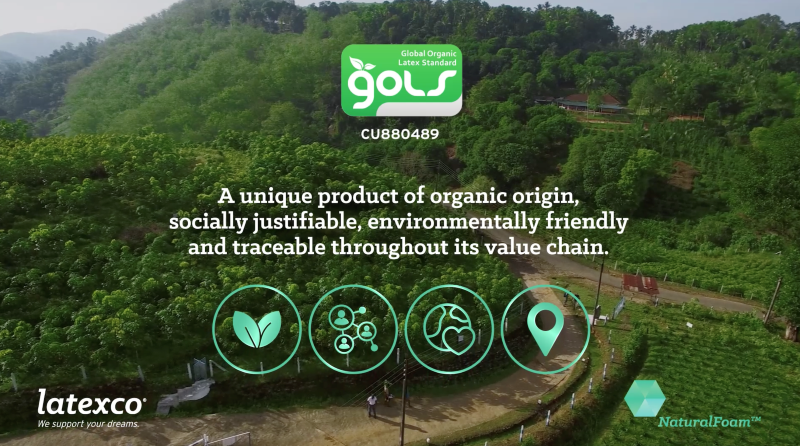 "We are the only latex foam manufacturer in the U.S. that offers an entire assortment of latex, and now it includes GOLS certified latex. Research shows strong trends that more consumers are seeking organic products because they are concerned about the wellness of their family and want their home free of harmful chemicals," said Jim Gutierrez, general manager of Latexco US West.
Latexco works closely with customers on innovation projects and marketing of latex products to meet the growing consumer demand. The company recently collaborated with an independent firm to research the most popular online search terms consumers use for bedding products and found that organic mattresses and toppers were highly ranked.
More information on NaturalFoam and its benefits to humans and the planet is available in this video. The GOLS certificate is available here.