Sept. 13-14 event draws fewer buyers than April, but many are still here to learn about new product and the flow of goods
HIGH POINT – Exhibitors at this week's Premarket here almost unanimously described it as feeling more like a pre-pandemic event in terms of attendance.
That's because there have been fewer dealers in town, estimated around 100 accounts, compared to as many as 350 at the April event.
Exhibitors hope that they and other dealers not here this week come back next month, particularly as there will be more product to see at the Oct. 16-20 market.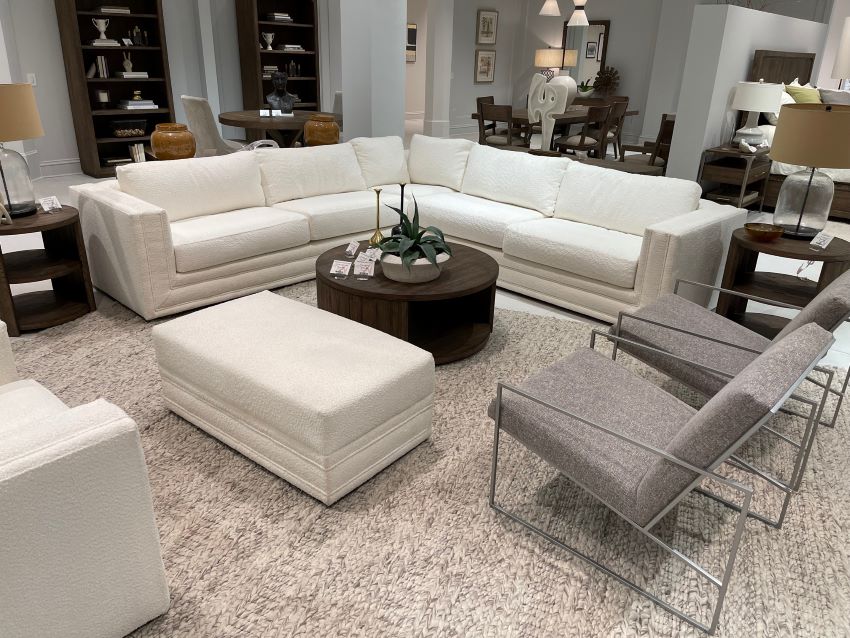 Due to supply chain disruptions in Asia, combined with product being tied up at various ports, many showing here this week had much less product to show than normal, particularly in case goods.
While A.R.T. Furniture showcased a new stationary upholstery collection from Mexico featuring six new styles, the company only had sketches and photos of from three new case goods collections.
While the products left Asia on time to be here by Premarket, they got delayed getting to High Point due to port congestion, said Doug Rozenboom, president. They are expected to arrive soon and be here in time for the October market.
"As a product development company," we have not slowed down," Rozenboom said, noting that these collections have followed four others the company launched in June.
Jeff Wallner, president at case goods and upholstery importer Global Furniture USA, said while the company had new product, including some new upholstery sourced in China, most dealers in town this week have been asking about when they can get now – not later.
"Honestly, it's all about logistics rather than me telling them what we have new," he said. "We have new product, but there is no interest. Everyone is more interested in freight rates and freight availability…The first questions are "what is on the water and what is in the warehouse." One hundred percent – that is what they have talked about."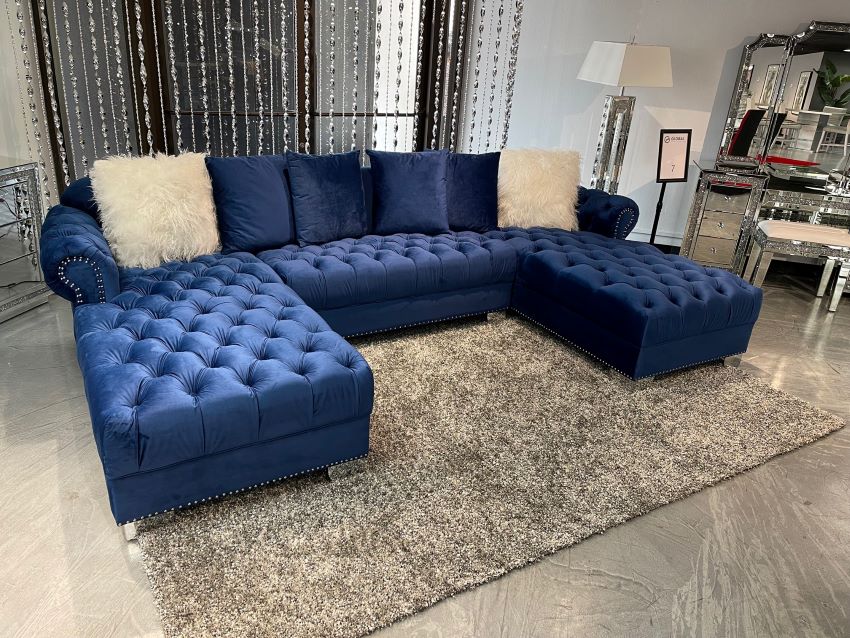 Kincaid Furniture, a case goods division of La-Z-Boy, showed one new 26-piece casual traditional collection called Ansley made with solid alder in a mid-tone brown finish. It also showed several new pieces of domestically produced upholstery ranging from sofas and loveseats and sectionals to accent chairs.
While there was some interest in the new product, dealers also want what is available now, which according to Max Dyer, La-Z-Boy vice president, marketing, "is part of every discussion."
Hooker Furniture showcased two new imported wood collections as well as some new home office, a still-popular category given the number of people working from home. The collections included the 56-piece casual coastal Serenity and the 43-piece soft contemporary Linville Falls, which offers 10 home office SKUs that can be arranged in many different configurations.
Mike Harris, president of Hooker Furniture Case Goods and Upholstery, said that this felt like a more normal Premarket compared to others held during the height of the pandemic.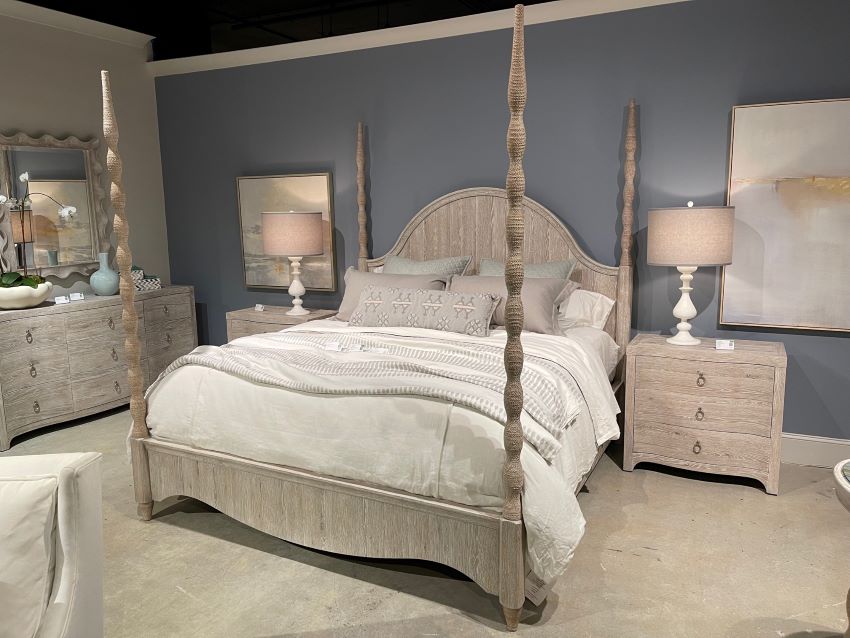 "Clearly there are not as many people, but we expected less people," he said, noting that while there has been interest in inline goods available to ship sooner versus later, dealers also were interested in new product.
"We have invested a lot in inventory and planning," he said, adding, "We pay close attention to how SKUs perform and what our inventory should be…We would like to be better than where we are now, but given what we have been dealing with, we feel good about how we have been performing."
Sister domestic upholstery resources Bradington-Young and Sam Moore also showed new upholstery pieces. These ranged from new office chairs, sofas and swivel recliners and gliders to new sectionals and conversation sofas with deeper seating.
Domestic bedroom resource Vaughan-Bassett Furniture Company showed Carlisle, a new solid wood bedroom from its Artisan & Post line. Made with solid maple, it comes in three finishes, Warm Natural, Dark Sable and True Gray. The signature bed in the casual traditional collection is a mantle panel bed that retails at $1,599 in queen. A starting priced panel bed featuring a window pane-inspired design, retails at $1,399 in queen.
Due to higher than normal backlogs, the company scaled back its introductions to just one bedroom for the entire fall market cycle, said Doug Bassett, president.
"We normally introduce three in a cycle and we had one in the spring and one this time," Bassett said, noting that the company is doing everything it can to service its existing dealer base, not only limiting introductions but delaying taking on new accounts at least until after market.
"We are just doing everything we can to streamline our production process so we can serve our customers," Bassett told Home News Now.
He added that the company is cutting one bedroom group per quarter on average, aiming to better manage its current backlog estimated at $10 million, or five and a half week's worth of production.
"Frankly, we are not trying to grow our backlog," Bassett said. "We want to service the line as best as we can."
Bassett added that he was pleased to see Premarket return closer to normal attendance. He said that the company expects to see around 40 dealers, compared to the nearly 100 it saw in April.
"I am really pleased with what Premarket is looking like," Bassett said, in reference to its attendance this time. "That is exactly what we got two years ago."
The lower attendance, he said, is a good indicator that dealers will come back in October, not only to visit showrooms that they didn't see during Premarket, but also to see product that didn't get here in time.
Bassett said he also expects dealers to get better information in October about the status or aftermath of shutdowns in Vietnam and Malaysia, which are estimated to produce two-thirds of bedroom imported to the U.S.