Remembering a few 'brushes with the stars'
If you're familiar with "Six Degrees of Kevin Bacon," the parlor game in which any actor can be connected to Bacon in six references or fewer, then you can appreciate just how much of the celebrity world to which long-time High Point marketgoers can connect in a similar fashion. With or without Mr. Bacon.
In other words, take any big-time celebrity and connect him or her to the High Point market in no more than six connections. It's not a bad pastime for anyone stuck in an empty showroom for some long days at market.
As the saying goes, go big or go home, so let's start with Tom Hanks. Everyone's favorite everyman starred in the Toy Story film series, or at least his voice did. His voice actor co-star, Tim Allen, portrayed Buzz Lightyear. That's one. Thomas Kinkade was the painter of light, and for more than a few lightyears. That's two. Kinkade highlighted several markets with Kincaid Furniture for their licensed collection, a public role on which the painter wasn't all that keen, if body language is any cue. What a thrill, though, to speak with him about his oeuvre while a harpist daintily thrummed in the background and white wine poured all around.
Oh, but we can go even bigger: Ernest "Papa" Hemingway. I've read everything he published, and he's one of the very few authors whose work I re-read. We need only one degree: Jack Hemingway, Papa's son, who fronted the Hemingway lifestyle collection at Thomasville Furniture. The famous son (and father! Of actresses Margeaux and Mariel Hemingway!) effortlessly regaled marketgoers with tales of his fly fishing adventures all over the world, but especially in the appropriately named Ketchum, Idaho, because, oh, did he catch 'em. With rosy red cheeks, an impish smile, and a ubiquitous cocktail, Jack could command a crowd, at least until about 3 p.m., when it was time for more cocktails back at the hotel. (And the furniture? One of my favorite collections of all time, a bestseller designed by Dan Wistehuff.)
Argyles and all-stars
How about Michael Jordan? Easier than a free throw! A UNC alum myself, and something of an Air Jordan collector, it was such a thrill to see the 1995 Air Jordans in 1994 before they hit the market, courtesy of the boot of Alexander Julian's car. After interviewing Julian in conjunction with his hugely successful Colours collection with Universal, he led me to his BMW, from which he extracted the new kicks and the spanking fresh new UNC basketball uniforms he had just designed for that hallowed program, an argyle-themed uni the Tar Heels still sport. Cooler than the other side of the pillow!
But we can do His Airness another way: One of the best Tar Heels that never was wound up signing on with Ladd to license youth furniture for Lea Inds. Grant Hill's Dad wanted him to play in Chapel Hill, but NBA great Hill decided instead to play for Durham Academy just up Tobacco Road, leading that program to a pair of national championships. Upon meeting him at the High Point market, I said, tongue in cheek, "It is such a pleasure to meet the great Jerry Stackhouse." Hill's mother was not amused, but to his credit, Hill immediately belly laughed and welcomed the photographer and me into the Lea lair.
Taking this exercise to another level, how about the King, Elvis Presley. We can do this even without Tupelo, because among Priscilla Presley's many co-stars in Naked Gun 33 1/3 were Leslie Nielsen, Anna Nicole Smith and Vanna White. Long-time letter-turner for the game show, Wheel of Fortune, White annually visited High Point to fill up the Spring Air showroom. Delightful, gracious and charming, she left everyone feeling a bit happier for having met her and for getting their photo taken with her – in bed! Or at least on a bed.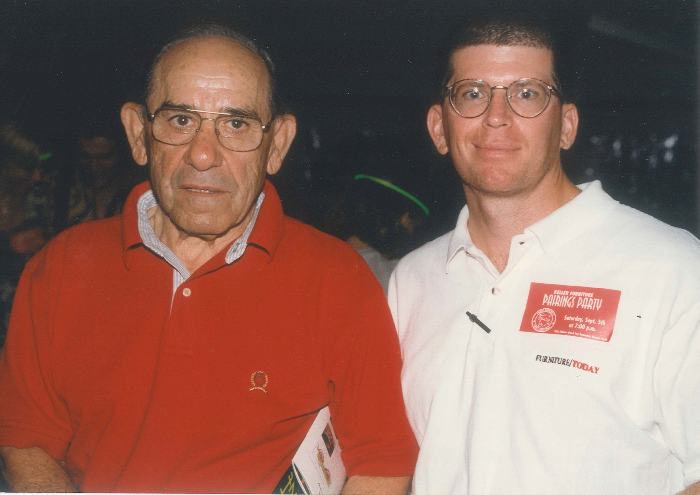 Speaking of Nielsen, he headlined a Jasper Furniture-sponsored pro-am golf tournament that also featured Bobby Knight and Yogi Berra. Just ahead of the famous Yankee catcher in the buffet line, I turned to him after gathering my cutlery, asking the renowned quipster, "Hey, Yogi. What would you do if you saw a spoon in the road?" (You might remember among his many memorable boners, "If you see a fork in the road, take it.") Without hesitation, with that sad sack face, Yogi replied, "I never said that." Needless to say, Nielsen proved to be the life of that pre-golfing party. Surprisingly short, Nielsen proved every bit as funny as his screwball comedies.
Casting call
Other celebrities with whom we could score some more points: Jessica McClintock, Mike Ditka, Walter Payton, George Foreman, Dennis Conner, Kathy Ireland, Conrad Bain, Roger Staubach, Bill Blass, Isaac Mizrahi, the Rolling Stones, Arnold Palmer, Steve Tyrell, Frank Sinatra and Mel Brooks, among so many others.
Saving the best for last, at least for me, how about a challenge centered on momentous transportation events of the early 20th century. After all, delays in getting shipping containers to U.S. ports is dominating the news, right? Thrown in as freebies on this one are Leonardo DiCaprio, Kate Winslet and the Phantom, not to mention Kathy Bates and Bill Paxton.
In one of my all-time market highlights, in 1998, Ron Freeman of Classic Leather invited me to a joint premier of his company's Titanic-licensed furniture collection and the traveling Titanic exhibition, an event that featured a costume party and the use of Titanic's boat whistle for the first time since the vessel slipped below the North Atlantic sea on April 15, 1912. Attending the gala outfitted as Titanic's First Officer Murdoch, I savored every minute. And Dave Perry even approved the reimbursement for the costume rental!
What about Kevin Bacon? It wouldn't be fair to play the game without linking back to the game's namesake. And bacon makes everything better. This one might be the easiest of all.
Both Kevin Bacon and, wait for it, Mariel Hemingway were denied starring roles in About Last Night . . . , roles that went to, respectively, Rob Lowe and Demi Moore. Boom! Two degrees – Jack to Mariel to Bacon, and . . . mic drop.
High Point's red carpet has stretched far and wide long, and it did so before Las Vegas got in on the furniture exhibition act.
So, that's how you play "Six Degrees of Kevin Bacon," High Point market-style. If these reminiscences triggered similar ones for you, it's a score! Here's looking at you, kid.