Enables customers to customize furniture online, submit for quote
ARCOLA, IL, June 23, 2021—While Simply Amish unveiled a number of new looks at the late Spring Market in High Point, NC, one of the company's best received intros was actually not a new design, but rather the redesign of its existing website: www.SimplyAmish.com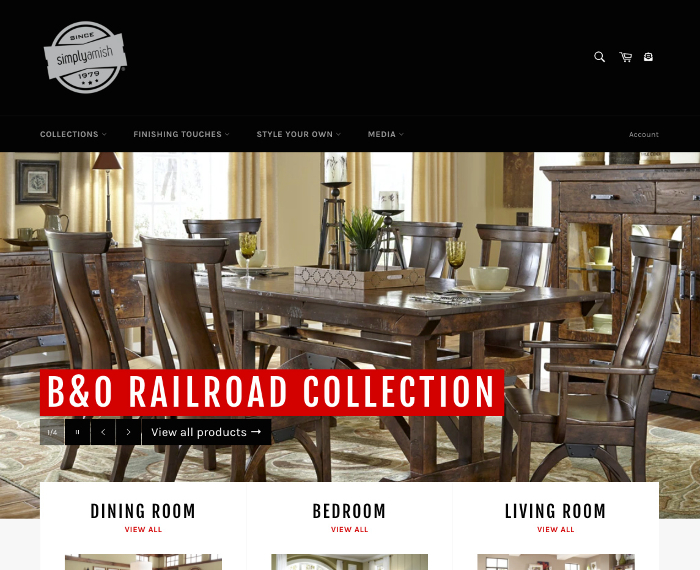 "Now more than ever, everybody is online and shopping from home," relates Kevin Kauffman, co-founder and owner of the company known more for its solid wood, heirloom quality furniture than technological prowess. Indeed, everything Simply Amish creates is meticulously crafted by hand in workshops across the Central Illinois region, as well as its own in-house shop, using only North American hardwood species harvested within 500 miles of the area, custom made hardware, superior finishes, and dowel-and-glued joinery techniques.
Almost all of the furniture the company produces is built to order, with more than 170 wood/stain combinations to select from, and even sizes, dimensions, and glass options can be changed to customer specification. "The ability to customize furniture to give people exactly what they want has long been our signature at Simply Amish, but it's not easy to convey all the options we offer to people pre-shopping online," Kauffman notes.
For that reason, the company has made significant investments in revamping SimplyAmish.com, which went live just in time for the High Point Market and was unveiled to dealers and designers inside the company's newly relocated showroom in the Design District at 200 North Hamilton (Suite 103). Set apart with clean, modern design, the redesigned site now displays all of Simply Amish's heirloom quality products in addition to its more affordably priced Okaw Amish line which includes both indoor and outdoor furnishings.
Browsing the company's expansive 480-page digital catalog, 32 informational and engaging videos, along with dozens of high-quality photographs offers shoppers plenty of inspiration. And for the first time, customers can choose the size, wood, stain, nail heads, glass, and other applicable options they desire, or even easier, shop via the Style Your Own web app, which allows them to build tables, dining cabinets, beds, bedroom storage, writing desks, and media units using a series of standardized options.
After they have decided what they want, the site enables consumers to add items to a cart and submit their choices for a quote, which will be supplied to them by the dealer nearest to their location. "We have done everything possible to make it easy for shoppers to choose the look they want online, with the exception of allowing them to purchase via the cart on the site," explains John Woolley, marketing manager. "Although a few items, such as wood and stain samples, product catalogs, Aristo Shield polish, live edge cutting boards. and touchup kits are available for purchase directly from the website, our goal is to support our dealers. We believe it is vital for the relationship between our brand and the consumer to remain in our dealers' very capable hands. As such, we also include a password protected Dealer Resources area on the site that provides reports and information just for our dealers."