Furniture brands find new value in an old medium
By Kimberley Wray
Walking the June Market in High Point, it was clear an old marketing idea—branded, custom-published magazines—was gaining new traction among better-end furniture manufacturers.
At the luxury end, Hickory Chair offered showroom visitors copies of Made For You, the second issue of its publication "for those who take furniture personally." (The first issue was launched just prior to Labor Day). Laura Holland, vice president of marketing, says the concept of creating its own branded magazine was not new to Hickory Chair. "We have always believed that controlling our messaging to communicate what makes Hickory Chair unique and special is our responsibility. In the past we created issues of our Timeless magazine and the MADE brochure. Both served their unique purpose, as Made for You does today.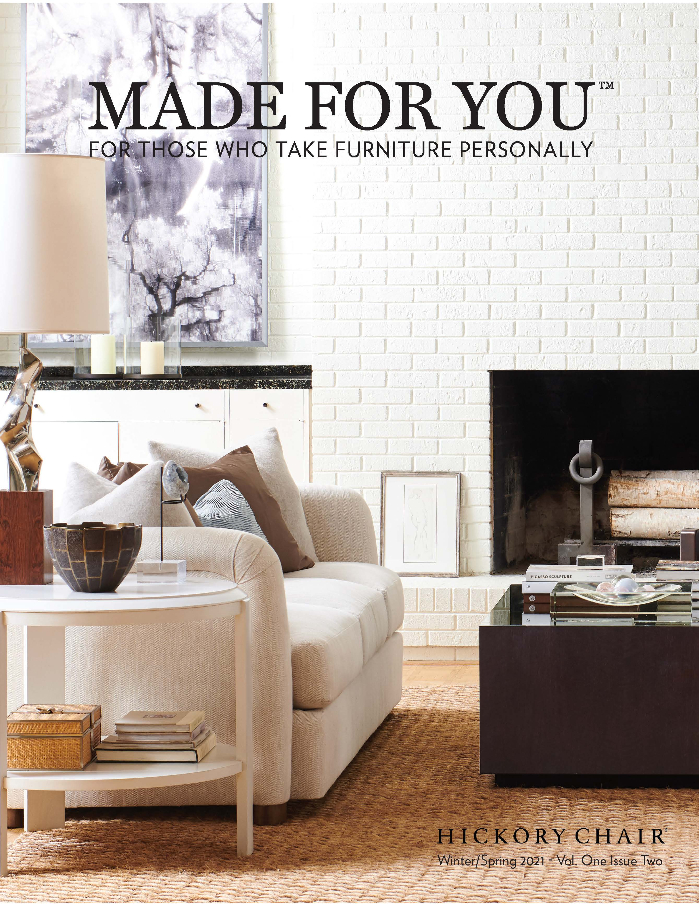 Times have changed and the Hickory Chair audience has evolved. Our "Timeless magazine was created to serve an audience of consumers that purchased through mid to high end furniture stores. The MADE brochure was created to showcase our new ability to make personalized furniture as we were evolving as a great resource for the design industry. Made For You magazine was created specifically for those who love interior design content, and not necessarily "Hickory Chair" specific content; rather relevant content that is meaningful to those in the trade, including personal interest stories about our celebrity designers or industry contemporaries.
Reaching Designers
"A magazine that highlights the work of designers makes designers feel valued by a brand," says Kristen Alber, owner of RestyleSource.com, the agency that produced the 72-page House of Markor Magazine, distributed this Market at Markor, and set to be offered—digitally via ISSUU.com and in limited print editions at Market—twice a year moving forward.
"Celebrating great design, trends and new and existing Markor products in a really beautiful, editorial way, as well as the work of numerous interior designers," House of Markor is designed to "help engender brand loyalty across all of the company's brands, including Rowe, Caracole, ART Furniture and Jonathan Charles," says Kacie North, director of branding and digital strategy at RestyleSource. "We had a little launch party on the roof of the Markor showroom building, and the designers that were featured, and those that came to celebrate with us, were all really excited about it. Everyone wants to feel supported, and they all love exposure, and it's like the brands are saying, 'We think you are a worthwhile investment.' "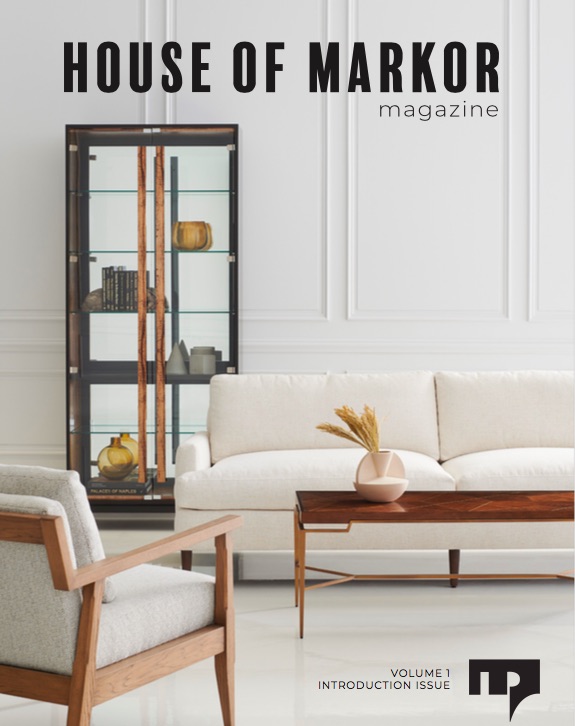 At the same time, notes Alber, the publishing landscape has been radically altered in recent years, with many beloved shelter magazine titles no longer in existence. "It's really sad," she says, "and I think we all miss them. There's something really special about magazines and designers in particular appreciate having something real and beautiful."
Kathy Wall, president/owner of Lexington, NC-based agency The Media Matters, says that one of the masters of the medium is Schumacher Fabrics, which while not a pioneer of the idea of a branded print magazine, arguably perfected it. "The large format magazine covers everything you'd expect to find in a traditional shelter magazine, is beautiful and exactly what designers want. The design community has become incredibly important to many manufacturers, but few really understand what it is they want. They presume they know; they assume they know, but very few actually ask. While the magazine features beautiful images with Schumacher fabrics in them, it is a not a commercial for Schumacher; it is not a sales tool that will engage designers to write an order. That's not the point."
Hickory Chair's Holland was clear about her magazine's purpose, which is to support Hickory Chair's network of licensed and corporate to-the-trade showrooms along with agent trade showrooms and some boutique retailers around the country. "At the end of the day, our network of licensed and corporately owned trade showrooms has loyal clientele. Our goal at Hickory Chair, through each of our marketing efforts, from this magazine to our micro-sites and push eblasts, is to engage local interior designers they do not know and drive them to their showroom."
The concept has been so well received she is currently at work on content for the Fall 2021 issue set to distribute around Labor Day. Incidentally, part of the magazine's appeal to Hickory Chair's showrooms is that the cover and ads can be customized to suit the particular needs of each showroom and region, ie, Hickory Chair Chicago, Hickory Chair Houston and so on.
Holland states, she conceived of the concept of the magazine during the early days of the pandemic. "I think every designer has a dream of being published in a national magazine, and at the same time, I had been thinking about how Hickory Chair could help each of the showrooms in our network to not only strengthen existing relationships, but also assist them in building new relationships with interior designers in their area. The original thought was a digital magazine with page-turning software that we could use to support each showroom through our push-email campaign. As we engaged with our showrooms, we quickly realized the need for a beautifully printed magazine that could be customized and mailed directly to interior designers. We launched the magazine with both print and digital editions."
No doubt Hickory Chair president Kevin Bowman was moved by the Made in America feature, the story about the science and magic behind forecasting color, and David Phoenix' take on why Kips Bay showhouses matter among the stories inside. "For decades, manufacturers have trusted that investing in national magazines was the best way to communicate their brand to the readership loyal to those magazines," Holland says. "While there have been many changes in the magazine industry, we continue to support those that we feel are aligned with our brand and audience. We believe it is our responsibility to know our audience and what resonates – with them. Importantly, we must be able to communicate to this audience through various media channels as to what makes our company unique and relevant. We believe that Made for You™ allows us to support each individual showroom with their customized edition. Our goal is for the reader to realize that it was written with love and appreciation not only for our artisans and craftsman that make each piece but also the designer whose vision created the beautiful imagery that illustrates each story."
Getting the Message
Universal Furniture is heading toward its fourth year of publishing its quarterly Explore Home magazine, an initiative which was launched, again, to support its designers, according to Neil MacKenzie, vice president of marketing. "Frankly, it's simply another spoke in the wheel as it relates to our communication mix. We send out a lot of emails to our design and retail community, and we have a podcast that we launched a year-and-a-half ago, all to get in front of both active accounts and prospects.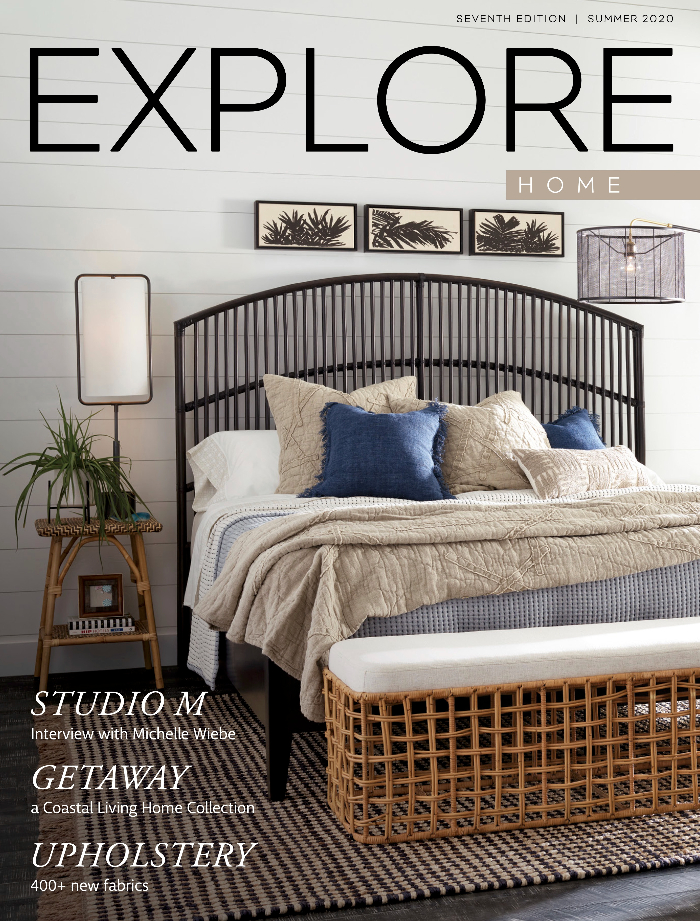 "Emails are great, and our open rates are particularly good, much higher than industry averages, but they are still not 100 percent. The magazine is away of supporting our email and advertising efforts with something that shows up in their mailbox that really connects and better informs about our product offering, how we work with customers and things that we have coming up or going on, with feature-rich content.
"While we obviously showcase some new product or remind people of things that are back in stock (very important right now), we profile designers across the country and things they are doing within the community of design," MacKenzie describes. "I think as consumers we all engage differently with certain kinds of content that comes to us in the home, and there are certain things that you spend a little more time with than others, because they are from brands you really like, or you like looking at the imagery or understanding their story. At Universal, we were doing a lot of that already, it was really just a matter of packaging it. So, we dropship and mail the magazine out to prospects and accounts, and about a year ago, we also decided to do a High Point issue as well to showcase all the happenings taking place here during Market."
Remarks Brad Cates, president and chief executive of Sarreid, "We can digitize; we can print, but either way, we know producing a branded publication is a highly effective marketing move. Coming from publishing, I know a custom magazine is a way for us to have a consolidated, focused brand message, and I have been an early adopter of the concept with other companies I have led. As part of our strategy to build unbreakable relationships with designers and dealers at Sarreid, we are actually currently working on our first magazine issue which will be introduced just prior to Fall Market. As a population, we are bombarded with messaging, and a branded magazine allows us to have a deeper, more complete conversation with our target audience."
Still, Universal's Mackenize says, "We send out a ton of communications to dealers, including a monthly marketing fulfilment email that highlights all the different components of what we have available to support them in an ongoing way. It includes updates in imagery, video, and social media, and we have partnered with a company called Promoboxx to enable dealers to leverage what we're doing in social media at a local level at no cost to the dealer. Certainly, the first place a consumer is likely to engage with our brand is through a social media channel, and then our website, where there is no pricing and no product availability noted, because we are trying to lead them to the dealer, which is really the best place to experience the product in person, and who will be able to provide the best service at the local level. In everything we do we want to give them the tools to succeed, because they are ultimately the ones developing the relationships with the customer."