FRESNO, Calif. – As part of its long-standing commitment to its team, customers and the community, Pleasant Mattress, a leading independent mattress manufacturer, is offering a $50 bonus to all of its employees as an incentive to get vaccinated for the coronavirus as part of its, "We Got Stuck So You Can Sleep Better" campaign. Since this effort was launched earlier this year, more than half of the company's employees have been vaccinated, and its goal is to reach 100 percent by the end of the summer.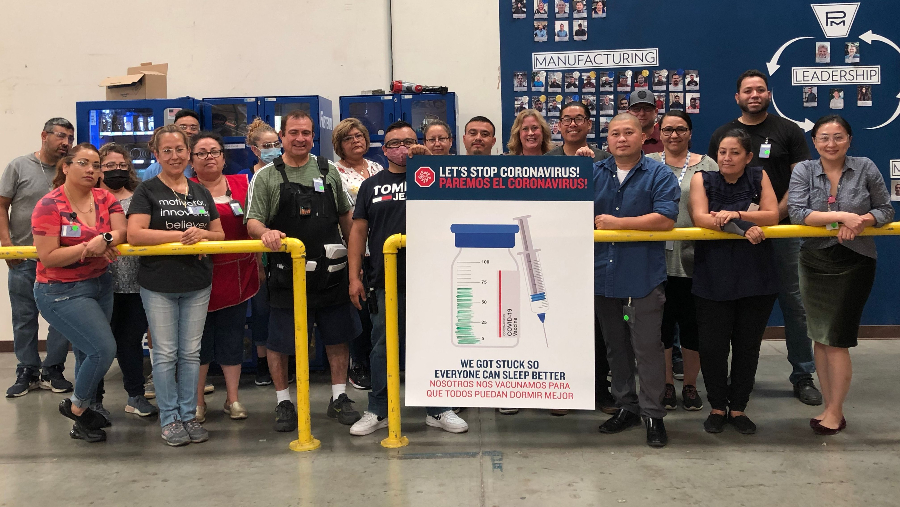 "The last year has been difficult for so many all over the world, and now that vaccine availability is more widespread, we want to encourage our employees to do their part to help with the fight against COVID-19, right here in our community," said Rion Morgenstern, chief executive officer of Pleasant Mattress. "As our retail partners continue to see a rise in demand for home furnishings as consumers look to upgrade their homes, keeping our employees as healthy as possible for themselves and their families first, but also to help our retailers as part of the broader Pleasant family is critical."
The company's entire executive staff are among those who have already been vaccinated. Pleasant is now part of a growing number of businesses that are offering incentives to employees to get vaccinated. Along with offering bonuses and paid time off for their appointments, the company is also providing employees with information about the vaccinations and guidance on locations in the community where employees can schedule and receive them.
Pleasant Mattress is an independent, family-owned and operated mattress manufacturer serving the Western United States. The company employs 160 people and has been making mattresses since in 1959. The company is a licensee and manufacturer of the Spring Air brands and manufactures the McRoskey brand. The company produces traditional mattresses and specialty sleep products in its 150,000-square-foot campus in Fresno, California. For additional information visit www.pleasantmattress.com.