WOBURN, Mass. – Spring Air International's Northeast licensee, U.S. Bedding, has launched production at its new 146,000-square-foot manufacturing facility in Fall River, Massachusetts. Featuring state-of-the-art machinery and an improved layout that is designed to increase the company's capacity and enhance the efficiency of its manufacturing processes, the facility positions the company to meet rising demand from customers in the Northeast region.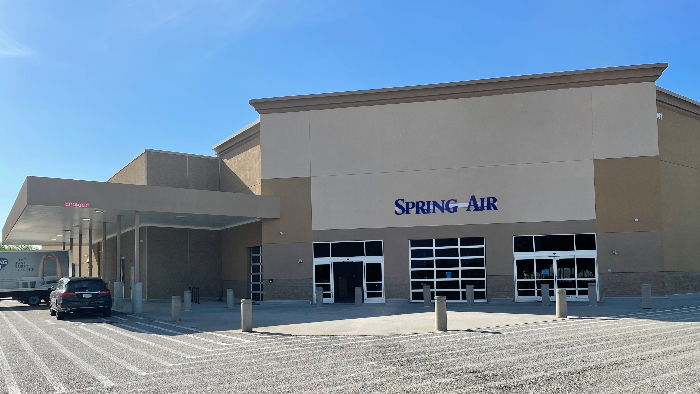 "U.S. Bedding joined the Spring Air International licensing network in 2019 and in just two short years, we have dramatically expanded our customer base in the Northeast," said Nick Bates, president of Spring Air International. "This facility will play a major role in our ability to support our retail partners in the region as well as capitalize on new opportunities as we continue to expand our retail footprint through the second half of this year."
Located on a 13-acre site, less than a mile from its previous facility in the area, the new one-story location allows the company to consolidate its production onto one floor for improved workflow and a more efficient operation. The move has also enhanced the company's shipping capabilities. With quick access to Interstate 195, the site includes 10 loading docks, as opposed to the single dock at its previous location, providing additional logistic advantages.
"Retrofitted with new machinery including state-of-the-art roll-pack equipment, the enhancements in efficiency, additional production capabilities and logistic advantages of our new factory provides us with a strong foundation for continued growth," said David Nguyen, president and owner of U.S. Bedding. "With more new equipment on the horizon that will further enhance our capabilities, we'll eventually be able to triple our capacity. This is certainly an exciting period of growth for Spring Air in the Northeast."
U.S. Bedding has been Spring Air's licensee in the Northeast since 2019. The company has been manufacturing in the multi-story building since its founding by Nguyen in 2002. U.S. Bedding sells Spring Air products to furniture stores, boutique hotels, design companies and e-commerce retailers throughout Massachusetts, Connecticut, Rhode Island, Vermont, New Hampshire and Maine.
Founded in 1926, Woburn, Massachusetts-based Spring Air International is a Top 20 U.S. bedding manufacturer and widely recognized consumer brand. The company boasts of its ability to service retail customers from north to south and coast to coast in the U.S. and is produced in more than 40 countries through its international network. The company is committed to helping retailers drive business while leveraging its reputation for trust and integrity inspired by its name.