New styles add to expansive customization options
BEDFORD, Va. — With an emphasis on transitional styles that appeal to a younger audience as well as multi-functional seating solutions that have become more popular as consumers entertain family at home, custom upholstery specialist Sam Moore is expanding its Simply Me Loft Living upholstery program. Making its debut at the upcoming High Point Market, the new pieces add to the company's customization offering, providing consumers with the opportunity to select from an even broader assortment of upholstery configurations and design styles.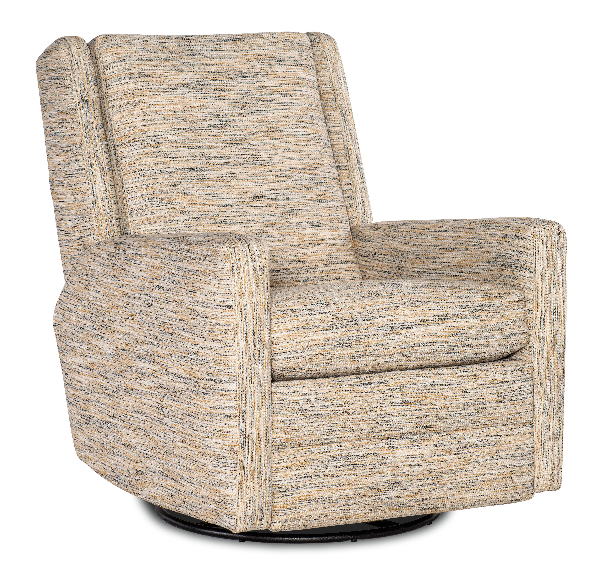 "Customizable and multi-functional furniture has been at the forefront of design for some time," said Sandi Teague, vice president of sales and merchandising for Sam Moore. "As we continue to navigate the pandemic and families spend more time at home — like movie nights in the family room instead of going to the movie theater — expanded sectional, sofa and accent chairs have become even more important to consumers."
Originally launched in April 2019, the Simply Me Loft Living collection has become one of the company's top-selling programs. The upcoming debuts mark the third major expansion of the program, each time adding new pieces that particularly resonate with a younger demographic.
New customization options include Dekker, a transitional arm style that will be available across all items in the program. In addition, the company is adding a conversation sofa, a swivel-glider recliner and a bumper ottoman, which further expands the program's sectional configurations, allowing more flexibility for open floor plans and family rooms.
The conversation sofa is a hybrid sofa and sectional, two product categories that have recently performed well for Sam Moore. The new swivel-glider recliner in the lineup takes its place alongside a high-leg version, further expanding the program's ability to provide a variety of functionality and motion upholstery options that coordinate with stationary sofas and sectionals.
"Both the conversation sofa and the swivel-glider recliner work well in open spaces," Teague said. "They can actually 'float' in a room because they don't have to be up against a wall, and their curved shape helps to create a more intimate room setting for conversations. Both categories have been selling well for us and resonate with the way consumers are living today, so these are a natural extension of our program."
The Dekker arm style brings the total number of arms in the collection to five. The bumper ottoman, a more contemporary styled piece, adds to the consumer's ability to create more upholstery configurations that align with a variety of room sizes and layouts.
All items in Sam Moore's product line are available in a choice of more than 500 leather and fabric options. Some pieces allow consumers to pick the upholstery stitching pattern and/or the nail head trim. Sam Moore's High Point showroom is in the International Home Furnishings Center's Commerce section on floor 10, suite C1058. The Spring High Point Market is scheduled for June 5-9.
Sam Moore Furniture is a leader in crafting quality, custom upholstery. In 1940, a young Sam Moore and four of his friends bought the Delaware Chair Co. in Delaware, Ohio. A tough economy and a looming war forced Sam to relocate. The company moved south to Christiansburg, Virginia, in 1943 and to its current home in Bedford, Virginia in 1960. Through the years, the company expanded to a 300,000-square-foot facility that is a balanced blend of state-of-the-art technology and hand craftsmanship. In 2007, Sam Moore was acquired by Martinsville, Virginia-based Hooker Furniture, one of the world's largest and most respected furniture companies, founded more than 90 years ago in 1924. Like Sam Moore, Hooker is known for quality furnishings of exceptional value. For more information, please visit sammoore.com.
Based in Martinsville, Va., Hooker Furnishings Corporation is ranked among the nation's largest publicly traded furniture sources and encompasses twelve discrete operating businesses. These brands include: Hooker Furniture, Hooker Upholstery, Bradington-Young, Sam Moore Furniture, Shenandoah Furniture, H Contract, Accentrics Home, Pulaski Furniture, Samuel Lawrence Furniture, Prime Resource International, Samuel Lawrence Hospitality and HMIdea. Hooker Furnishings Corporation's corporate offices and upholstery manufacturing facilities located in Virginia and North Carolina, with showrooms in High Point, N.C. and Ho Chi Minh City, Vietnam. Hooker Furnishings operates distribution centers in the United States, China, and Vietnam. The company's stock is listed on the Nasdaq Global Select Market under the symbol HOFT.