"Deluxe Standard Soft" Superiore Pillow Has Plush Feel
PRATO, Italy – Capitalizing on its best-selling pillow line, leading mattress manufacturer Magniflex USA will add a new model to its Superiore collection. The new pillow, called the Deluxe Standard Soft, has a plush feel, compared to the other three pillows in the line, which provide medium-firm and medium-soft feels. The new pillow is targeted at consumers who want a softer option as well as at stomach sleepers.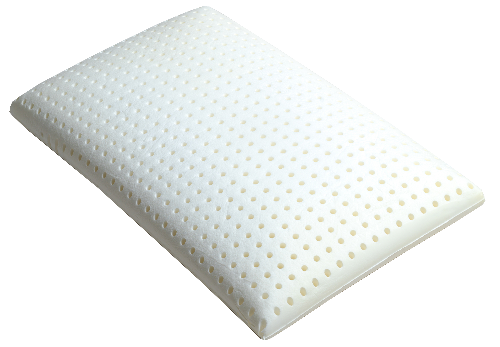 "We believe we need a pillow that has a softer, plusher feel to fully round out the Superiore lineup," said Billy Curtright, national sales manager for Magniflex USA. "With the Deluxe Standard Soft, consumers will now have an additional comfort option in pillows. For our retail partners, we are providing an additional multiple-sale opportunity for consumers who are shopping for a mattress and a pillow to go with it, and a means to reinforce their standing as a resource for sleep products that improve the night's sleep and the health of their customers."
The components of the Deluxe Standard Soft provide a feel that is cool to the touch. Like the other pillows in the line, its cover is made with Outlast, a fabric which uses phase-change technology to respond to increases and decreases in body temperature. Outlast consists of millions of spheres covered with a special wax that enable the fabric to absorb excessive heat when the body temperature rises and release accumulated heat when body temperature cools.
The Outlast fabric was originally used as a temperature-regulating fabric in astronauts' space suits. Also part of the Deluxe Standard Soft's design is a 3D band, which enhances both coolness and breathability. Its interior consists of Memoform foam, which reacts to the weight of the head, neck and shoulders, thus providing a feeling of lightness during sleep.
The Deluxe Standard Soft is also designed with Airyform technology, which ensures perfect breathability and optimal dispersion of moisture and heat through air holes in the middle of the foam core. The pillow is produced using eco-friendly and sustainable materials, which are certified as such under the OEKO-TEX Class 1 standard, thus bolstering Magniflex's commitment to sustainable manufacturing practices. It is priced to retail for $209 and carries a three-year warranty. The other pillows in the Superiore collection are the Deluxe Maxi, the Deluxe Wave and the Deluxe Standard.
Magniflex was founded nearly 60 years ago in a suburb of Florence, Italy, and today more than 35 million people in 99 countries sleep on Magniflex mattresses. Known as a world leader in quality, comfort and innovation, Magniflex was the first mattress company in the world to gain certifications from OEKO-TEX. The company's central manufacturing facility produces up to 10,000 mattresses a day, many of which are exported to countries such as Japan, Spain, Germany, Russia, the United States and Canada. For more information, visit www.magniflex.com