And more takeaways from the Q4 call
COLUMBUS, Ohio — Back in August, Big Lots CEO Bruce Thorn said its Broyhill brand would do $250 million in its first year on the retailer's floor and eventually it could grow into a $1 billion business.
Six months later, one thing has changed. While the value-oriented retailer still sees Broyhill as a $1 billion brand, it appears getting to that number will happen sooner than anticipated.
Last week, the Columbus, Ohio-based retailer reported fiscal fourth-quarter net income of $98.0 million, or $2.59 per share, up from $93.8 million, or $2.39 per share for the same period a year ago. Sales for the period ended Jan. 30, were up 8.1% to $1.61 billion and comparable-store sales increased 7.9%.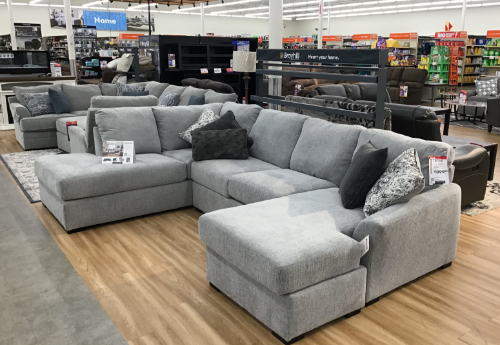 Despite the pandemic, or, perhaps, because of it, Big Lots posted its best year ever, with adjusted earnings roughly doubling to $287.3 million, or $7.35 per share, from $144.4 million, or $3.67 per share, a year ago. Net sales for the full year soared 16.5% to $6.20 billion and comps jumped 16.1%.
Thorn listed off many reasons for the outsized performance on the conference call with the investment community, including the consumer's greater focus on home during the pandemic, the retailer's e-commerce inroads and its work to cut costs and improve efficiencies, and Broyhill, the once-bankrupt brand Big Lots acquired a couple of years ago that's clearly playing a major role.
The line, which launched in the spring, generated more than $400 million in first-year sales, far outpacing the retailer's expectations, "as we firmly believe it is on track to being a $1 billion brand," Thorn said on the call.
"Broyhill customers spend twice as much as non-Broyhill customers and 10 times as much as non-furniture customers." The dynamic has driven up average tickets as well as visit frequency, he added, noting how a third of Broyhill buyers were new to the retailer and half have already come back for another purchase, either in-store or online.
In the fourth quarter, Broyhill had a strong impact on the overall furniture category, which was up 15% over the previous year. The brand, introduced less than a year ago, represented 17% of the total furniture business, including 30% of upholstery sales, Thorn said.
What's more, the brand is more than furniture now. Since the launch, Big Lots has expanded Broyhill to other home areas such as area rugs, sheets and decorative pillows, and the consumer reaction "remains very favorable," he said. This year, the retailer will go even further, bringing the brand to its housewares and kitchen textiles.
While Broyhill is big and only getting bigger for the retailer, there were plenty of other nuggets presented in the full-year report, explaining the record year and fueling a 7% jump in the stock price last Friday (followed by another nearly 7% gain Monday, up by $4.24 to $66.29 per share). Here a few more takeaways:
Gains are coming despite supply disruption and rocketing freight rates. In the November-through January fourth quarter, Big Lots saw strong business and traffic in November and January, but softness in December. Thorn still called the December performance "solid," but added the retailer was "too sold through on our Christmas seasonal" merchandise also impacted by Covid-related stay-at-home orders.
But since those inventory levels were sold through, Big Lots moved through the holiday period with fewer promotions and markdowns last year vs. the year before, which "significantly mitigated the pressure felt from increased spot freight rates and higher supply chain charges we incurred," he said.
E-commerce business booms. E-com and omnichannel sales grew more than 130% in the fourth quarter. Site traffic was up nearly 40% and conversions more than doubled.
"Even with our increased demand we were able to offer improved delivery times through two-day shipping, same-day delivery and curbside pickup, all new compared to holiday 2019," Thorn said. Asked if furniture was a meaningful part of the mix, Thorn indicated that it was and that items selling online ranged "from an Instacart order that will fit in the back of a trunk all the way up to a Broyhill sectional … that can be delivered same-day" or in two days from one of 47 stores fulfilling online orders.
"We are seeing tremendous interest, along with this home nesting trend, to buy furniture online, so that's been a nice addition," he said.
And while Big Lots is pleased with its online success, Thorn said it still has a long way to go on the omnichannel journey. "This will be a key area for our future investment," which will include improvements in user experience and omnichannel capabilities, such as ship-to-store and personalization capabilities through expanded use of customer data, customer panels and "more advanced segmentation."
Big Lots is back in expansion mode. This past year, the 1,408-store retailer opened a net four stores and was happy with that net growth given it had made the decision at the beginning of the pandemic to defer some openings into this year. The retailer also managed to boost the performance of some poorer performing stores and successfully renegotiated some lease renewals to avoid more closings.
This year, the plan is to open 50 to 60 stores, including about 20 relocations. It also expects to close about 15 stores, which means net new store growth for the year of 15 to 25 units. On the call, Executive Vice President and Chief Financial Officer Jonathan Ramsden said a key point to remember "is beyond '21, we do expect to continue to accelerate the openings. And we're hopeful that we can keep … outright closures at a pretty low level, so we can continue to grow that net store count..' Thorn noted Big Lots will continue to explore new store formats, too.
"Our priority this year is to return to healthy store count growth," he said. "We were slightly positive for the last two years, but we want t to accelerate."