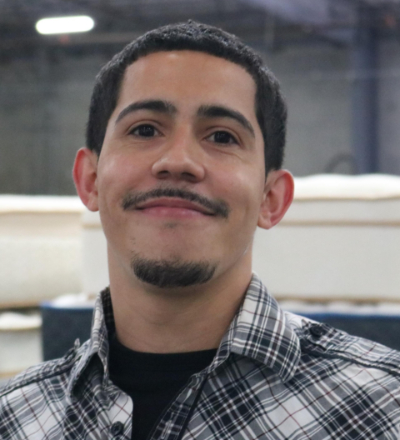 FRESNO, Calif. – Pleasant Mattress, a leading independent mattress manufacturer, has promoted Brian Rivera to plant manager, where he will deploy his Six Sigma certification to lead the company's production center in its transition to lean manufacturing.
Rivera joined Pleasant Mattress in 2019 as assistant plant manager. In this position, he aided in the oversight of all operations on the factory floor, and was responsible for assuring that all subassembly departments were producing efficiently and in sequential order. He also played a key role in ensuring that all of the products made in the factory met Pleasant Mattress' quality standards.
Before joining the company, Rivera served as floor manager for Mercury Marine, a division of Brunswick Corporation which manufactures engines, boats and parts, and provides services for recreational, commercial and government marine applications. He was responsible for the company's overall warehouse operations including packing, shipping, safety, budgeting, labor and line-haul operations. It was there that he earned his Six Sigma lean management certification.
"Brian's is an exceptional plant leader. He is well respected by his peers and direct reports, and we believe he is the right leader to help our team move toward lean manufacturing," said Pleasant Mattress President Carter Gronbach. "As consumer demand for bedding products grows and we continue to expand our product portfolio, streamlining our processes and adding flexibility to our production line allows us to not only increase our capacity, but also produce a broader range of products without having an impact on our output. With the ongoing expansion of our product portfolio and the tremendous growth we are experiencing in the boxed-bed and private-label categories, Brian will play a key role in our achieving success with this project."
"Brian is a natural leader and has a curiosity about him that strives to discover and implement improvements across a variety of areas. From the start, he has exemplified our core values of respect, curiosity, commitment, drive and ongoing improvement," said Rion Morgenstern, CEO of Pleasant Mattress. "Personally, I am very excited that he has taken on this new role and in his joining our senior leadership team. The story of his ascension to plant manager shows the strength of our production team and our ability to develop future leadership from a very talented pool of manufacturing professionals."
"The future here at Pleasant Mattress is incredibly exciting as we move forward with our lean manufacturing efforts," Rivera said. "We have an extraordinary leadership team with Rion and Carter leading the helm, and I'm honored to work alongside – and be mentored by – such an incredible leadership team. I'm very passionate about what I do, and I'm confident that we will make a successful transition to becoming an even stronger partner for our retail customers."
Married with two children, he and his family reside in Fresno.
Pleasant Mattress is an independent, family-owned and operated mattress manufacturer serving the Western United States. The company employs 160 people and has been making mattresses since in 1959. The company is a licensee and manufacturer of the Spring Air and Eclipse International brands and manufactures the McRoskey brand. The company produces traditional mattresses and specialty sleep products in its 150,000-square-foot campus in Fresno, California. For additional information visit www.pleasantmattress.com.