New stores coming to Myrtle Beach and The Villages and more takeaways from the earnings call
ATLANTA — Havertys' fourth-quarter sales soared to $241.3 million, up 12.9% from the same quarter a year ago, as record demand and the retailer's strengths both online and in-store played to its advantage.
Same-store sales for the period ended Dec. 31 increased 13.7%, while net earnings more than quadrupled to $25.4 million, or $1.37 per share, from $6.1 million, or 31 cents per share, a year ago. Adjusted to exclude an impairment charge related to a store location, fourth-quarter 2019 earnings per share were 40 cents.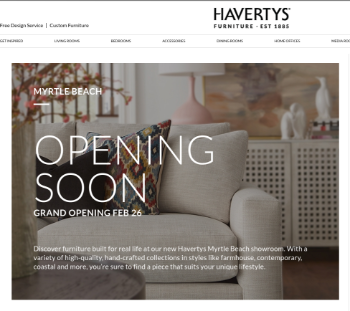 For the full year, net sales declined 6.7% to $748.3 million (stores were closed from mid-March to early May) while net income nearly tripled to $59.1 million, or $3.12 per share.
"Consumer 'nesting' continues to drive record demand for home furnishings," Chairman, President and CEO Clarence Smith said in a statement. "Our store and internet traffic is rising as we leverage the combined potential of high touch service and online capabilities.
Havertys' win (record fourth-quarter results and shares that closed up 4.7% to $34.78 on the news) came despite certain pandemic-induced challenges it conceded won't be going away anytime soon. Sales were way up for the 120-store Atlanta-based retailer, but it reported a record backlog of undelivered sales, too, as its suppliers across the board experienced shortages of everything from materials to labor to import containers, Smith said.
Total written sales for the period (vs. delivered sales) were up 16.7% and written same-store sales rose 17.5% in the final quarter of the year vs. the same period a year ago.
And while Smith indicated Havertys was in decent shape inventory-wise, particularly on best-sellers, "merchandise availability remains a key issue as manufacturers are hampered by ongoing coronavirus concerns, raw material shortages, and shipping capacity.
"We're paying a premium to get the product to make sure we can serve our customers," he said on a call with the investment community Thursday.
"I think we're in the best inventory position since last summer, and I hope that will improve in the coming months."
Also on the call, Smith mentioned rising freight rates and product prices and how it's passing the increases on at retail where it can. When asked how long before the supply chain catches up, he said the company has placed orders it knows it won't receive until the summer, and that Chinese New Year is here, and Havertys has product overseas it wasn't able to get out before the holiday. That's a challenge not only for Havertys but the entire industry, he said, adding, "I think by the fall, this should be settling down."
Despite this disruption Havertys, he said, is blessed to be part of the "homebody economy" and the consumer's greater focus on safety and making their homes more comfortable to ride out the pandemic. Gross profit margins for the quarter increased to 57% from 54.2% due to better pricing discipline, fewer promotions and markdowns and more special-order business. It's a trend Smith said he sees continuing.
But at the same time, partly because of rising freight and product costs, Havertys estimates 2021 margins will be more in the 55.3% to 55.8% range.
Next week, the retailer will open its first 31,000-square-foot store in Myrtle Beach, S.C., then follow mid-year with its first store in The Villages in Central Florida and another in an existing market in the fourth quarter. With one store closing next year, it expects to end the year with 122 stores in 16 Southern and Midwestern states.
Here a few more takeaways from the call:
Three key metrics are all heading in the right direction. For the first time since Havertys began tracking, it has seen consistent increases in average ticket, closing rate and traffic count all at the same time. That last one is an especially nice turnaround, as many in the industry, including Havertys, faced years of traffic declines in part because of the rise in e-commerce.
And yet Havertys.com is the company's largest store. E-commerce has accounted for 4.3% of total sales since reopening after the lockdown, Smith said. And its buy-online-pick-up-in-store (BOPIS) is running at 16% of total internet sales, triple where it has been in past years.
The company is on the cusp of reaching a long-term productivity goal. Smith said this should be the year it finally reaches and exceeds sales per square foot of more than $200.
Business has remained strong this year, but the winter storms are a gut punch. About 30% of Havertys' stores were down for at least four days, including in hard-hit Texas, where many probably won't reopen in time for this weekend, Smith said.
"And it did hit over the most important event of the quarter, which is Presidents' (Day) weekend." He added that the company also is concerned for both employees and customers in the market who remain without power, heat and water.
Now the storms are moving north and Havertys is bracing for impact in Virginia and greater Washington, D.C.
"So there's a drag. There's an impact. We're concerned," he said. But he added the company feels "pretty good about where our business is," noting the double-digit written business on the books, which "includes where we are today."