Although many said show attendance was strong, the actual results will depend on economic conditions in the coming year
HIGH POINT — Fabric resources reported strong attendance at this week's Interwoven fabric show, which some are hoping turns into good business in 2024, although how that plays out remains an unknown at this early stage.
For one, 2023 has already proven to be a challenging year, with many furniture resources reporting double-digit declines in the mid-teens to mid-20% range. With an election year on the horizon and interest rates still relatively high and still impacting housing and furniture sales, the outlook for 2024 remains uncertain at best. While some don't expect it to be much worse than 2023, they also don't expect it to be much better.
"It could be another 15 months before it gets normal," said Ed Jacobs, a Southeast sales representative for BellaHome Fabrics. "Election years are not good."
"Everybody is trying for opportunities to find new things that will catch the attention of the customer," added Fernando Batistella, plant manager for JBS USA Leather Inc. "But the market is tough. We are passing through an economic moment that is difficult for everyone."
Despite the uncertainty, fabric resources came prepared with plenty of fabric patterns — and leathers — for buyers to choose from for frames to be launched at the April market. And buyers also came with reportedly strong interest in the leathers and new fabrics that were available for indoor and outdoor residential furniture use.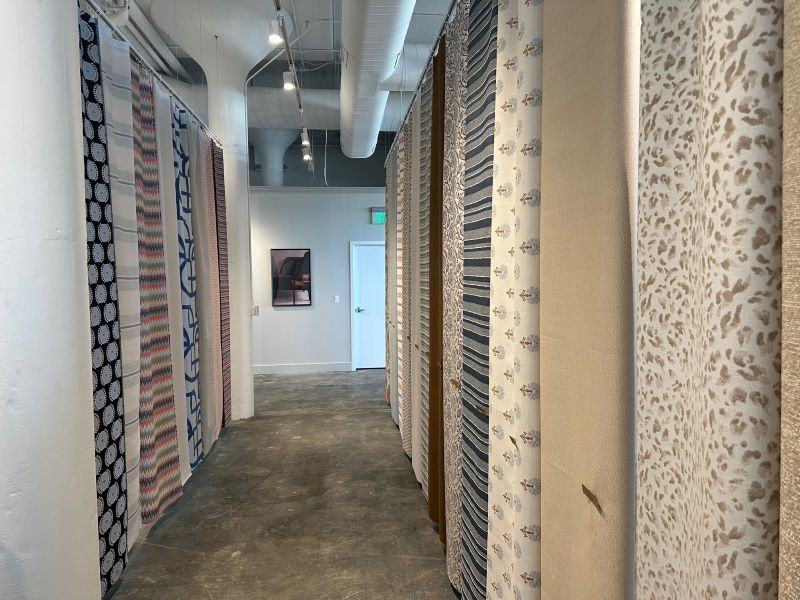 Sunbrella was showing 200 new patterns across multiple collections, representing both stocked and made-to-order product along with patterns that can work for both indoor and outdoor uses. Samples of these SKUs are ready to be shipped to customers this week.
The company said that show traffic was been strong, with appointments starting Monday and continuing through the end of the week. But despite the strength of the product mix and traffic at the event, how well those patterns do will depend on any number of economic conditions as the product won't be shown on frames and on sample racks until April market and won't appear at retail until late summer just before Labor Day.
And while some inventories have come down on both the retail and manufacturing side of the business, they remain an issue for others.
"Overall, we still have a lot of customers that are working through inventories — we will see that into 2024," said Karie Davis, Sunbrella marketing manager for furnishings, noting that sales numbers are approaching more normalized pre-pandemic levels.
That said, she noted that many consumers are working hybrid schedules with a mix of both home and office work that many believe will continue to fuel furniture purchases now and in the future. And that, some believe, also will fuel the need for suppliers to freshen their mix and retailers to continue freshening their floors.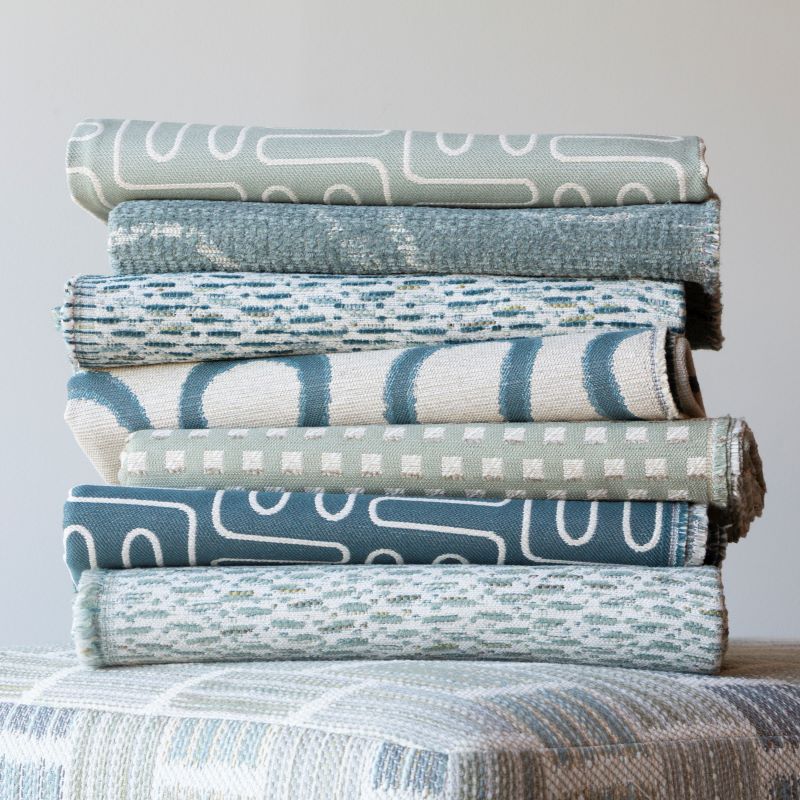 Nolan Mitchell, senior vice president of upholstery at Richloom, told Home News Now that the company introduced a similar amount of product as it did at the last show. The upholstery mix included what he described as great new textures from Richloom Weaving, a lot of new motion or "fluff" fabrics and a new drapery collection for its window treatment customers.
He noted that the company was busy throughout the show and at times had customers lined up to see its offerings.
"The mood was positive even with a cloud over retail," Mitchell said. "While there is a concern with where 2023 will end and with Q1 and Q2 of 2024, people were shopping with projects in mind."
Whittier, California-based J. Allen Fabric, which showed here for the first time in about four years, said that it had about two dozen new patterns to show this week. Altogether, it has about 1,400 SKUs in its Los Angeles warehouse, which are ready to ship, making them available to show on product not only for the April High Point Market, but also for product being shown at the Las Vegas Market in January.
"The samples and yardage is all on the shelf," said Mike Willoughby, senior vice president of sales and marketing. "It is still early enough for people to buy for the January show."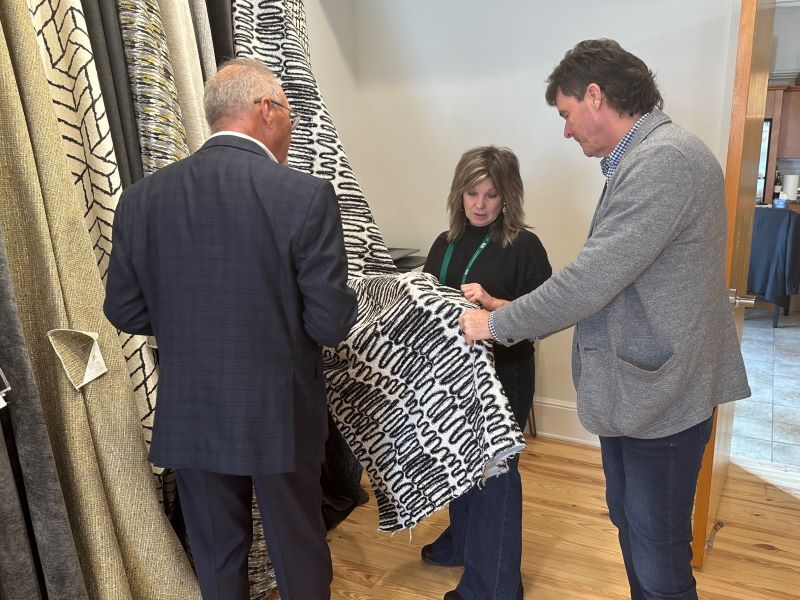 He also agreed that a stabilized inventory situation will help the industry moving forward.
"The inventories have finally worked their way down and retailers are hungry for new product," he said, noting that some floors had gotten stale because of a general lack of new products. "Now people are willing to freshen up their looks."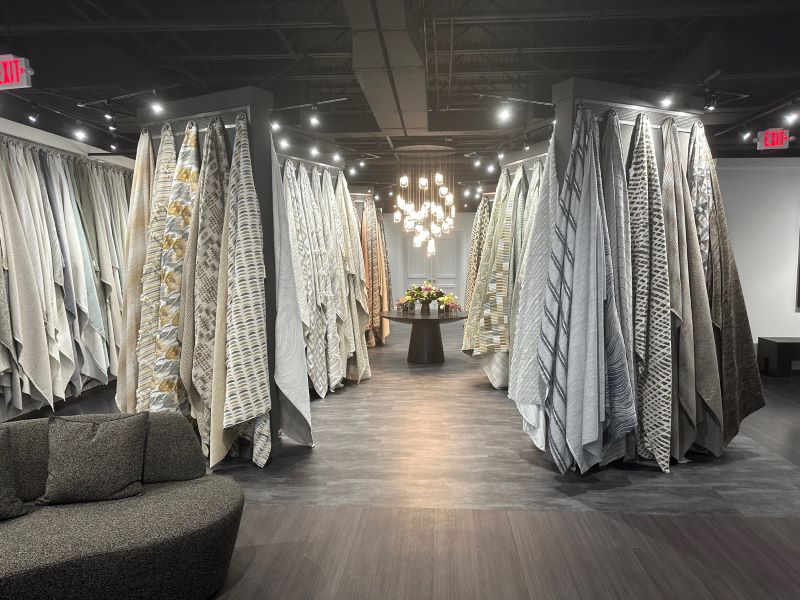 Z-Wovens and sister acrylic fabric specialist Sunbelieveable showcased more than 100 new patterns. With performance treatments available throughout the line, the mix drew interest from both indoor and outdoor furniture resources, although company officials noted that most of the business is done on the indoor residential side. With steady appointments and walk-in traffic expected throughout the week, the company was expecting as many as 170 customers.
Jacobs, the Southeast sales rep for BellaHome Fabrics, said his number of appointments was the strongest in four years, both from appointments and walk-in traffic.
"We are open to walk-ins," Jacobs said. "Anytime we can do face- to-face visits with a customer is a good thing."
He attributed the steady traffic to the strength of the line for his customer base and improvements in supply chain and deliveries since the height of the pandemic. At this week's show, the company showed 75 new patterns, which is about typical for the twice-a year-event. The company expects to see orders for samples come in starting in December and January, with the hope that it has strong placements from its customer base.
JBS was expecting 40 companies to visit its space, about typical for a fall show, Batistella said, noting that the company uses its flexible business model — including producing product at different price points from its tanneries in Brazil, Italy and Vietnam — to flowing finished product both direct and from its domestic warehouse in Hickory, North Carolina.
"Having the warehouse in Hickory gives us the opportunity to support smaller customers in the U.S.," he said. "Step by step we are trying to add value. We have to be competitive to bring customers on board. Business is tough."
STI Revolution said it had a steady level of appointments booked through the week and a strong domestically produced product mix of 50 new jacquards and as many as 60 new dobby weave fabrics. While the company said it has raised prices on some of its line in the past year, it has also sourced some new yarns that have hit sharper price points, helping balance out the pricing and adding to the overall value story.
While officials noted that business is still challenging, they reported that some inventories also have come down, creating open-to-buy situations for both retailers and manufacturers alike.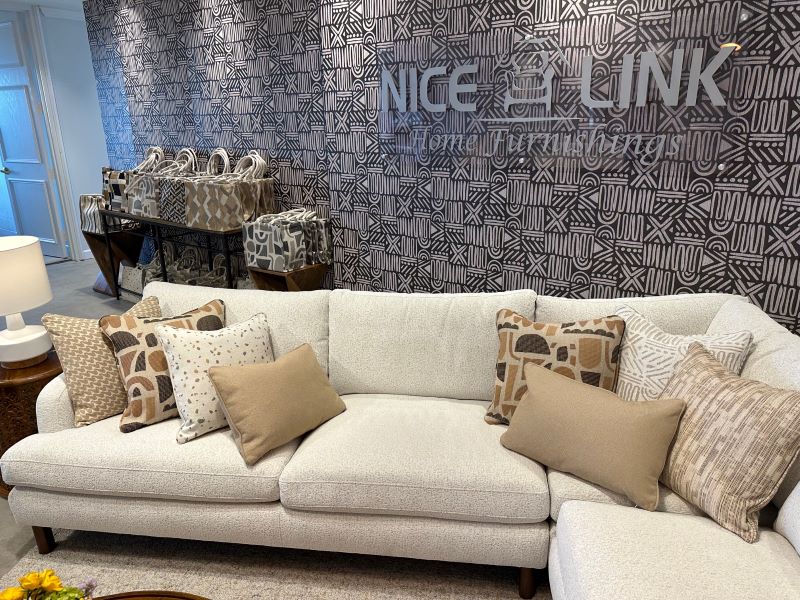 Motion upholstery and fabric resource Nice Link Home Furnishings was showing 70 new patterns, including 30 new body cloths and 40 pillow/accent fabrics. Officials noted that early response to the new introductions was positive although customers won't likely decide on what they want for the April market for another month or so. And many of those goods won't likely hit retail floors until just before Labor Day.
Doug Henderson, vice president of sales for the fabric division, said that appointments were higher than the spring show, with customers expected through Friday.
"And compared to last fall, it is up even higher than that," he said, even in spite of a schedule change, with the show now running on a Tuesday through Thursday schedule versus last year's schedule, which started on Sunday and ended midweek.
Milliken, a relative newcomer to the residential fabric side of the business having added the category to its main line of contract fabrics just over two and a half years ago, was showing about two dozen new indoor residential patterns as well as 17 new colors in outdoor fabrics. The company noted that while many outdoor customers previously scaled back their number of fabric offerings, they are starting to expand their assortments.
"This year they are adding," said David Heiman, senior sales account representative, noting that many outdoor furniture resources realize they can't simply rely on the same old patterns they have used in the recent past. "They are adding to their line, but they are doing it in a more focused way."