Savvy consumers can find great deals on secondhand furniture, other home decor. Does this represent an opportunity for furniture stores?
WINSTON-SALEM, N.C. — A recent visit to Kinnaman's, an antique/consignment shop here that my wife and I have visited over the years, recently turned up some unexpected furniture finds that have now found a place in our home.
Believe me, this has not been the norm as almost every available space for furniture in our home is occupied, be it upholstery or case goods. Thus most visits in recent years have turned up nothing of major interest as our space constraints didn't have us looking very seriously for new or used furniture.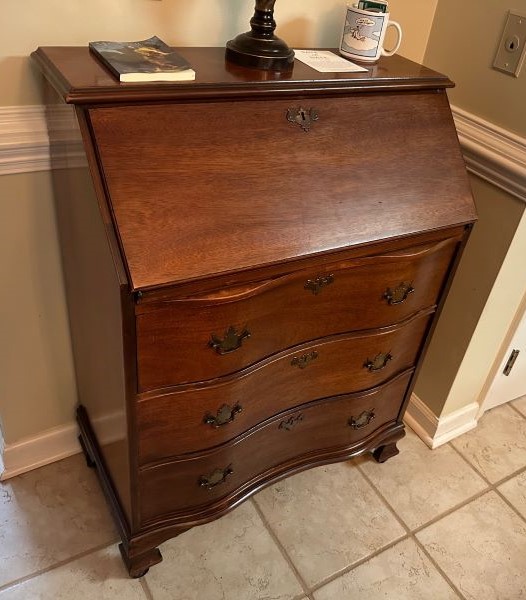 Still, the kitchen has been begging for a secretary or small desk to eliminate some of the excess paper on the counters I often get blamed for keeping there and justifiably so. My workspace in the formal dining room also bears this borderline paper-hoarding trait as did my old workspace at Furniture Today in years past.
So a small secretary it was — made of solid mahogany dating back to the '50s or '60s, or so we were told. This led to a few other finds including a solid maple dresser and solid wood frame mirror from the '70s or '80s made by Empire Furniture of Johnson City, Tennessee, and finally a Bernhardt china cabinet from the '60s or '70s, we were told, also made of solid mahogany.
Another distinguishing factor of the pieces? Judging by when they were made, these were produced in the U.S. at a time when case goods production thrived in and outside the Southeast and other parts of the country.
The total price — including a 12-serving, 60-piece set of Noritake china inside the Bernhardt china cabinet? Just under $900.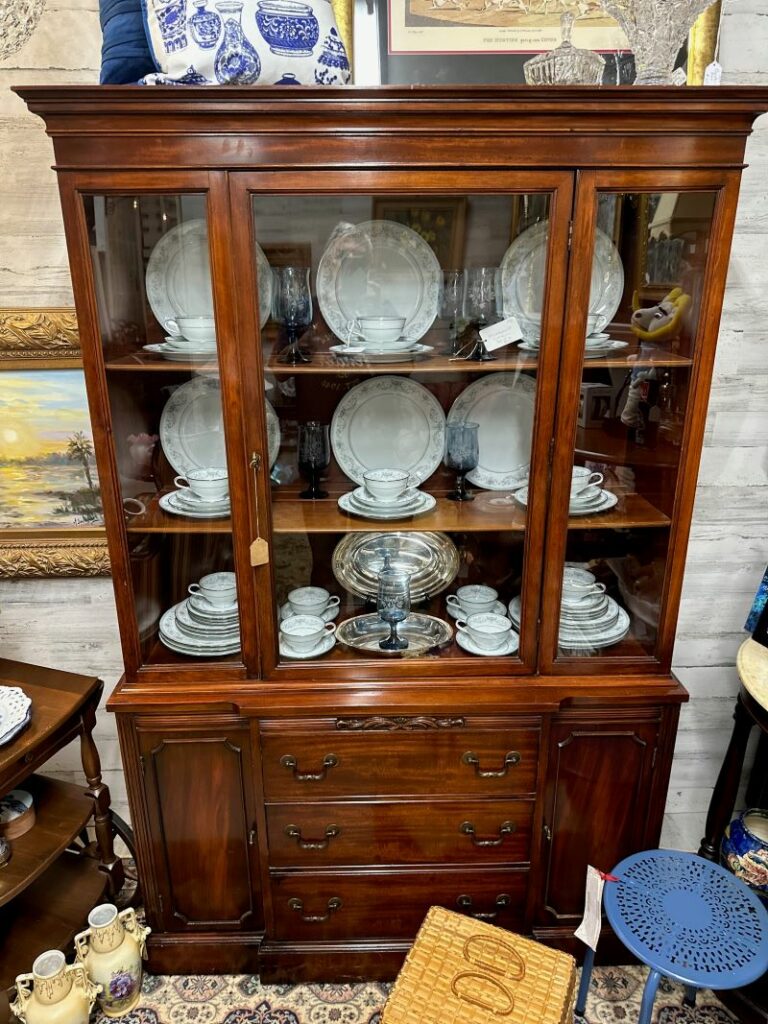 Granted these were pieces we didn't really need — with the exception of the secretary. Not only has it proven to be a beautiful piece of furniture. It also displaced a couple of crates for two chihuahuas, Minnie and Sparky, who now spend part of their time in the sunroom with a much larger German shepherd named Maxie.
The other two pieces — which I had to have more than my wife — found a home, too. The dresser and mirror replaced another couple of bedroom pieces our daughter did not want in her new home. The China cabinet — and Noritake — found a spot in the office, displacing an old record cabinet that used to hold an Magnavox TV from the 60s or 70s.
The record cabinet is now next to the dogs, having replaced an old rickety RTA TV stand that was mostly taking up space.
The key message here is that furniture can be an impulse buy, particularly when you can get it off the floor and bring it home that day or have someone deliver it a few days later.
In the case of these pieces, we had to had to have them, realizing their heirloom quality. They also served a purpose, finding a place in areas that called out for some different décor.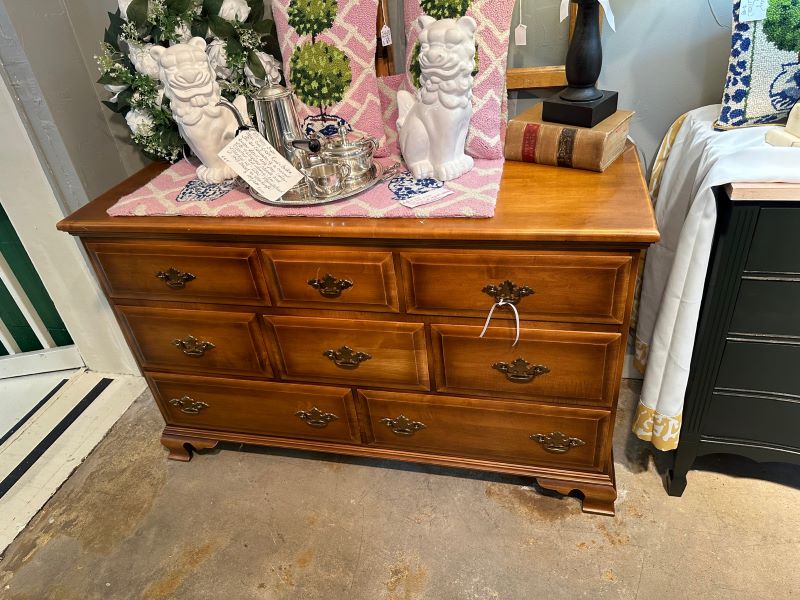 But it also made us realize that we like older furniture, particularly if it has a story, representing a once-thriving U.S. factory, or the heritage of a company like Bernhardt, which had and still has a rich history in domestic manufacturing — both upholstery and case goods — although its wood pieces today are imported, while its upholstery remains mostly domestic.
In that respect, we apparently are in good company. Earlier this spring, our Consumer Insights Now research asked consumers about antique furniture, and about one-third said they did own antique furniture. The respondents are mostly baby boomers who live in the South and are homeowners with an annual income of more than $50,000.
Last October, The Washington Post published an article on the market for secondhand furniture that cited data from online seller Chairish that said the furniture resale market reached $15 billion in 2021, up $1 billion from the year before. It estimated it would increase by another $1 billion by the end of 2022.
Obviously, secondhand or antique furniture is not for everyone. But competing retailers should know there are values to be found in the marketplace particularly for cashed-strapped customers seeking a piece of history for their living room, bedroom or dining room.
Recently our 23-year-old daughter was looking for a dining set for her new home. The qualifications? It should be solid wood, made in the U.S. and affordable. Knowing what we know about the industry, we realized this could be a tall order. So we went to a national chain where she found something that could be delivered in less than a few weeks, also timed with her planned move.
However, she compromised as it was an import made mostly with particleboard versus solid wood. Yet priced at about $1,000 for a table, four chairs and a bench, it checked the box for affordability.
But so did the solid wood, domestically made dining set with a table, four chairs and a bench we saw at the consignment store several weeks later. Well preserved and in beautiful shape, it was marked at around $700.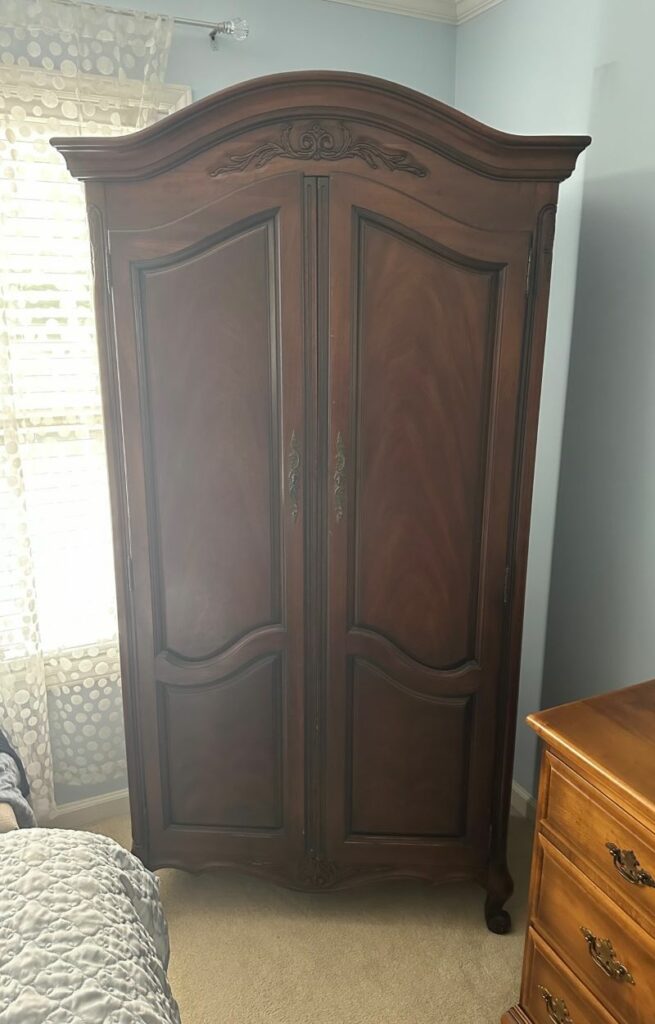 In this particular case, the national retailer won out with a sale that probably netted a decent margin. But it easily could have gone the other way had we seen the dining set in the consignment store first.
Furniture resources like to talk about the importance of buying products that last for generations. Consignment and antique stores sell those goods all day long and thus could be the competition you may have chosen to ignore.
A couple of months after this column was first written we made another find, again for a piece of furniture that we didn't need or have much room for — a tall armoire made by White Furniture. Yes that's the same White Furniture of Mebane that was the subject of Bill Bamberger and Cathy Davidson's book Closing: The Life and Death of an American Factory.
We felt like we walked away not only with a piece of American Furniture manufacturing history, but also a beautiful piece of American made furniture designed by real people, not AI, and made by human hands, not by robots. The price? $300, marked down from about $400.