Privé and Loire each bear signature classic design elements for those familiar with the luxury furniture brand
CLARENDON HILLS, Ill. — Luxury case goods and upholstery manufacturer Marge Carson has introduced two new collections and a line of new fabrics, marking its first major introductions since Janet Linly of Chicago-based Linly Designs purchased the company in October 2022.
The fabric selections include two palettes inspired by European travels and include two major themes: Midnight in Paris and Afternoon in Greece. Both have floral motifs and color patterns as well as tones unique to each fabric, including russet/rust and deep green tones in the Midnight in Paris mix and a sand and gray color palette in Afternoon in Greece.
Linly said they both are designed to coordinate with the existing fabrics and trims in the line, representing "elegance and sophistication" while also complementing "today's luxury lifestyles without compromising our opulent aesthetic."
"Our fabrics tell a story — a story about midnight in Paris in autumn, and a hot summer afternoon in Greece," said Linly, adding that they both offer "sumptuous textures, glistening trims and bold statement patterns."
Linly added that the new fabrics also align with the two new collections, Privé and Loire.
The Privé collection has 15 pieces including wood and upholstered furniture. Describing the collection as featuring classic Marge Carson designs with "new relevant styles for luxury living," Linly said that the collection encompasses "classic designs to complement our current catalog."
Key pieces include the Charlotte dining chair, which features hand-carved wood details and a rounded back that is "designed for comfort especially when situated around a forthcoming dining table." It also includes the Charlotte vanity chair, which has a similar design and that is scaled to be placed with a bathroom make-up vanity or a dressing table.
Meanwhile the Cleo bench has a similar updated traditional design footprint that can be situated at the end of a bed or in the foyer and also used as additional seating in any room of the home. The company noted that the design pairs well with the Palo Alto collection that features customization options "ranging from traditional to contemporary."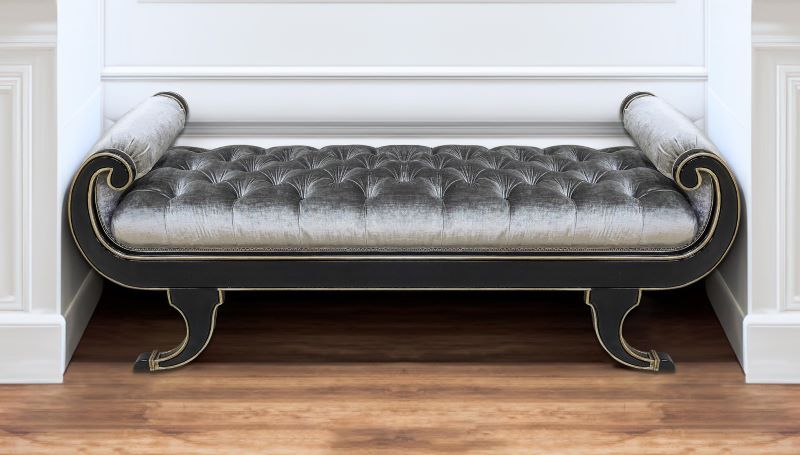 Other new items in the collection include:
+ The Sophia bench, which features a tufted back and arms and is upholstered in a chocolate velvet. A silk accent pillow has beaded trim and a crystal button.
+ The Gaston bench, which features a double-stitched leather seat and a frame with polished-nickel details. It is scaled to complement the current Palo Alto collection.
+ The Kimberly ottoman, which features a tufted seat, decorative nailhead trim around the frame and gold tipping around the curved base.
+ The David chair which features a black frame accented with nailhead trim and an X-pattern on the back with decorative gold tipping to contrast with the black finish.
The Loire collection features three pieces, including a wood framed panel bed with a button-tufted upholstered headboard, a mirror and two styles of nightstands. Pieces are finished in black and feature carved details in gold tipping.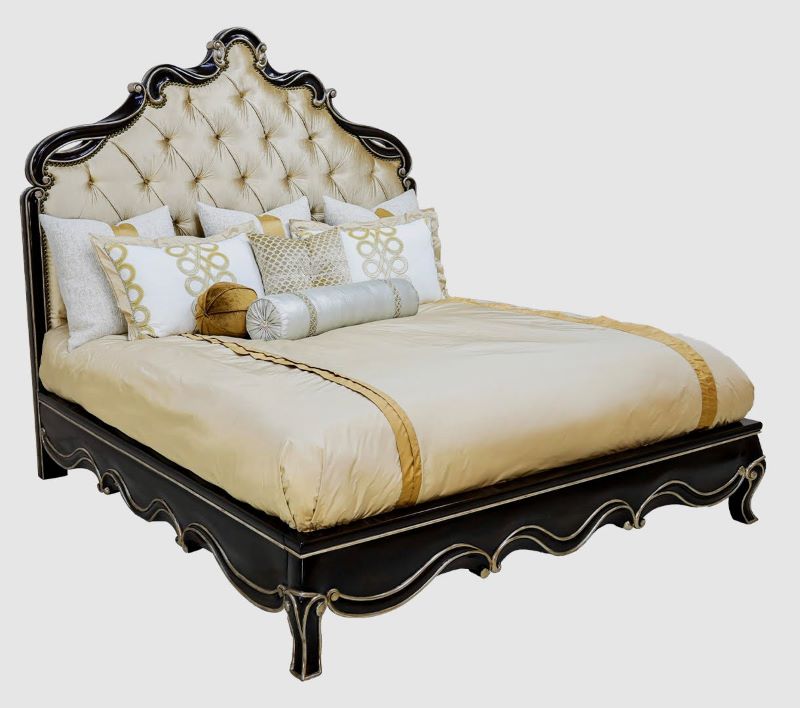 "Our Loire collection was influenced by the Loire River which flows gracefully through the grounds of France, giving our pieces the same graceful design while continuing to stay true to the opulence for which we are known," Linly told Home News Now.
In addition to the pieces described above, four more are in development.
Linly said that the price lists for both collections became available the first week of November, and retailers and designers can now place orders. Lead times are expected to be eight to 12 weeks.
Linly added that the company is also working on a brand-new case goods collection that will be introduced in early 2024.
She said that while Linly Designs is the parent company to Marge Carson, they are two separate businesses with Marge Carson structured and operating the way it was previously as a "luxury furniture brand available to the trade."
"Linly Designs is one of the many luxury retailers and designers that Marge Carson has carrying their products throughout the U.S. and overseas," she said. "Our customer service, corporate office, as well as our management team assist our dealers with placing orders, quoting and any questions about our products."
She noted that the company has no plans to return to the High Point Market at this time as "our focus is on keeping our brand exclusive and providing products and services directly to our luxury Marge Carson retailers. We offer one-on-one virtual training and complete guidance on quoting our fully customizable line. Everyone in our company is here to assist our dealers and support them by providing the highest level of customer service.
"Our team is here to ensure that the product we create and the level of service we provide is not only elevated, but current for today's evolving design industry and luxury lifestyles," she added, noting that the company "welcomes our retailers and designers to visit our parent company's Chicago showroom to explore Marge Carson pieces in person any time of the year, regardless of the spring or fall market schedule. We are here to enhance the way our dealers design and experience the Marge Carson brand."