HIGH POINT – When Nice Link Home Furnishings unveils the fall collections from its new Vietnam factory at High Point Market this month, the company says it will be setting a new bar on style, niche looks and leather in upholstery produced in the region.
From its expansive showroom on the 10th floor of Market Square Tower, Nice Link will showcase many new collections made in Vietnam. The introductions include power motion sectionals, living room groups and mixed media stationary sectionals.
"By introducing the high-end designs and quality that Nice Link is known for, we are looking to significantly change people's perspective about the country's manufacturing capabilities," said Jay Carlson, president. "Our approach in Vietnam lets our customers know they do not have to sacrifice style, quality and service for value."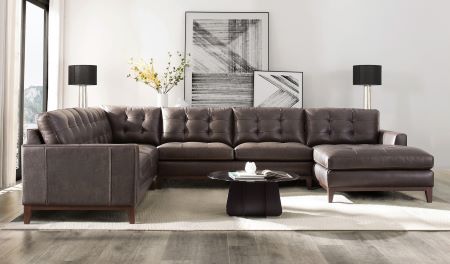 A key advantage for Nice Link in Vietnam is the close partnership with its vertically integrated China operation that includes a fabric mill, cut-and-sew fabric and leather, and in-house team of international designers. By mirroring production processes and quality standards at the two locations, Nice Link is focused on elevating Vietnam manufacturing while still offering product out of China that cannot be matched elsewhere.
A featured motion introduction is the 4258 power motion sectional that fills a void for a rapidly growing segment of the market, the smaller scale apartment and studio living. Offering high-end power comfort complete with articulating headrests and a storage bumper chaise, the 90-degree backed sectional is smartly designed to fit into living room corners without wasting space.
Showcased among new stationary is the 9584 wood base sectional that stylishly delivers sophisticated casual with modular flexibility. Available in leather or fabric, small or large, and with your choice of wood finish, the 9584 creates a diverse product range catering to various tastes and styles.
While Carlson expects the new Vietnam line will create a lot of excitement and a new business segment for Nice Link, he said they will continue to emphasize the established value in the China operation.
"We are taking advantage of tariff exemptions, and even with tariffs, our higher-end products create tremendous value on our retail partners' floor and cannot be duplicated at a similar price anywhere around the world," said Carlson.
Nice Link will have extended showroom dates for High Point Market, open October 10-17, at MSTT 10th floor.