Lifestyle retailer seeks to double its physical store footprint while also boosting market penetration through social media, other marketing initiatives
BOSTON HEIGHTS, Ohio — Lifestyle home furnishings retailer Arhaus' latest investor presentation released earlier this month offers the investment community a glimpse at where the company is headed and how it plans to get there.
It's an omnichannel vision that includes expanding its brand presence not only by doubling its number of physical showrooms in the next several years, but also through the use of social media, direct mail, digital and product development initiatives.
Combined, these efforts aim to help the company grow market penetration in a hugely competitive retail marketplace for upper-middle to upper-end furnishings.
"We believe Arhaus has an incredible brand awareness opportunity as compared to competitors in the U.S. premium home furnishings market," the company noted in its presentation. "As we continue to grow our showroom footprint and to invest in our digital, catalog and other marketing channels, we see significant opportunity to gain market share."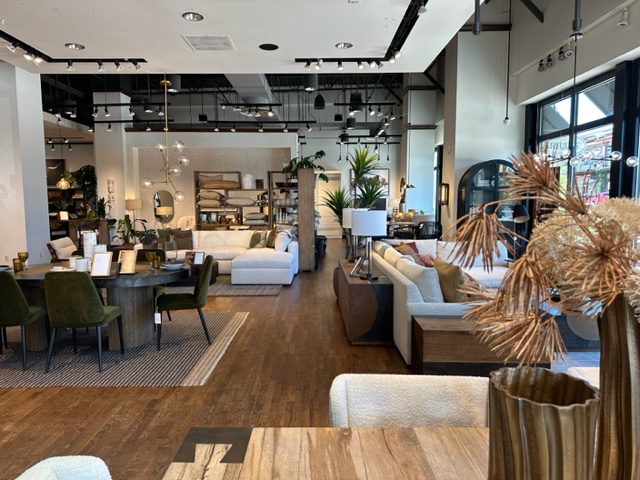 Here is a quick overview of its showroom expansion strategy. As of this August, the company had 74 traditional showrooms and eight Design Studios in 29 states. The total includes two new traditional showrooms it opened in Colorado Springs, Colorado, and White Plains, New York, in 2022, and the three it opened this year, including two traditional stores in Canoga Park, California, and Peabody, Massachusetts, and one outlet location in Grapevine, Texas.
It believes it has the potential to have more than 165 stores, opening as many as five to seven locations per year — in both its traditional showroom and its Design Studios — over the next decade or more.
For those unfamiliar with the Design Studios, this is a smaller-scale footprint of about 5,000 square feet, compared to around 17,000 square feet for its larger traditional stores. The eight locations as of early August include Aspen, Colorado; Asheville, North Carolina; Burlingame and Carmel, California; Miramar Beach, Florida; Naperville, Illinois; Park City, Utah; and Princeton, New Jersey.
As with other furniture retailers such as Ethan Allen and Havertys Furniture, the company is putting significant emphasis and investment in its interior design services not only in its Design Studios, but also at its larger traditional stores.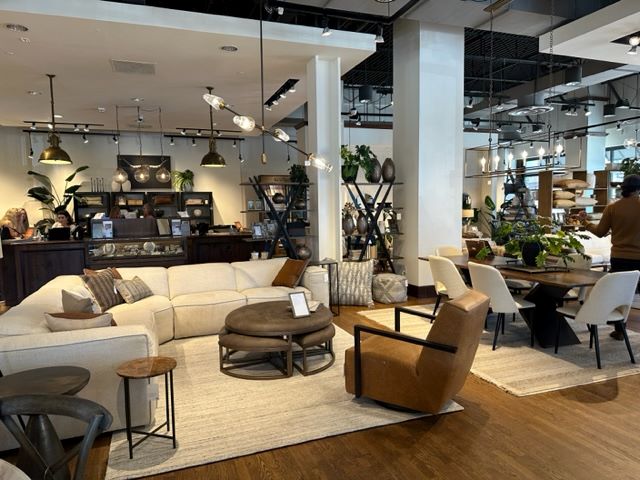 Its In-Home Designer Program, for example, had 93 in-home designers in 71 locations, as of June 30, offering a mix of complimentary in-home, in-showroom and virtual design services such as room-planning tools. Together, the company noted, these design services provide average order values of more than four times a standard order.
The company also identifies e-commerce as a significant part of the business, representing about 17% of net revenues last year, compared to 11% in 2019. It also said it was its fastest-growing revenue channel, with a 43% growth in e-commerce revenue last year alone.
However, it believes it has more room to grow in this realm as e-commerce represents more than 40% of revenues for some of its industry peers. However, the momentum appears to be building as traffic to its site, www.arhaus.com, has risen to 28 million web visits last year, from 11 million and 12 million in 2018 and 2019, respectively.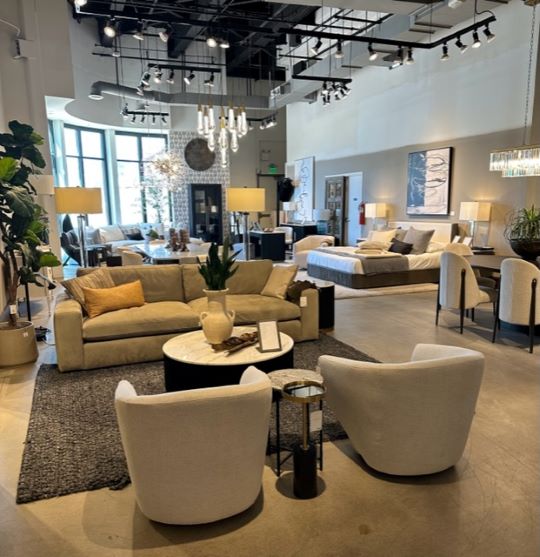 This presents the opportunity not only for people to view the product selection online, but also to make purchases in multiple product categories. The web, of course, also drives customers into the stores where customers can see and experience the products in person.
"Many of our showroom clients engage with us digitally prior to purchase," the company presentation noted, adding that in turn, showrooms also drive e-commerce revenues with "a theater-like and inspirational atmosphere that helps clients reimagine their homes," while design centers within those showrooms "enable us to advise the client on our expansive customization capabilities."
These are some of the factors the company sees driving its growth in the future. The presentation indicates that its share of the $100 billion market for premium furniture is currently in the low single digits. But that leaves plenty of room for the company to expand its presence, particularly considering growth of the number of households with incomes over $200,000 as highlighted in the presentation.
Driving some of the opportunity in and outside this market are home remodeling and home purchases, not to mention higher home values and increases in consumer confidence among affluent consumers.
Thus, Arhaus appears to have tremendous opportunity now and in the future. How well it grasps this opportunity will be of interest to investors and the industry at large.