MURFREESBORO, Tenn. — At a time when retail is as soft as a whisper, Brandon and Joanna Brewer, owners of Mid-Tenn Furniture, are hitting it hard, growing both their business and their customer base.
And if the Brewers' report of robust sales in a down economy is surprising, stay tuned, because the story of how these young entrepreneurs found their way into the furniture business almost three years ago is equally unique.
Prior to opening Mid-Tenn Furniture here, Brewer had worked in a restaurant in Nashville for a decade. And had things not changed, he might still be there to this day.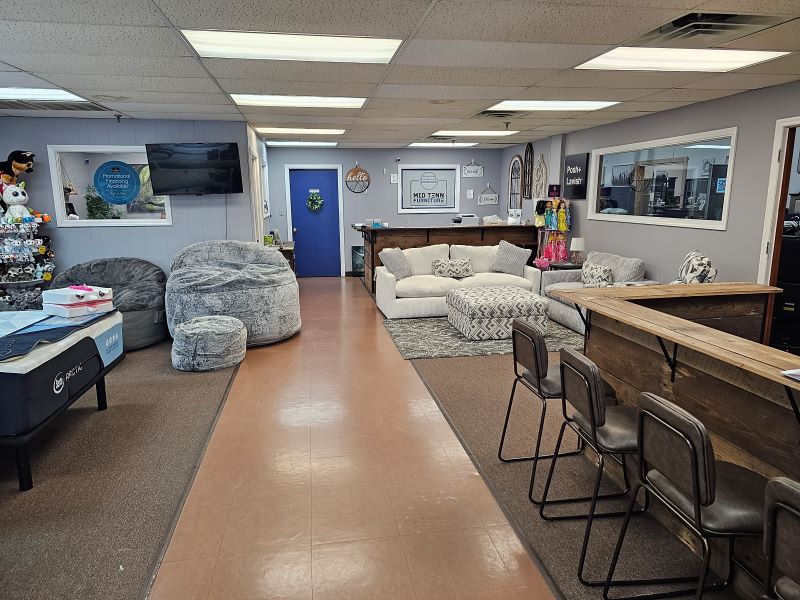 In fact, unbeknownst to her, Joni Mitchell sang about that change in her hit song "Big Yellow Taxi." We all remember her lamenting how they "paved paradise and put up a parking lot."
"The owner of the restaurant sold it to another company and that company literally tore it down and turned it into a parking lot," Brewer said.
Brewer had a friend who ran the office of a furniture store in Nashville. "She told me I should give it a shot and that the salespeople made good money and had flexibility with their work schedules. The rest is history," Brewer said.
With no background in furniture sales, Brewer came on board and soon became the store's top salesperson and was so successful he quickly had three to four salespeople reporting to him.
Brewer credits his rapid rise at the store to being a people person, realizing he enjoyed furniture and to being a student of the game.
"From my first day on the floor, I began learning everything I could about the business, our customers, the furniture we sold, the companies we did business with … all of it," he said, adding, "And I was not your traditional salesperson. I honestly treated every customer like a friend rather than someone simply to sell furniture to."
Fast forward to today and Brandon and his family are getting ready to celebrate three years as the owners of Mid-Tenn, a 43,000-square-foot furniture store located in an industrial park that utilizes about 20,000-square-feet for retail and the remaining space for warehousing.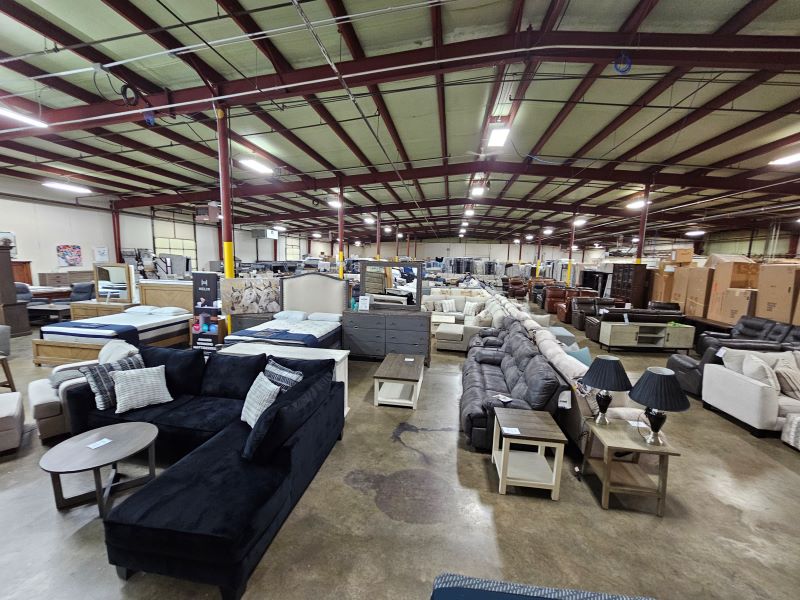 Brewer describes the store's offerings as ranging from promotionally priced to midpriced from established vendors including American Woodcrafters, Catnapper, Coaster, Cozia, Crown Mark, Franklin, Four Hands, Steve Silver, Vaughan Bassett and others.
Mattresses and related sleep products are key to the retailer's success and Brewer carries sleep products from Serta, Tuft & Needle, Dream Cloud, Puffy, Nectar and others.
While Brewer currently has limited online sales because of glitches currently being addressed on his website, he says he has been very successful flooring all the major online mattress suppliers. "We stock virtually all the online mattress suppliers, and our customers love them," he said.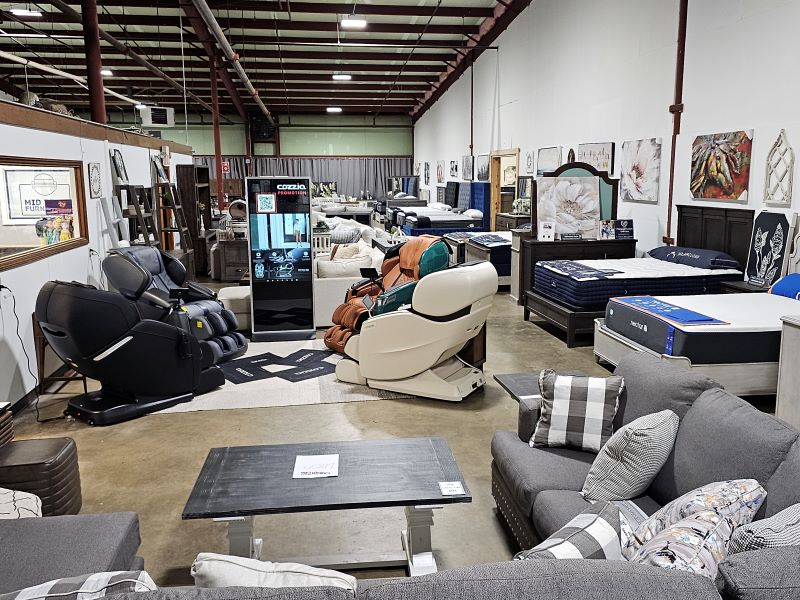 With an eye toward new and innovative products, Brewer said he is currently testing products from CordaRoy, a supplier of beanbag chairs that convert into mattresses.
And while retail continues to be soft, Brewer continues to enjoy sales and year-over-year gains that some competitors would be hard-pressed to rival.
Even so, Brewer is quick to admit that launching Mid-Tenn was no walk in the park.
Brewer was attempting to get the store up and running during Covid and recalls that "getting accounts opened and finding vendors who had furniture was incredibly challenging."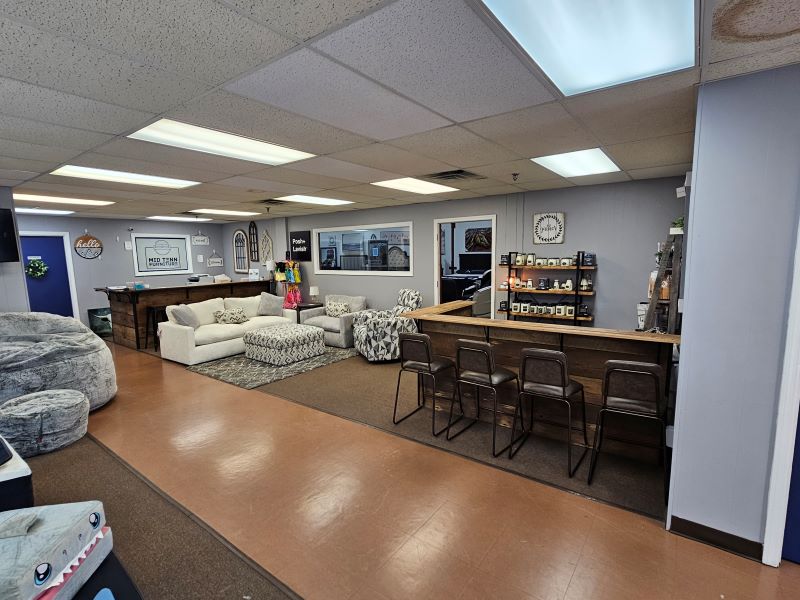 They say that when times get tough, the tough get going, and that's exactly what Brewer did. "I would fly to Chicago, pick up furniture from Coaster's warehouse and drive it back to the store, just to have inventory to sell," he recalled.
The effort paid off because Mid-Tenn had inventory when its competitors didn't. In fact, because of having inventory, the store did $30,000 the first three days it was open and all from in-stock goods.
Brewer also attributes the store's success to his choice of vendors and the personal relationships he had developed with the representatives from each of his suppliers.
"They really help us to make sure we have the right products. They offer us excellent product training that allows us to communicate the features and benefits of their lines to our customers," Brewer said.
Brewer is quick to stress that the store's success would not have been possible without the dedication and support from his wife, who was a seventh-grade math teacher for almost 10 years before joining the business.
"Without a doubt, Joanna is the glue that holds this all together and she has been there every step of the way," he said.
"While I was off picking up furniture from our vendors, Joanna, with no sales experience, was selling furniture and running the store by herself.
"Now, as we have grown, she handles all our warranty claims, does our payroll, does the majority of our office work and still manages to jump right in and sell when needed," Brewer said.
Conveying key issues like being in-stock and being a local family business are important to Mid-Tenn, and Brewer is a big fan of social media and currently has 2,700 "likes" and 3,000 followers on Facebook.
"We've found that Facebook brings in an older customer base, 40 and above, while Instagram brings in younger consumers. We use both and each has been effective," Brewer said.
The retailer used both platforms during a three-day Labor Day Sale, an event that Brewer calls a huge success. "Last year, we only did about $39,000 Friday through Monday on that Labor Day weekend.
"This year, we did $126,000, with almost 100 transactions during the same four-day period."
While Brewer has done little in terms of print advertising, he has had success sponsoring weather updates on the local TV affiliate for Channel 4.
"We advertised in some fashion since day one and that is something we are not going to change. One of my competitors recently shut down, and I realized I didn't ever recall seeing any kind of advertising for that store," Brewer said.
Looking ahead, the store's success with mattresses has Brewer thinking about adding locations that would be more of a sleep and wellness center than a traditional furniture store.
"We already have massage chairs, we have recliners, we have lift chairs and mattresses, so maybe our next move would be a retail store that offers our customers sleep and well-being solutions," he said.
Based on Mid-Tenn's current success and impact on his market, should that happen, Brewer's customers won't be the only ones getting a restful night's sleep.