Company ramps up 2nd Galax, Virginia, plant to handle production of new line
GALAX, Va. — Bedroom manufacturer Vaughan-Bassett Furniture said it is reopening a former Webb Furniture bedroom plant it owns here as part of an effort to return to the dining furniture segment in time for the fall market season.
The company is utilizing the plant to assemble and/or finish dining tables, chairs and a server that are part of the program, which will debut at next week's premarket.
The initial dining program will include three tables and three chairs, which are part of its solid wood Artisan & Post line. Made with solid oak, they are being offered under a collection called Dovetail, which also is the company's No. 1-selling bedroom.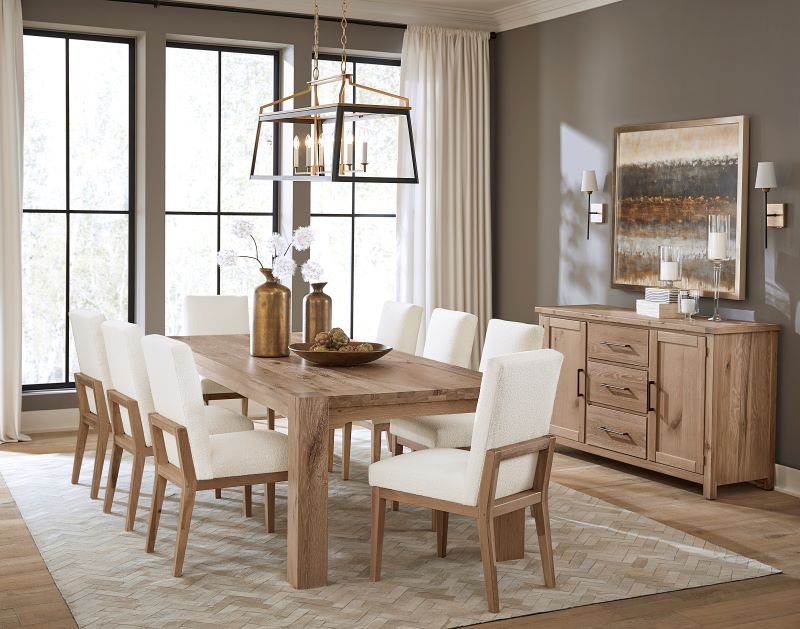 Featuring a reclaimed oak look, the collection includes three fixed-top tables, including a 60-inch-long leg table called the Friendship table, a trestle-based table available in 72- and 96-inch lengths, and a large gathering leg table with 5-inch by 5-inch legs coming through the top, which also features splits and cracks in the wood to provide added texture. It is available in 76- and 100-inch lengths.
There also are different chair frames being made by a separate source factory in the Midwest that include a horizontal slat-back version and a vertical slat-back version.
An upholstered chair also is available, whose upholstered seats and backs are being produced by a separate factory, while Vaughan-Bassett is producing the wood parts — along with parts for the tables — in its machining room.
Vaughan-Bassett is finishing the wood portions of these chair frames and assembling and finishing the tables at the former Webb plant. It also is producing and finishing the server at its Galax facilities.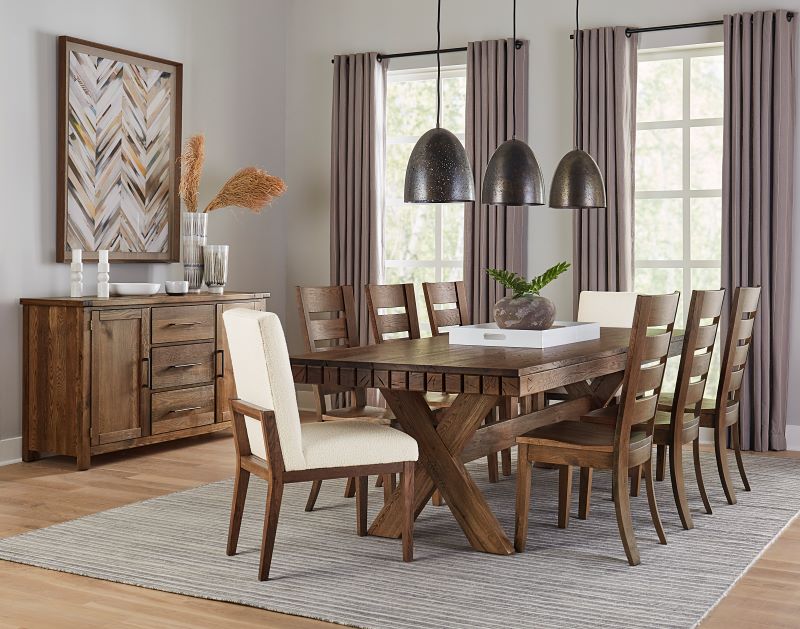 The pieces, including the chairs and tables and the companion server, come in three finishes, a natural oak finish, an aged gray finish and a bleached white finish.
Pricing falls toward the top of its line, with the 60-inch table targeted to retail at $1,499 and the larger tables starting at $2,699. Wood chairs retail at $449, and the upholstered chair retails at $549. The server is targeted to retail at $1,999.
Company President Doug Bassett told Home News Now that the groups aim to fill a void in the marketplace, particularly for solid wood dining in a reclaimed look. With the exception of a reclaimed-style group on the floor of a national lifestyle retailer, he said this type of look in dining is not readily available to consumers.
"This is something that the consumer is asking for that is not being offered," he said.
He added the reaction that the company has received thus far has been positive, noting that almost every Top 20 account for its Dovetail bedroom program has bought the Dovetail dining.
"We debuted it just a couple of weeks ago, not at a market, but off of pictures and sales tools," Bassett told Home News Now of retail accounts it has visited of late. "It was an extremely strong reaction."
Vaughan-Bassett last entered the dining segment in the fall of 2016. It too was a solid wood program offered in its upscale, solid wood Artisan & Post line.
However, the company got out of it when demand for bedroom was extremely high during the pandemic and because of the resulting strain it put on its main factory's ability to consistently produce bedroom alongside the dining line.
"We had a little dining coming into Covid, but when business got so crazy good, it was one of the first things we got out of," he said. "But we only got out of it because we couldn't make all the bedroom that people were ordering, and dining requires its own (manufacturing) set-up.
"We were running the dining through our main, original Vaughan-Bassett plant and what's different now is that we are going to have a second plant dedicated to just making our dining room and assembling and finishing the pieces," he added. "It will be assembled and finished separate from our bedroom line, so we will never have to come off of making bedroom to make dining for a week or two. We will be continuously making dining in Vaughan-Bassett's second plant. … We will run it continuously without ever slowing down production of bedroom in Plant 1. That is a very significant difference from how we have done it in the past, and we think that this makes a ton of sense."
Webb closed the new dining facility around 2005 and Vaughan-Bassett purchased it roughly 15 years ago, Bassett said, noting that the company has been using part of it for its auxiliary parts machining operation. Now it also will be used for assembly and finishing of the dining line.
Initially some 20-25 workers from the company's main bedroom operation will handle production and finishing of the dining line. But that number could grow based on demand. In addition to the first collection, the company plans to come out with at least two more in 2024.
"And as we add collections and ramp up production, we will be moving more people into assembly and finishing," Bassett said. "The rate will grow as we add groups and they start retailing. So those 25 people is just a start. We expect that to grow dramatically over the course of the next year."
The company has already begun producing parts for the dining line in its machining area and the company is starting assembly and finishing this week, with the first shipment planned for the end of September. It will build up inventory based on the rate of sale and ultimately offer shipping in as little as 48 hours.
"We will have many more options than almost anybody in the marketplace, maybe with the exception of the Amish," Bassett said. "But on top of that we will have immediate shipping. The Amish talk about delivering in eight or 10 weeks and Bassett BenchMade talks about delivering in 30 days, but we will ship in 48 hours. We are just ramping up, but we will hold stock so we can satisfy orders very quickly."
At premarket, the company is showing samples of the line in its showroom in Space 1000 in the Commerce Wing of the International Home Furnishings Center.