HIGH POINT — RMT Technology Inc., a global provider of furniture components and mechanisms, is launching three new products during the April High Point Market. These new products are designed to enhance the functionality and comfort of furniture, as well as provide cost savings and improved efficiency for manufacturers.
The first new product, the Head Rest Mechanism #1516B, has been designed with easy installation in mind, along with more cost savings from using fewer materials. One major new feature is that this headrest rotates independently. Additionally, the product can be applied to a thinner back frame, using less space, which adds to its versatility. According to RMT Technology's spokesperson, "Our new metal hinge design gives the product a longer life cycle. Also, the headrest has an independent rotation design with no clamp slit design, which provides greater stability and reliability for users."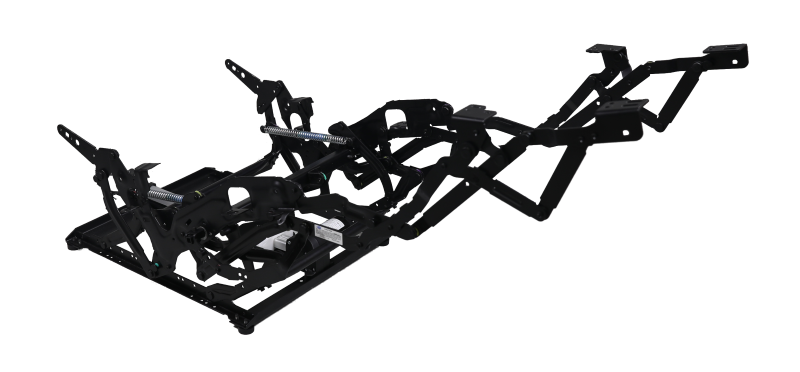 The second new product, the Lumbar Mechanism #1558, features a unique lift lumbar design with an 8-centimeter lift stroke, which provides a more comfortable and ergonomic seating experience. This new mechanism has a rotation of the lumbar to support the waist area which gives more comfort than the past design which would go up the back and compromise a comfortable seating experience. Its mini-size design is suitable for various back frame installations, while the center installation design adds to the stability. The product is highly adaptable, as it can be installed with additional wood waist support of various widths and sizes. The spokesperson noted, "This flat panel lumbar has been built for easy installations, which creates assembly efficiency and reduces production costs for manufacturers."
The third new product, the Zero Gravity Mechanism with Split Ottoman #36Z23, offers an improved seating experience for users. The new zero-gravity mechanism provides a weightless feeling by reducing pressure on the back and legs, and the split ottoman allows users to adjust their seating position more easily. "We believe this product will become a game-changer in the industry," the spokesperson said.
The split ottoman makes the footrest extend 10 centimeters more than regular footrests and lifts 9 centimeters higher, adding to the comfort and health benefits of the new zero-gravity mechanism. The backrest goes 30 centimeters lower than the footrest, providing the true health benefits of zero gravity. The principle of zero gravity is in line with the ergonomic position of correct spine posture. This position has your heart and knees at the same level, so all parts of the body are balanced to distribute pressure, making the body feel like it is in a floating position.
The company says these three new products reflect its ongoing commitment to innovation and excellence. It is showing the new products in its showroom at 207 S. Main St. in High Point.