Offerings ranged from smaller standalone bedroom and dining sets to larger licensed bedroom collections
HIGH POINT — Buyers visiting this week's premarket here got an early preview of some of the styles, finishes and fabrics across the case goods and upholstery categories that will be seen at the upcoming April market.
While discussions largely centered around how companies plan to comply with the upcoming federal anti-tipping standards for clothing storage units, the rest of the emphasis was on what folks typically come to see and talk about at premarket — what's new in product.
And there was plenty to see across various segments.
One of the most aggressive introductions was at Pulaski Furniture, which showed seven bedroom and dining collections representing a wide mix of styles from updated French-inspired traditional to more soft contemporary design footprints.
It also showcased a larger whole-home case goods offering featuring 46 pieces of bedroom, dining, occasional, home entertainment and home office. Spread over two collections called Higgins Street and Revival Row, the groups are made with hickory veneers in five wood-tone finishes married to pieces that can be mixed and matched between both groups, whose respective designs were inspired by French and English antiques.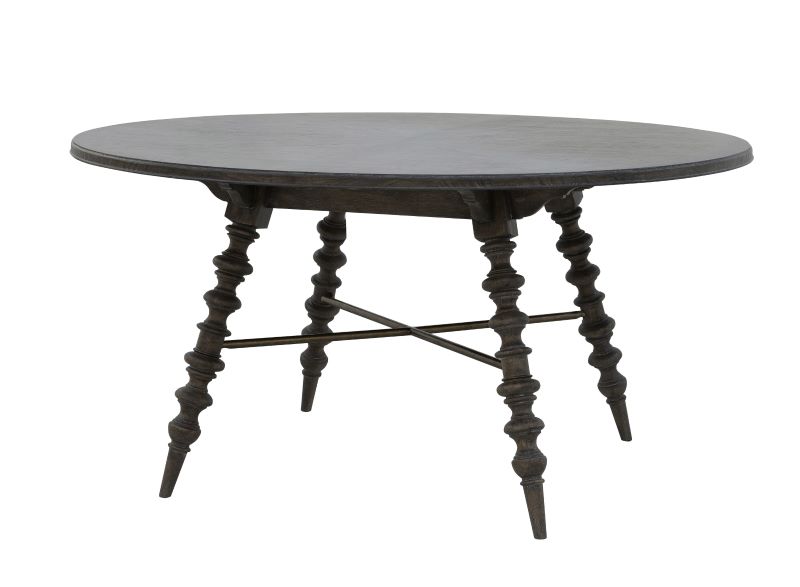 Beds across the collections are targeted to retail from $799 to $1,999.
Early reaction at premarket was positive, said Page Wilson, president of Pulaski Furniture and sister companies Samuel Lawrence Furniture and Prime Resources International, noting that inventories for some retailers have gotten better, meaning the timing could be good for aggressive product launches.
"There is an appetite for new goods," he told Home News Now of the retail mood. "They have to freshen their floors."
Universal Furniture also made a statement at premarket with the launch of the third collection in its licensed Coastal Living line, the 80-piece Weekender collection. Made with pin-knotty oak veneers, it features pieces in multiple finishes, including a light natural oak, a sandblasted pine, a painted finish called White Sand and a Blue Seagrass tone. Featuring coastal design elements in both traditional and modern design footprints, items were mixed and matched, showing how they can work well together in the same environment.
The collection also mixes various materials ranging from acrylic hardware and acrylic bases to travertine stone tops on case pieces and occasional tabletops. Woven wicker, water hyacinth and Danish chord also offer a natural organic feel that complements the coastal look.
Several bed offerings start at around $549 for a a headboard only option and go up to around $1,999 for a fully upholstered bed with a low floating platform-type base.
Another major debut at premarket was Bernards' nearly 70-piece Citrus Heights collection, one of four whole home collections it is launching at market, each offering bedroom, dining room, occasional, home entertainment and home office furniture. In addition, it showed nine new standalone bedroom and dining room collections.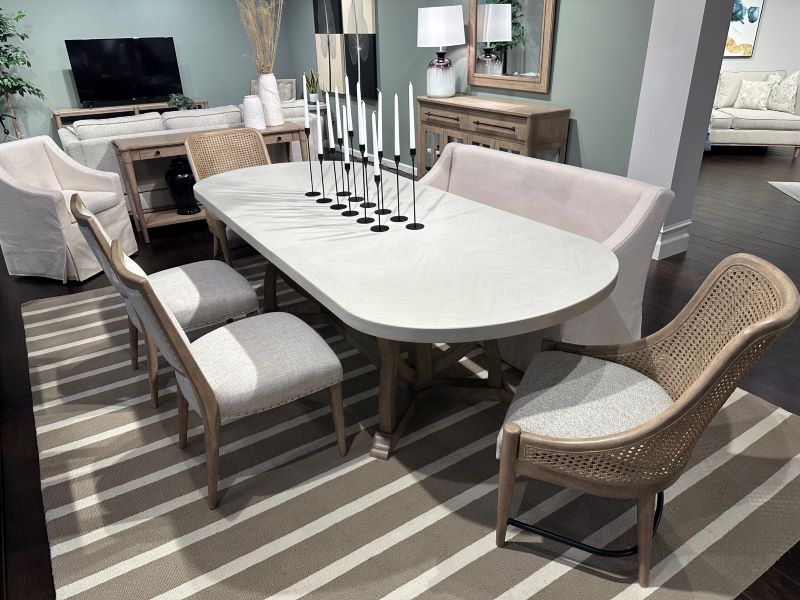 Bernhardt showcased two new case goods collections, including the 33-piece neotraditional-inspired Cornelia, made with quartered ash veneers in a muted gray finish, and the 30-piece Sereno, made with oak and bleached walnut veneers. Sereno's organic modern design influences are seen in clean-lined, minimalist forms featuring a mix of materials ranging from natural travertine stone and cast aluminum to brushed stainless steel accents.
An upholstered bed in Cornelia retails around $1,449, while a signature double-ped dining table that extends to 111 inches with a leaf retails at $2,100.
In Sereno, a dining table that extends to 108 inches with one leaf retails around $1,999, while a round to oval dining table that extends from 60 inches round to 80 inches oval retails at $1,599. A fully upholstered bed featuring a channel tufted headboard retails at $1,699.
Bernhardt also showed a large mix of new stationary upholstery including one new sectional, two sofas and two chairs in leather, and two new sofas, two new sectionals and three accent chairs in fabric. In power motion, it showed a new fabric sectional, two new sofas, one in leather and one in fabric, and one new leather recliner.
And in addition to several new upholstery pieces including sofas, ottomans, chairs and a sectional, Bernhardt's Interiors division showed 18 new pieces in case goods ranging from beds and consoles to new occasional tables.
Shorter focused bedroom and dining room groups were on display at resources such as 31/21, a division of Magnussen Home, as well as at SLF, FD Home and Avalon Furniture, to name several key resources in the categories.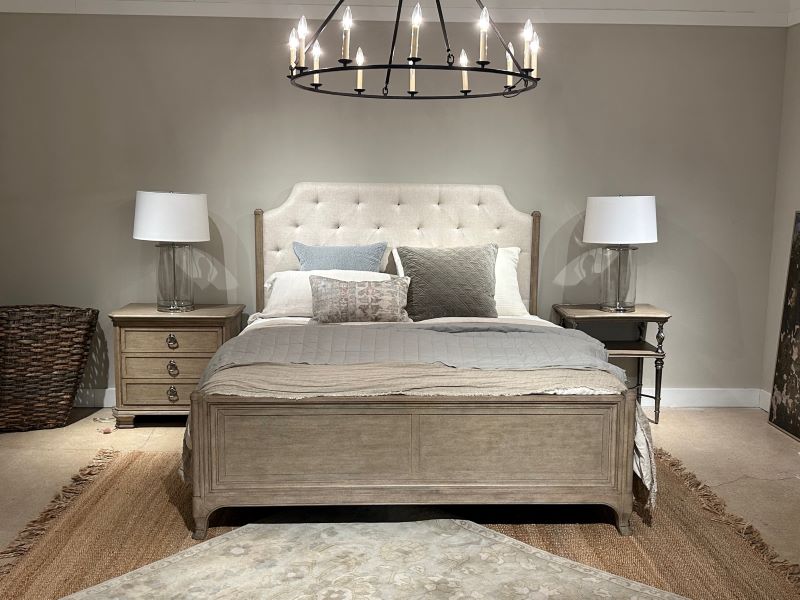 At 31/21, there were two new bedrooms and two new dining sets, half of which had traditional design elements and the other half offering a more contemporary aesthetic. Four-piece bedrooms are targeted to retail at $3,999.
FD Home showed five new bedrooms and four freestanding dining rooms, three of which offered gathering-height table and chair options. New four-piece bedrooms are targeted to retail from about $1,699 to $2,399, and table and four chair dining sets range from about $999 for more clean-lined casual looks to $1,299 for more formal looks.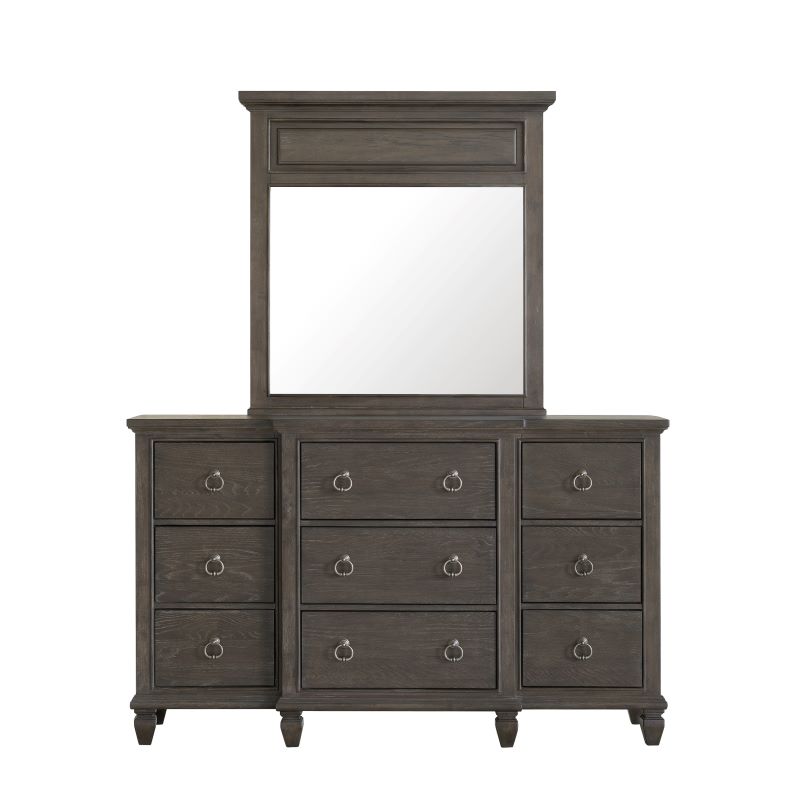 SLF, meanwhile, offered four new groups, two of which included bedroom and dining and the other two of which were bedroom only. Beds are targeted to retail from $699 to $999.
At Avalon, the mix included six new bedrooms and five new dining rooms, with more on the way for market including eight new bedrooms and two more dining groups. Five-piece bedrooms featuring a bed, nightstand, chest dresser and mirror are targeted to retail from $1,499 to $2,999.
Elements International had introductions across all categories ranging from bedroom and dining to stationary and motion upholstery.
"This is the most we have shown at premarket," Paul Comrie, chief executive officer, told Home News Now. "We are happy with how much is here and how much is coming."
A big focus at Elements was sharper price points across the board, which the company illustrated with a wall display of more than a dozen accent chairs each targeted to retail at $199. New sofas are targeted to start around $499, although Comrie hinted there may be some specials coming in under that for market.
"We are leaning into budget-friendly prices," said Comrie. "We are trying to put more function and features into product with lower price points that get customers into retail stores and get them to pull the trigger."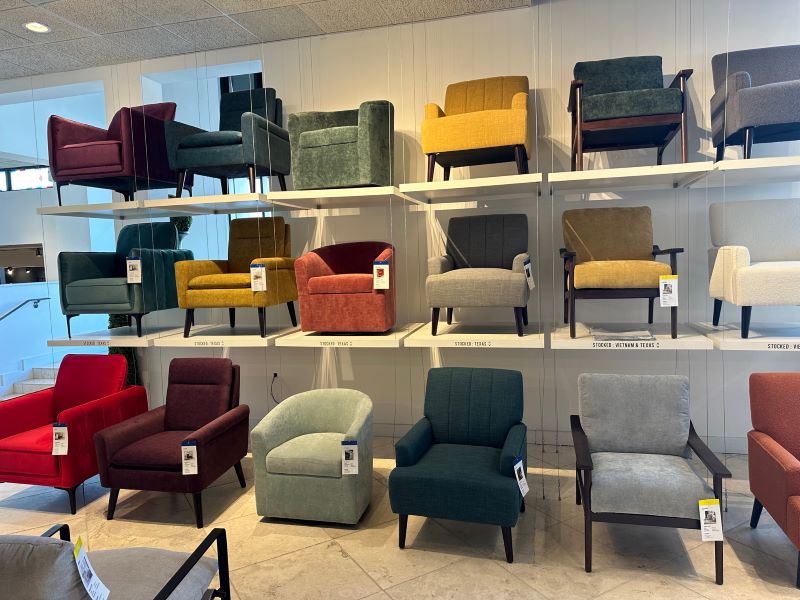 While not every retailer has gotten from under their high inventories, many sources said that customers came in with a strong open to buy position.
"They are in a position to remerchandise their floors, and that is good news for the industry," Comrie said, noting that its premarket traffic was strong with both main days feeling like regular markets.
Some other sources said that traffic felt light but that was largely due to some smaller retailers needing to stay at home and run their stores. Many larger customers, however, were in town and not only ready to freshen their floors but also secure distribution.
"The inventory situation is better," one source noted, adding that "orders are not spectacular, but they are there."
Some attribute this to retailers needing to make sure they pick the right mix, and not just anything they could find when product flow was disrupted during the pandemic.
"The retailers we are talking to are not looking for a lot of product but they are looking for the right product," said Micah Swick, president of Bernards. "Most people I talk to are thinning out their lines. They are drawing back and taking a more rifled approach as opposed to a shotgun approach."