Groups represent 8th and 9th collections in 9-year history of licensing partnership
HIGH POINT — At next week's Premarket, Klaussner Home Furnishings is unveiling two Trisha Yearwood Home collections, marking the first time it has introduced two of her licensed collections in a full year, much less during a single Market cycle.
The introductions, which include the 41-piece Today's Traditions and the 31-piece Staycation, are the eighth and ninth collections Klaussner has developed with Yearwood during the nine years of the license.
Typically the company introduces one a year, but is it is bringing out two this Market because it delayed one during the height of the pandemic in 2021.
Today's Traditions has soft Shaker — along with some farmhouse Arts and Crafts — design influences. It is made with a mix of hickory veneers in a mid-tone brown finish and oak veneers in a darker finish called Blacksmith.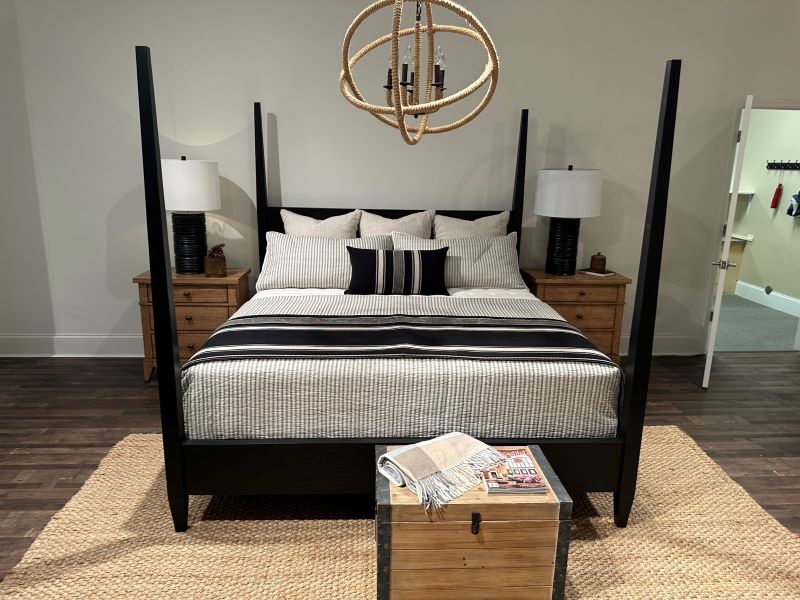 It has three beds including a four-poster bed and a wood-panel bed, both of which retail at $849 in king, and an upholstered bed on a wood base that retails at $999 in king.
There are also three dining tables including a rectangular dining table that extends from 82 inches to 102 inches, seating eight to 10 comfortably; a round dining table with an architecturally inspired base that can seat four to six; and a counter-height rectangular table that can seat six comfortably.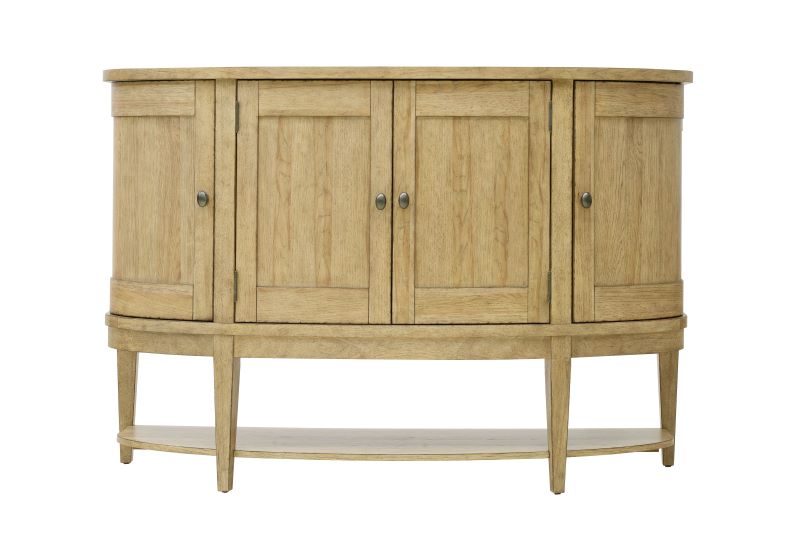 Various groups are placed in segments representing Yearwood's home state of Georgia, with the bedroom side of the collection offering a nod to her hometown of Monticello, while the dining side falls within a segment offering a nod to Macon and the upscale Atlanta suburb of Alpharetta. Meanwhile, home office and occasional pieces pay homage to Tifton and Athens respectively.
The styles aim to complement some of the types of homes being built in and outside these areas.
"We see that there is still a very recognizable traditional influence that is out there in furniture. What we wanted to do was clean that up and modernize it and make a form that fits very easily into this kind of post-farmhouse aesthetic for the homes that are being built," said Ben Radoll, vice president, case goods, of the types of homes with large open floor plans. "We want to make furniture that fits into that environment because we see that as a prevailing home design for the next decade or two."
Most pieces are available in hickory, although others are available in oak, including Windsor dining chairs, a tall server, bunching, sliding-glass-door display cabinets, nightstands and a console with a curved top that has drawer and shelf storage.
Some pieces or groups are shown featuring both finishes such as the rectangular dining table in hickory shown with upholstered chairs and a bench with legs and a base in the Blacksmith finish. The round and rectangular counter-height tables also in hickory are shown with the Windsor chairs in the Blacksmith finish, although tables and chairs can be mixed and matched.
Also. the four-poster bed in oak and the Blacksmith finish is shown with companion three-drawer nightstands in the natural hickory finish, while the bunching display cabinets have an oak exterior in the Blacksmith finish while the back panel is shown in the contrasting natural hickory finish.
The design features mostly clean lines that shift the focus to the wood grains versus carved details or dentil moldings, for example.
"These could look like 18th century case pieces in someone's home, but I wanted all the formality and fussiness washed off it," Radoll said, noting that the absence of large bail pulls in favor of smaller oval-shaped knob hardware and the absence of carved elements creates a form that is more livable. "I think it is a more youthful traditional."
Yearwood told Home News Now that she has enjoyed working with Klaussner on all her collections, adding that is also "important to me that each collection complements the other so you can mix and match the pieces. Today's Traditions accomplishes just that for me."
Of Staycation, she added, "Folks always ask where I like to travel when I'm not working, and I always tell them because we're on the road so much, my favorite vacation spot is my home! Staycation was inspired by that feeling of loving your home so much you don't want to leave, even for a vacation!"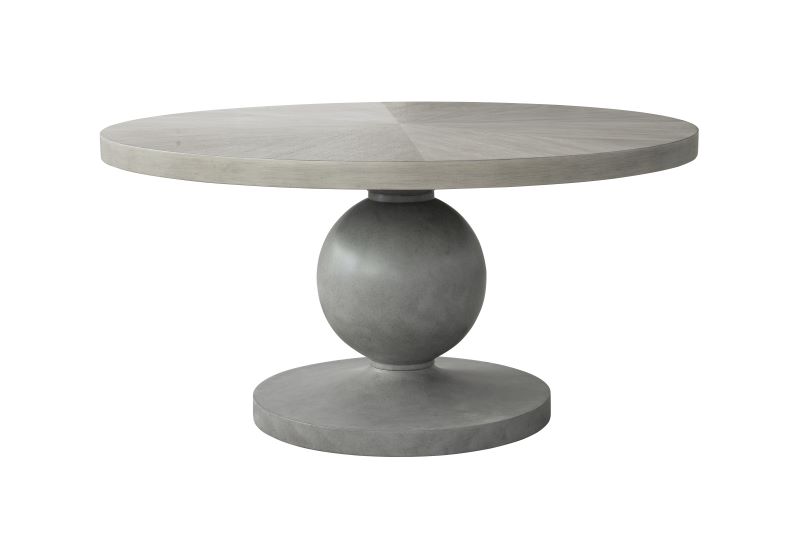 Staycation has soft modern and coastal design elements. It has 31 pieces made with quartered oak veneers available in a slightly cerused brown wood-tone finish called Driftwood and a white finish called Haven. Select pieces are available in a blue-green tone called Sea Glass, while a fourth textured Linen finish is seen as an accent on the doors of an entertainment console, on the headboard of a panel bed, the drawers of a chest and on the back panel of a display cabinet, to name several key items.
"It has a depth and a tremendous amount of texture," Radoll said. "We don't do it all the way around a piece…but rather as an accent."
In pieces such as the entertainment console, a server and on the headboard of the panel bed, the textured look is seen behind Chippendale-inspired fretwork detail shown in the contrasting Driftwood finish. On the chest, the accent finish is contrasted with the frame of the case, again shown in Driftwood.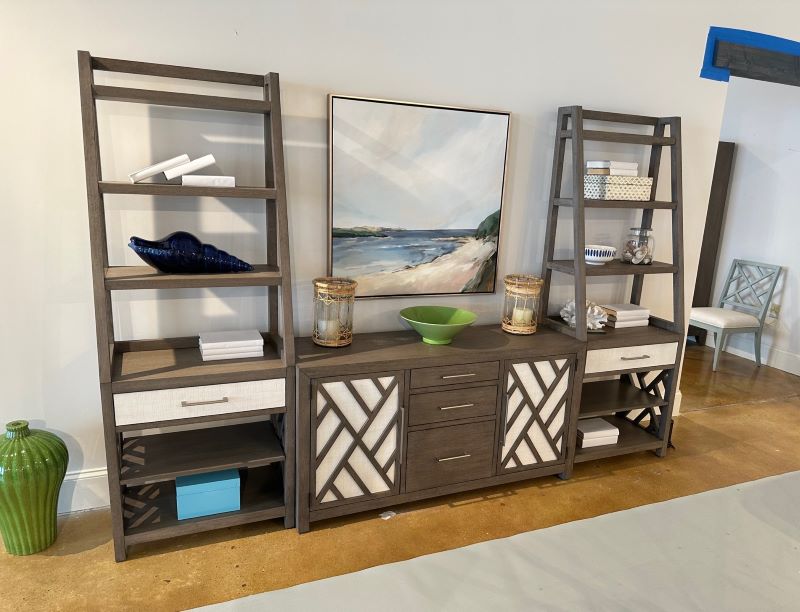 The Chippendale-inspired fretwork detail is also seen on the backs of dining chairs and an armchair shown with a desk in the collection.
While the Haven and Sea Glass finishes may lend themselves to coastal regions, the Driftwood tone shown on consoles, dining tables and chairs and the display cabinets could easily lend themselves to mountain or lake retreats. Pieces can also be mixed and matched within the collection.
"A retailer can take a group like this and make it theirs," Radoll said, noting that even an item such as a nightstand can be shown as an occasional piece in a living room while the Lanier console with stools can be used as a small bar table or as a sofa console where people can have a meal and watch TV.
"If you are in a town house or a condo and you don't have all this space, it is a way to bring three or four people into that (living room) environment," Radoll added.
The two-tone nature of the frames and drawer and door fronts of entertainment consoles, a desk with a brown base and white top and case pieces such as a dresser and chest framed in the wood tone finish with the Linen drawer fronts further expand the appeal to different regions.
Another wood accent finish made to look like concrete is available on the tops of two occasional tables and the base of a 60-inch round dining table that retails at $999. A second rectangular leg table that extends from 84 inches to 104 inches also is available that retails for $799.
Two beds include a panel bed featuring fretwork detail that retails at $799 and a bed with an upholstered wood frame headboard shown in the Driftwood finish and wood frame base shown in the Haven finish retails at $1,099.
At Premarket and the April Market, both collections can be seen at the Klaussner showroom at 101 N. Hamilton St. They are expected to ship during the third quarter and be in stores sometime in the fall.