Company's purchase of dedicated manufacturing facilities, equipment helps it control the quality and output of its custom upholstery line
CLAREMONT, N.C. — When direct-to-consumer resource Coley Home got its start in the fall of 2019, the company, like everyone else in the industry, hardly could have foreseen the coming events that would bring the world to a near standstill, only to create unprecedented demand shortly after.
But those events led the startup not only to manage during challenging times, but also to thrive as it developed its line of upholstery.
What started with an upholstered bed in a box and some side chairs has grown to include sofas, sectionals, chairs and ottomans, as well as occasional/accent chairs and benches that can be used in any area of the home, including the bedroom and dining room, making the company a whole-home resource in upholstered furniture.
And a year ago this past fall, the company also acquired its own manufacturing plant, a 60,000-square-foot facility in Claremont that produces much of the line with domestically sourced frames and fabrics, much of which comes from within an hour or so radius of the company's production facilities.
At the helm of the operation as founder and president is Coley Hull, the granddaughter of long-time upholstery executive Bill Coley — formerly of Lee Industries and now with Newton Coley. Hull, who graduated from North Carolina State University with a degree in textile design, later moved to New York where she worked for Brazilian textile mill Tecidos Fiama as creative director for just over nine years.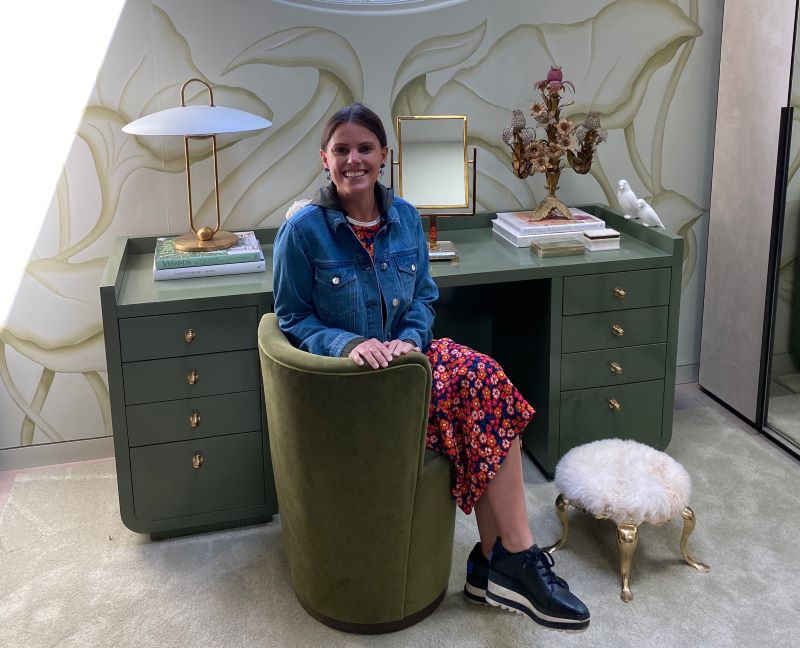 Running operations is Trent Wright, a 20-year director of manufacturing at Lee Industries, who also has worked as president of Southern Furniture and also as a vice president at Progressive.
Hull asked Wright, who has been a friend and associate of the Coley family for years, for help on the manufacturing side of the business.
Previously, the company was sourcing its production from other North Carolina facilities. It just so happened that Wright was working for a plant in Claremont that was running a domestic upholstery line called Timberwood. Wright agreed to help Coley Home with some of its materials sourcing and also produced some of the line as well from the Timberwood plant.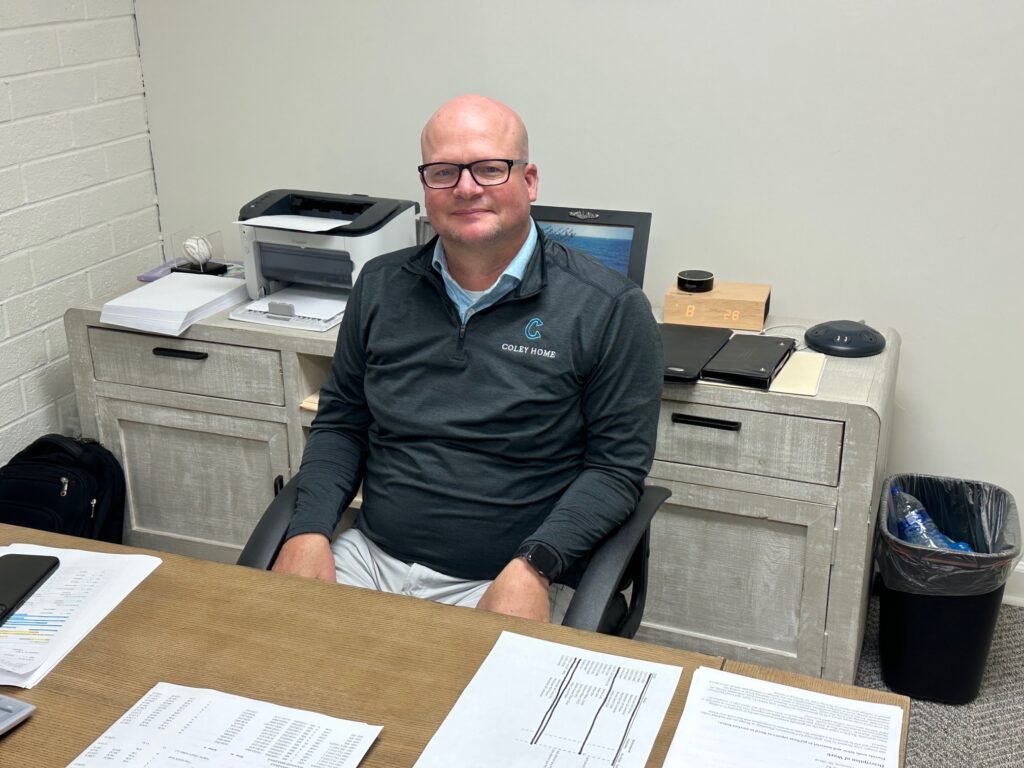 But Hull knew the company eventually wanted its own dedicated manufacturing in the area.
"In a year we became the majority of their business," Hull said of the Claremont plant. "They were primarily manufacturing for Coley Home, but it became really clear that we needed to control the whole process from start to finish."
That opportunity arose when the company producing the Timberwood line shifted its focus back to its case goods line and stepped away from the domestic upholstery business. It ended up selling various assets of the business to Coley Home, which also acquired a 60,000-square-foot building just next door in Claremont, where it continues to operate today, shipping finished goods in as little as 10 days from the time of the order.
"It was perfect timing," Hull said. "We literally just bought the building next door and we hired the entire team."
Wright also described the transition as fairly seamless given its proximity to the former Timberwood upholstery operation.
"We purchased this building in September (2021) and we actually moved in the first of November," he said. "We bought all the assets and took everything from that plant to this plant. We also brought over every employee and all the equipment and we just started producing Coley Home, and at the same time closed out the Timberwood line. We just took all of those orders and made them good."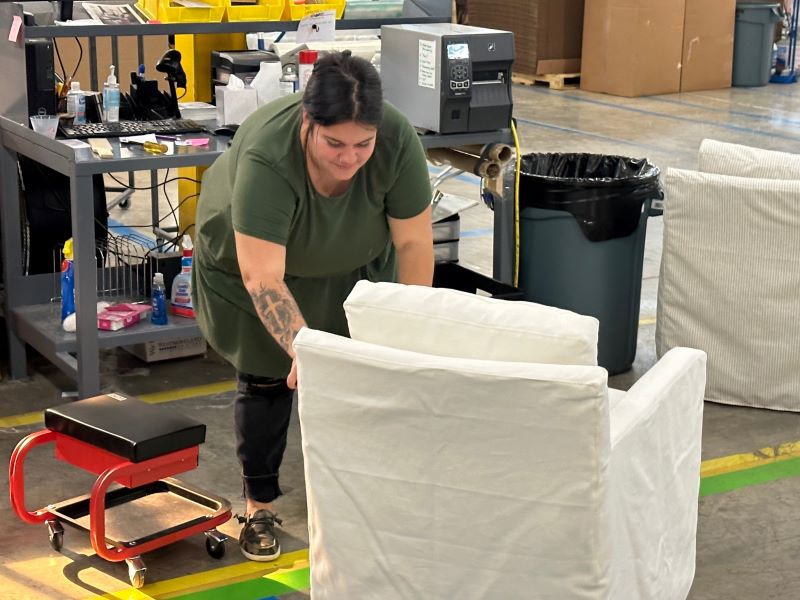 Orders for finished goods come in from the company's headquarters in Charlotte and from there, the plant does everything from ordering raw materials and scheduling production to cutting and sewing the fabric to assembling the frames, filling the cushions and upholstering the product. It also packages the product and ships it out the door, in some cases also delivering it to the customer on its own truck, although most is handled through outside white-glove delivery services.
"We are doing everything we possibly can in-house," Wright said. "I feel like we are in full control of our destiny and our quality is good. … We want to make sure we keep our quality where it needs to be and our lead times where they need to be. We also don't want to grow too fast and outgrow our customers. We are being very strategic and making sure we do what we say we can do."
Today the facility employs about 40 workers and plans to hire more this year, Wright said. While it sources materials such as frame parts, foam and fabrics, it produces the line at the facility with many of the products shipping in as little as 10 days. Other special orders can take from four to six weeks.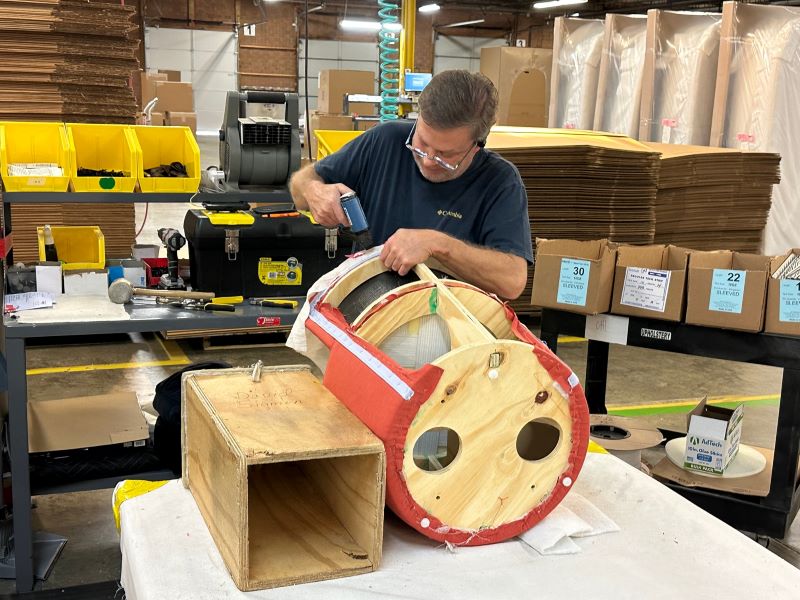 "This has really given us the ability to expand quickly and have control from start to finish, of the cost and quality and shipping," Hull said, noting that about half the business is done online — direct to consumer — and the other half is done with designers. "It is really crucial."
She added that the company also is producing more and more product for retailers, largely due to demand for domestic capacity.
"It is slowing down some now, but for a while, we were getting approached by everyone for private label," she said. "Everyone needed domestic manufacturing and we were able to ship quickly."
"We do three channels, which was never the original game plan," she added. "It is funny how it is never a straight road — you have to pivot and figure it all out."
That said, she is pleased to have a team of seasoned industry professionals, including her mother Ginny — Bill Coley's daughter — involved as a consultant to the business and Wright on the manufacturing/operations side while she is involved in marketing and product and fabric design. She also touted the efforts of Bradley Gannt, who heads up product development.
"I feel like they are all just very knowledgeable," she said of her team. "They know what they are doing and know how to build a piece of furniture and know how to manufacture. I cannot take much credit for that."
But Hull certainly has had the vision to create and market the brand as well as the product it sells to a wide variety of customers. Having not only a team in place, but a dedicated manufacturing footprint with talented production employees is only expected to help that vision develop and grow over time.
"We are growing pretty well each month, and I am proud of where we are right now," she said, adding, "It is such a luxury to have complete control from start to finish of the whole process. I feel like we are super lucky and are in a good position right now."