That could depend on whether the design and consumer utilization positions them as clothing storage units
WASHINGTON — A seemingly small recall announced by TJX this week could have big implications on the regulation of products not traditionally seen as the type of clothing storage units that will soon be subject to a national stability standard that takes effect May 24.
The recall, announced on Feb. 23, is for 73 Aderes model bookcases that can tip over if not anchored to the wall. While there have been no incidents or injuries, there were two reported instances where the units were considered unstable and began to tip forward, the United States Consumer Product Safety Commission said this week.
Made in Mexico and imported by Furniture Source International, they were sold at HomeGoods and HomeGoods/Marshalls or T.J. Maxx combination stores nationwide from October 2021 through March 2022 for about $800, according to information on the CPSC website.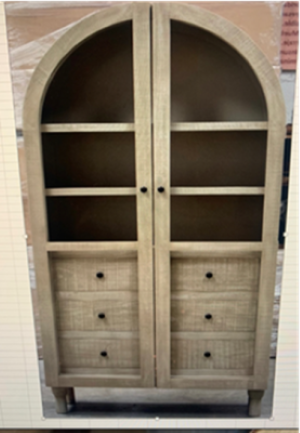 The CPSC has advised consumers to immediately stop using the recalled bookcases and contact TJX for a full refund or a refund in the form of a store gift card. The retailer, which is contacting all known purchasers directly, also will provide instructions on how consumers can have the units picked up at their homes.
The CPSC specifically notes that the units pose a tip-over threat that can result in death and injuries to children. But adults are susceptible to tip-over incidents as well, as the agency notes in its latest report on the hazard, published earlier this month.
And while they are described as a bookcase — and actually look like a bookcase with glass doors and shelves — there's another design feature that could easily lump these items into the same basket as clothing storage units. And that's the six drawers that are at the bottom of the unit.
Of course, as these were sold as bookcases, the implication is that the shelves would be used for books and the drawers for paperwork. But who's to say that the consumer wouldn't put this display unit in their master or second bedroom and fill the shelves and drawers with sweaters, shirts and other types of clothing?
For years, the industry has defined pieces as multi-purpose, meaning that a small chest of drawers could easily be placed in the bedroom, the hall or the den, much like an occasional console could go behind a sofa, or be used as a desk or small dining table in the same room.
Such creative marketing and merchandising certainly has helped sell a lot of furniture in the past. We'd even argue that some companies have used this concept to avoid having duties placed on certain items such as a nightstand displayed as a hall chest or office file/storage cabinet, for example.
But the government has been wise to this type of multi-purpose positioning of pieces and will be in the future, too. So if the item has any semblance whatsoever to a clothing storage unit you can bet that it could likely find itself subject to the CPSC's mandatory stability standard.
Referring to a study it performed and cited in its mandatory standard published Nov. 25, 2022, the CPSC noted:
"Overall, the results from the study suggest that there is not a distinct line between units that people will use for clothing storage, as opposed to other purposes; and even within a unit, the use can vary, depending on the consumer's needs at the time. CPSC also is aware of products that are named and advertised as generic storage products with multiple uses around the house, or they are advertised without context suggesting a particular use. Many of these items clearly share the design features of CSUs, including closed storage behind drawers or doors. In addition, CPSC is aware of products that appear, based on design, to be CSUs, but are named and advertised for other purposes (e.g., an 'accent piece' with drawers staged in a foyer, and large multi-drawer 'nightstands' over 27 inches tall). CPSC is also aware of hybrid products that combine features of CSUs with features of other product categories. … The criteria for identifying a CSU in the rule would keep some of these products within scope, and exclude others, depending on their closed storage, reasonable expected use, and the presence of doors/drawers, such that those products that may be used as CSUs and present the same hazard, would be within the scope of the standard, while those that would not, would be excluded. Because consumers select units for clothing storage based on utility, rather than marketing, and there are products that are not named or advertised as CSUs but are indistinguishable from CSUs based on their design, the CSU definition does not rely on how a product is named or advertised by a manufacturer."
Also what would come under scrutiny would be a unit involved in an actual tip-over resulting in death or injuries to adults or children. Fortunately as of this publication that hasn't reportedly happened with the Aderes bookcases.
But all this reminded me of a harrowing incident a good friend in the industry told me about where his wife was injured when the top of a display/bookcase unit fell over on her when she was trying to reach something on an upper shelf. Fortunately, she recovered from her injuries. But it also showed that tip-overs aren't limited to chests and dressers. Or nightstands 27 inches and higher (which by the way typically also aren't used to store much clothing, but are still covered in the CPSC mandatory standard).
Will the standard have more far-reaching implications for other case pieces in the home? If it creates a safer environment for children — and adults — that obviously will be a good thing. Let's just hope that for the sake of the industry, the standard doesn't create more regulatory overreach than necessary and keeps the focus on the most dangerously unstable pieces in the home.
It's a balance that's needed for the industry to continue doing its job of designing, engineering, building and, yes, selling furniture.