Exhibitors say attendance appeared back to normal pre-pandemic levels and customers were there to buy
LAS VEGAS — Furniture resources in both upholstery and case goods came to the winter Market here with high hopes and expectations despite headwinds that include a slowdown in consumer spending and concerns about the economy in general.
For many, those high expectations were met or exceeded in terms of attendance and written business at the show, as dealers came back in droves that many said appeared to match pre-pandemic traffic in January 2020.
Leather Italia reported a record amount of Market appointments, up 30% from what it normally expects for a winter Market. Like others interviewed for this story, the company said that people were here to buy, and not just fill any spot they could with available inventory.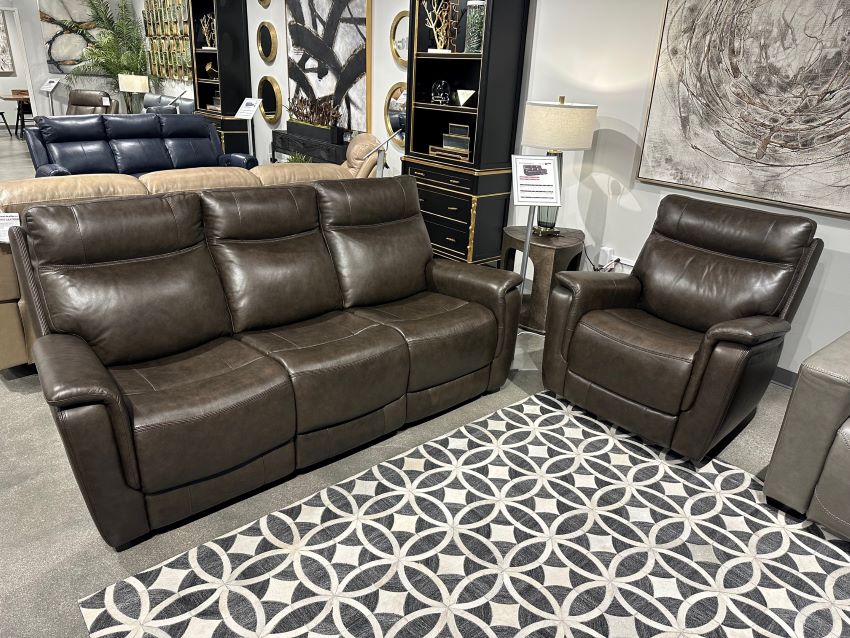 "People are past inventory issues, so they can make marketing decisions and not decisions based on inventory," said Marshall Evans III, senior manager at Leather Italia USA, noting that dealer interest was strong for new products that included 10 new upholstery frames, including sofas and chairs.
Southern Motion also reported strong dealer attendance and interest in new pieces in its Fusion line including two sofa loveseat groups and two sofa sectional groups. Like other products in the line, these are available at pre-pandemic lead times of about four weeks.
Jim Anthony, executive vice president of sales and marketing, said that dealers are interested not just because of the lower lead times, but the opportunity to pick and choose what they really want for their floors.
"We're excited about the conversations we are having and the momentum we are seeing," he told Home News Now, noting that the company doesn't typically show a lot of new product in Las Vegas but was pleased with the early response to its new goods nonetheless. "We are excited about what's happening at retail. Inventories are coming down and there are new opportunities for placements."
Hooker Furnishings showcased a broad assortment of product from its Hooker Furniture imported case goods and upholstery lines and its domestic Sam Moore and Bradington-Young upholstery lines.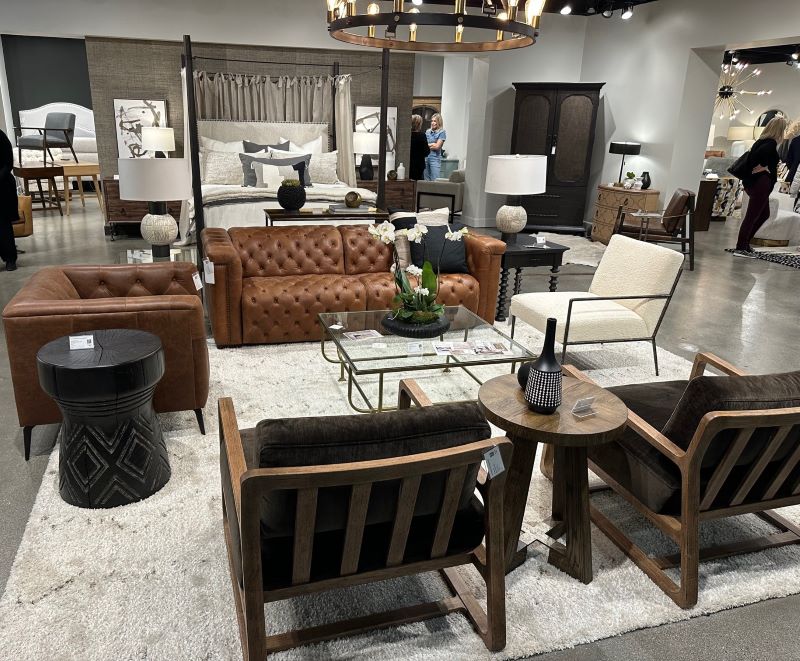 A vignette at the front of the space, for example, showcased the upholstery along with its Mountain Modern collection and some accent pieces from its Commerce & Market collection.
While some of the aesthetic was geared toward West Coast tastes, there also were plenty of styles to choose from that reflect the company's broad design palette.
Another benefit for dealers and designers alike is the ability to order and receive goods quickly, as most of it is already in production.
"Everything that is shown in here we can ship tomorrow," said Matt Cowan, executive vice president of sales at Hooker Furnishings, noting that product is available container direct and from its domestic warehouses in Martinsville, Virginia, and Savannah, Georgia. "That is one of the nice things about this market is that it's available now."
AICO also showed a large mix of its full-line assortment, from bedroom and dining collections to upholstery, accents and lighting.
"We were very pleased with the attendance we had in Las Vegas and the strong response to our large introduction of merchandise being shown in Las Vegas for the first time," David Koehler, president, told Home News Now. "A common thread in many of our customer conversations in Las Vegas was the desire for innovative goods and an appetite for fresh, new merchandise for their floors. Despite some economic headwinds, we feel there is ample opportunity with our vast product offering to help our customers be successful and acquire additional market share."
Parker House also was able to showcase most of its complete whole-home assortment in a new 44,000-square-foot space formerly occupied by New Classic in Building A. In addition to stationary upholstery, it also showcased its motion line, including a large number of recliners as well as lift chairs built off its bestselling chair frames.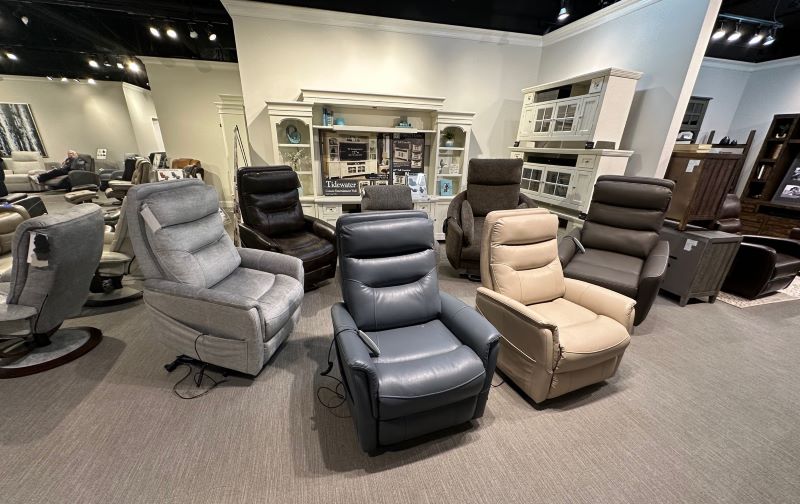 The company also showcased a wide mix of bedroom, dining and occasional, including new bedroom added to its Pure Modern and Americana Modern collections and new dining room for its Pure Modern, Lodge and Sundance collections.
"We're happy we can show our full wood collections," said Marietta Willey, vice president of product development and merchandising, noting that many accounts that don't go to High Point are seeing them for the first time. "For our Las Vegas customers, this is like a brand-new market."
The Market also was an opportunity for buyers to find new upholstery to replace goods they purchased from United and Lane, which closed in late November, not to mention replacement Broyhill product built in former Lane plants.
Man Wah, for example, showcased several upholstery groups at the front of its space featuring similar styles and price points offered in the Lane line. While the Lane product is largely below its price point, Flexsteel also is making available some of its Mexico capacity for Broyhill, which is sold at Big Lots.
"Lane had five plants that built Broyhill," Flexsteel President and CEO Jerry Dittmer told Home News Now. "We have capacity in Juarez and are pretty excited with where we can go with it. We said 'we will help with the Broyhill product.'"
The company also said it was pleased to be returning to Market with its first permanent space in a few years.
"We are really excited about the traffic," said David Crimmins, vice president, sales and product, who said before Market the company was expecting about 240 accounts in its first few days and was expecting even more drop-ins. "The customers have responded positively … they are buying."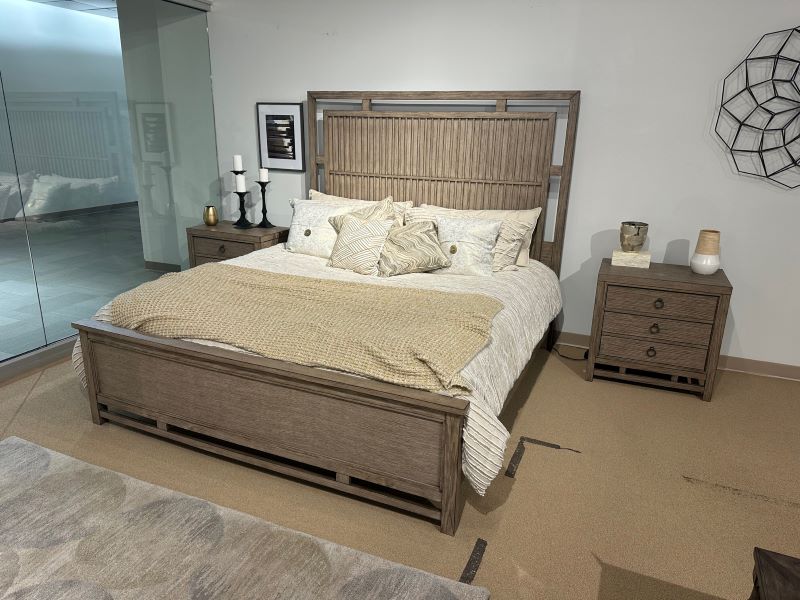 Tim Donk, vice president of product at Legends Furniture, said that traffic had once again reached pre-pandemic levels, with nearly 300 accounts in as of Monday, two days before the show ended.
He said that customers also were placing orders, a shift from six months ago when many weren't, a result of being overstocked with merchandise.
"They are buying. We are writing more than we expected," he said during the show, adding that everything shown also is ready to purchase direct or out of the company's domestic warehouse facilities.