Home News Now offers readers a glimpse of the manufacturing process for a category that is becoming more and more important to the whole home furniture resource
Earlier this fall, Home News Now Editor-in-Chief Tom Russell visited Universal Furniture's upholstery manufacturing plant in Conover, North Carolina. The goal was to see how the company transformed the facility after purchasing the operations from Southern Furniture in September 2019. The visit helped us understand not only the transformation that has taken shape since, but also how the company has overcome various challenges ranging from slowly moving away from the plant's OEM business to having to recruit an almost entirely new workforce that was eager to embrace Universal's method of building custom upholstery in the most efficient and consistent manner from both a quality and pricing standpoint.
During the visit, executives showed us how various areas had been transformed, ranging from completely new layouts of the sewing and other areas of the facility to new lighting and the repainting of walls to create a brighter and more welcoming environment for employees. We also saw the process from start to finish and just about every step in between that is allowing the company to gain newfound respect in the marketplace as a producer of custom upholstery. As many know, this marks new territory for a company known for its manufacturing expertise in case goods. The images here show how it is translating some of that past history in manufacturing to a whole new category where it expects to see significant growth in the months and years ahead.
Scroll down for an exclusive look inside its operations.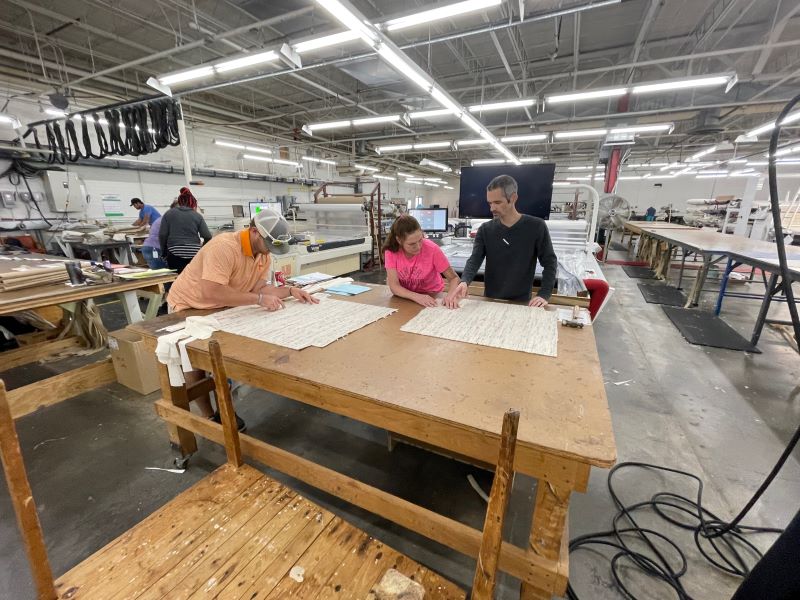 A team of Universal employees is seen at one of the plant's many workstations reviewing fabric swatches. The environment is clean and brightly lit with fluorescent lighting.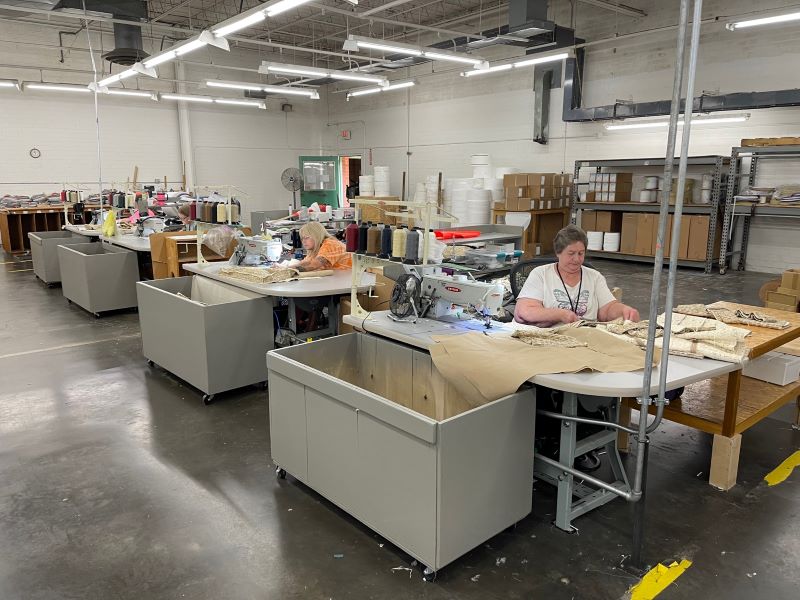 A team of sewers is seen busy at work on fabrics that will soon be applied to various frames in the upholstery line.
A worker is seen cutting patterns from a leather hide that will also be used in the line. This is one of 50 different leathers used in the upholstery mix.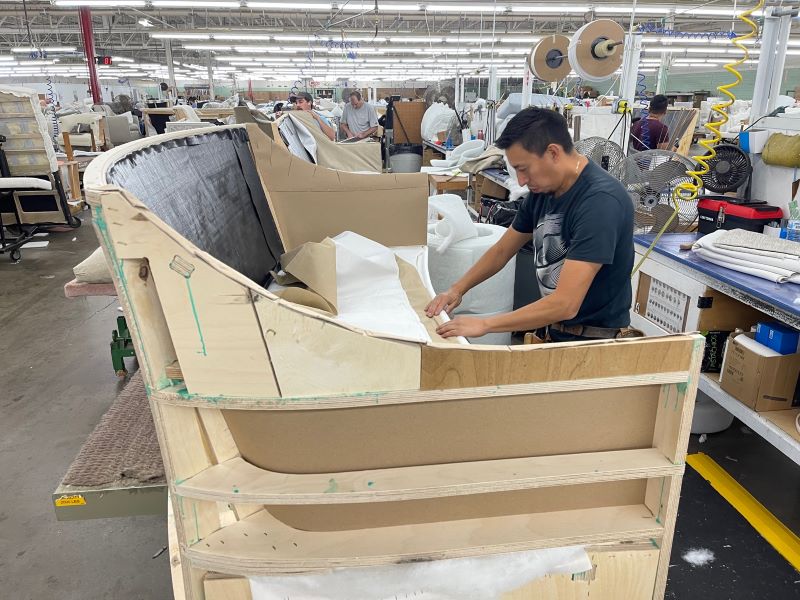 A worker is seen applying various levels of padding to the frame of a sofa before it is ready to be upholstered.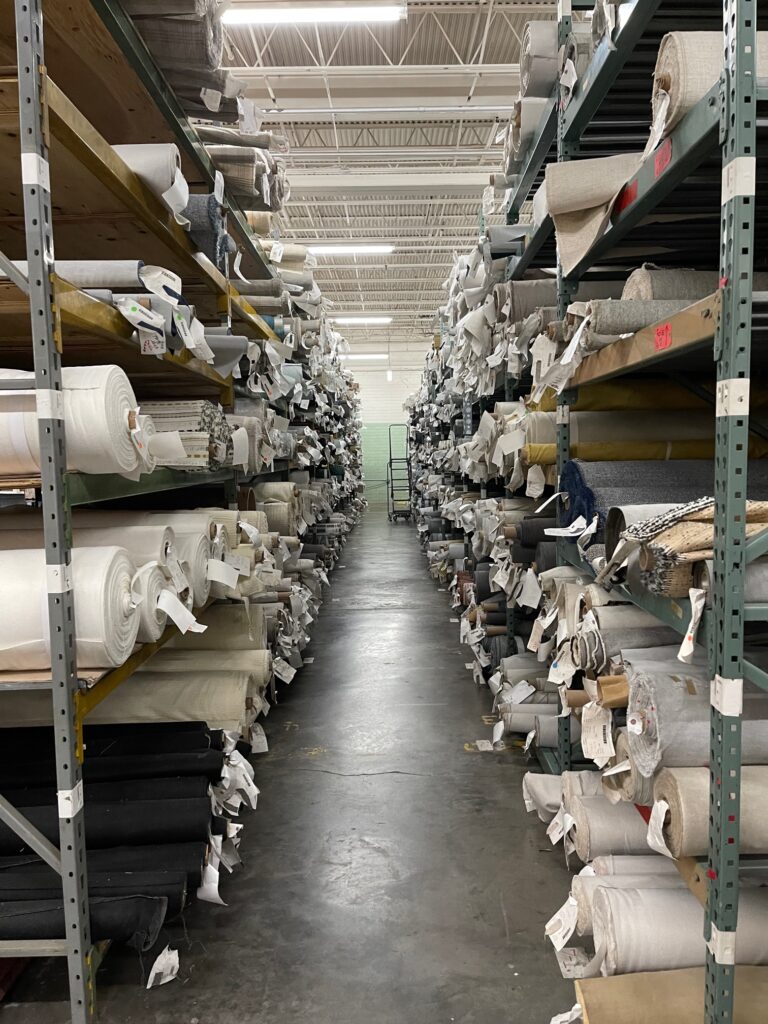 This is just a small part of the thousands of yards of fabric that the company keeps in stock to be able to turn around custom orders in a relatively short amount of time.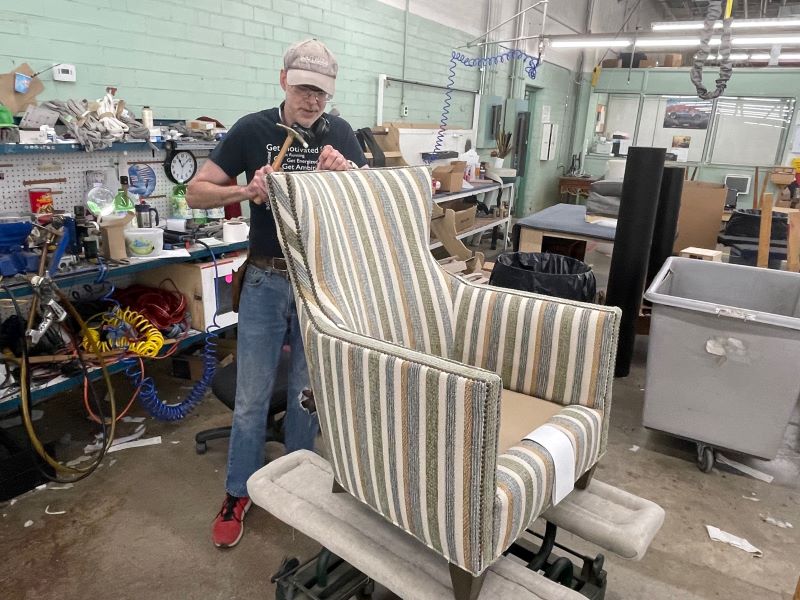 A worker is seen putting finishing touches on the frame of a chair that is upholstered in one of the line's estimated 450 fabrics.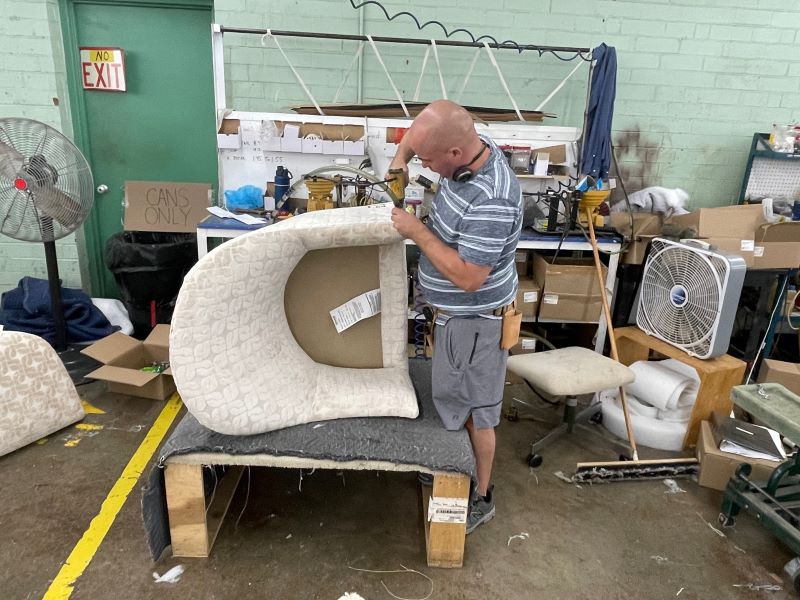 Another chair frame is seen being upholstered by one of the company's talented team members. The chair will soon be ready to be shipped once the process is complete.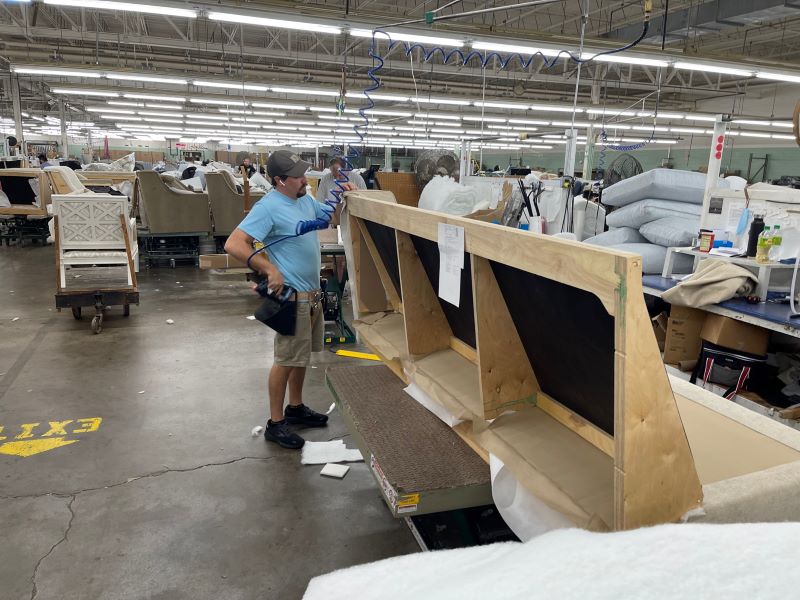 A frame is seen getting ready to be upholstered. The company uses several manufacturers in the area to build sturdy frames for sofas, chairs, sectionals and other upholstery pieces made at the plant.