HIGH POINT — Recently we published our last — but certainly not least — installment in our Consumer Insights Now regional reports.
As seen in the companion slide presentation, it covers the West Coast, a massive area of the country that includes the following states: Alaska, Arizona, California, Colorado, Hawaii, Idaho, Montana, Nevada, New Mexico, Oregon, Utah, Washington and Wyoming.
These 13 states, the largest number in any of our regional reports, include densely populated and growing states such as California and Arizona, as well as smaller ones such as Wyoming and Utah. Regardless, the region as a whole is the largest, not only in terms of geographical area, but also in terms of population. It accounts for 24% of the grand total in population, compared to 21% in the Midwest, 20% in the South Atlantic, 18% in the East/West South Central and 17% for the Northeast.
Thus it obviously behooves any supplier to pay attention to this region not just for the population alone but also the number of key retailers based in any of these states.
Once again there are similarities in what consumers in this region are looking to buy for the balance of the year. Sofas, decorative accessories, mattresses for the master bedroom, lighting and rugs rank in the top five most-sought-after categories, followed by wall décor, office furniture, other living room furniture (occasional/accent tables), outdoor furniture and home entertainment.
Lower on the list of priorities are dining room and kitchen furniture, master bedroom furniture, mattresses for guest and children's' bedrooms, guest bedroom furniture and youth bedroom furniture. This data might give pause to anyone thinking of entering categories such as guest or master bedroom, while validating decisions by others to expand into upholstery and other living room categories, including outdoor entertaining areas.
Given the climate and opportunity for year-round outdoor entertaining in many parts of the West Coast, it's thus no surprise that outdoor furniture had a solid position in the top 10 categories of interest.
Other decision drivers? According to the survey, price was the No. 1 consideration for 71% of respondents, followed by style, design and look, 64%; on sale, 63%; in-stock availability, 44%; and buying from a retailer I know and trust, 29%. Lower on the list were buying from a manufacturer I know and trust, 19% and designer recommendation, 7%. It is also interesting to note that designer recommendations will likely become more important as 53% of those surveyed plan to work with a designer in the future, up from 7% of those who said they have worked with a designer in the past.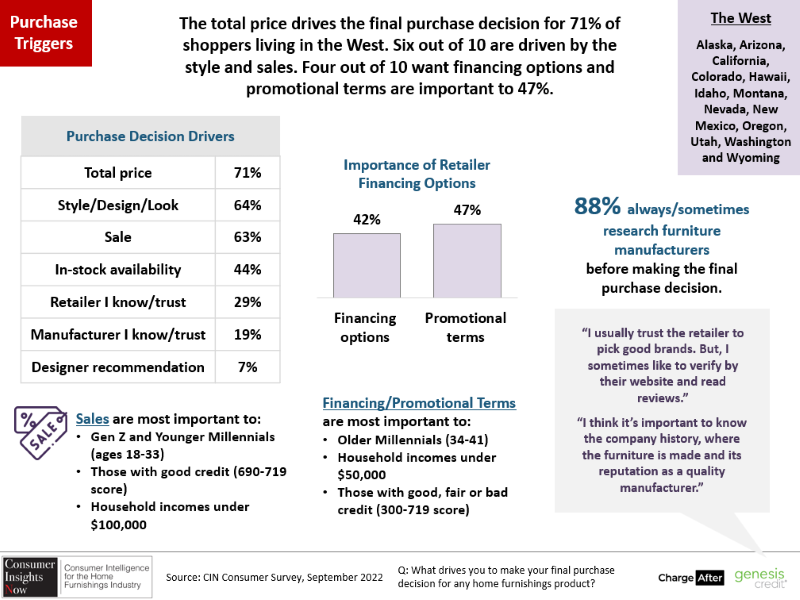 Reasons given for working with a designer? Here are some comments from those polled:
+ "Because they know what they are doing and what I like. I have no time to do it myself."
+ "Because he has more experience and a wide imagination."
+ "I wanted help bringing together a look and feel."
Other consumers shared insights on how the buying experience can be improved. Here are several takeaways.
+ "Available styles in store. There seem to be so many styles online, but zero in store."
+ "Have the option of customizing your perfect piece that fits the style, color and size of your room. An option to choose the same sofa in different colors adds a lot of possibilities for design."
+ "More stores should allow me to virtually place items in a room to see what they'd look like."
+ "Better prices, more staff on the floor to answer questions and open later hours."
+ "Better prices and more selections. I also love seeing more options made in USA."
+ "The retailer providing free delivery and the willingness to take our old sofa."
The good news is that all of this is constructive information and criticism. Retailers in this region also should know that brick and mortar remains an important asset for consumers, with 61% of those surveyed shopping at local furniture stores and 51% shopping at national furniture chains.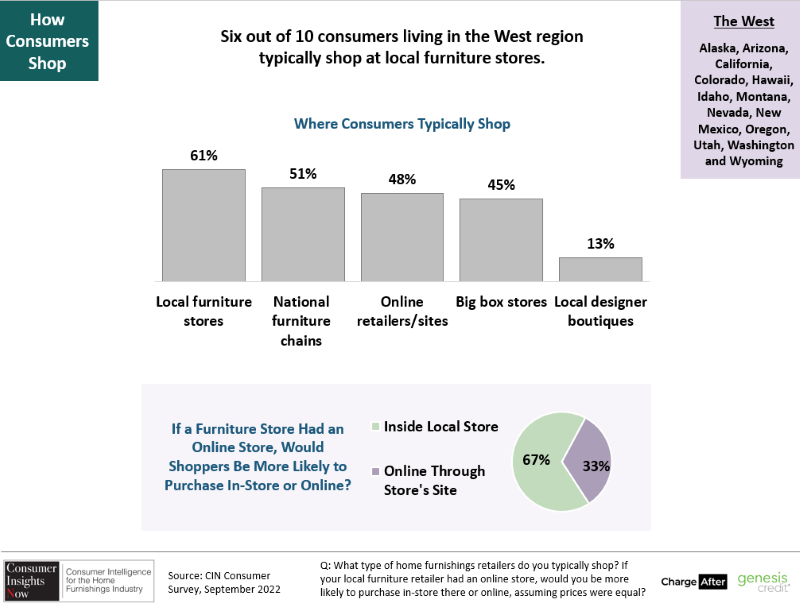 Online resources are gaining ground, however, with 48% of those surveyed shopping for furniture online. Among the top factors driving them to shop online are: it's convenient (78%), it saves me time (59%), a wider selection of product (51%), better sales and deals online, plus it's easy to find what I want (tied at 48%), free shipping (41%), and the ability to use technology to see and place product in a particular room (24%).
Of course that could also mean shopping the website of a local retailer. But obviously foot traffic still matters particularly as it allows customers to experience the furniture firsthand.
As always, we hope these numbers help provide meaningful information to your business in the months ahead, not only providing information about the products and styles that customers want but also providing tips on how to improve the buying experience overall.
That said, we wish you a successful close to the year and a good start to the year ahead.
About the survey: Consumer Insights Now surveyed 1,993 U.S. consumers from July 11-13, 2022. All respondents planned to purchase one or more home furnishings products between July and December 2022, and all were either the primary or joint purchase decision-maker. The sample includes a mix of females and males, ages 18 to 74, and includes a representative mix of ages, ethnicities, household incomes and homeowners/renters. National results were released Sept. 12. Results from five regional breakdowns have been released in individual installments each week thereafter. Dana French, who has more than 20 years of home furnishings and consumer research experience, leads Consumer Insights Now project, which is sponsored by ChargeAfter and Genesis Credit.