Modular upholstery line creates sofa, chair, loveseat and sectional combinations from a single seat and multiple arms
HIGH POINT — Case goods and upholstery manufacturer Flexsteel is taking its e-commerce furniture program to the next level with a new program called Flex.
The company teased the program at last month's Premarket and is showing it again at this week's October High Point Market.
Like its opening price point HomeStyles e-commerce line, Flex features KD construction on stationary upholstery. The difference is that it is priced closer to its regular Flexsteel assortment with sofas targeted to retail around $2,499 to $2,599 and sectionals targeted to retail from $4,599 to $4,799.
Sofas in HomeStyles are targeted to retail at about $1,459, according to prices on the division's website.
The company said the launch is meant to offer a flexible modular footprint in the upholstery category with the same type of quality construction as Flexsteel. Pieces are built off a single seat that along with a few different arm styles used to build a chair, sofa, loveseat or sectional. Storage and nonstorage ottomans also are available.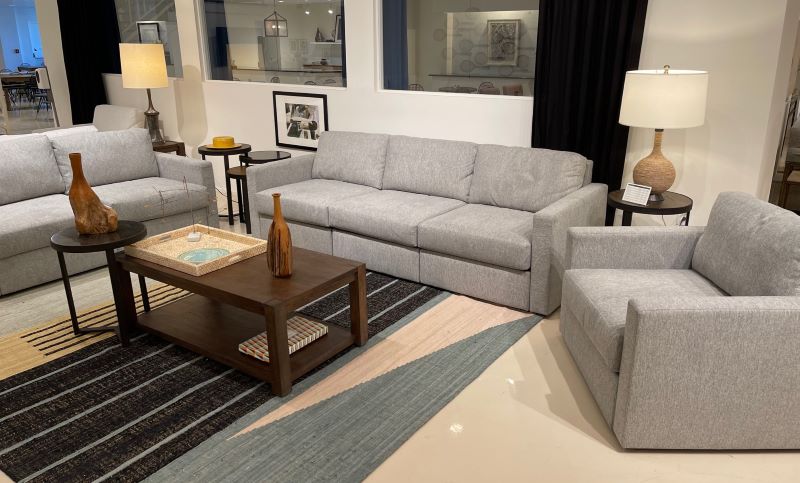 "Because it is modular, the piece count is super-skinny," said Tim Newlin, vice president, product. "With a single seat you can put arms on that and have a chair, or you can take three single seats and put arms on that and have a sofa. … It is super-simple."
The same modular footprint can be used to build a sectional, complete with a regular or storage ottoman used on the end to form a chaise.
Flex also aims to engage consumers — including younger consumers — where they are shopping today — online, whether it be a site like Wayfair or the site of their favorite local furniture store.
"We know that going into a store is still important and that's still there, but this can capture that consumer who is digital only, or e-commerce only," Newlin added. "We have had e-commerce in mind from the start with this product. This product also solves a major customer pain point in that this is knock-down so you can get it up to a loft, you can get it down to your basement, or you just don't have five friends that can help you move something."
David Crimmins, vice president, sales, agreed that the product is engineered in a way not only to move, but also to assemble — not to mention purchase
"I think the other thing we are solving here is the ease of the buying process, helping the consumer that is looking for a buying process that is digital in nature," he said. "So we are putting comparable energy into the content and we are making it available through e-commerce channels but also through our brick-and-mortar retailers."
Retailers have the option to floor the product inside stores and even keep some items in-stock. But the way Flexsteel has built the program, they can buy it right out of its Indiana warehouse and have it shipped to the customer in a few days or less.
"I haven't run into a retailer yet that has an excess amount of warehouse space, delivery drivers or installers," Crimmins said. "So part of the value is here is that they don't have to do any of that. We do all the fulfillment. It is a no-touch model for the retailers. That is the value."
The assembly process is also simple, with consumers able to put the pieces together with just a couple of pieces of hardware including a J-clip.
Although a white-glove type of delivery service will be available, which will provide consumers help with assembly, the standard will be small-parcel delivery via FedEx or UPS, which lets the consumer unpack and assemble the units themselves.
"The point is to let us drop-ship it out of our warehouse," Crimmins said, noting that orders placed before 3 p.m. Eastern time go out the same day. "It ships the same day and delivers to 80% of the country in two days or less," he said, adding, "It is just a different shopping experience than you get from Flexsteel today — but it is still Flexsteel quality product…The goal is to offer all the convenience of an e-commerce product, fulfillment model and delivery process. But once you put it together, it shouldn't feel like that. It should feel like a normal piece of Flexsteel furniture."
The executives noted that the product is being made at Flexsteel's production facilities in Mexico and will be loaded into the company's Indiana warehouse in December. It will begin shipping to consumers from that facility right after the first of the year.
At this week's October High Point Market, Flex can be seen at the Flexsteel showroom in C-558 of the International Home Furnishings Center.