HIGH POINT — A look at our latest Consumer Insights Now research covering the Midwest once again highlights some interesting trends related to what types of furniture people are looking to buy in the second half, and just as importantly, where they plan to shop.
The report surveyed 416 consumers in the Midwest region of Illinois, Indiana, Iowa, Kansas, Michigan, Minnesota, Missouri, Nebraska, North Dakota, Ohio, South Dakota and Wisconsin in mid-July.
As with our other regional reports, sofas, mattresses for the master bedroom, decorative accessories and rugs were among the most sought-after categories, followed by lamps or light fixtures, other living room furniture such as occasional tables, wall décor, office furniture and outdoor.
The survey also found that 71% of those surveyed shop for furniture in local furniture stores and 48% shop at national furniture chains.
Yet nearly 40% shop online and nearly 30% start searching for product online, which was tied with the 30% of those surveyed starting their search at a brick-and-mortar store. Nineteen percent of those surveyed started their search on the website of a local retailer.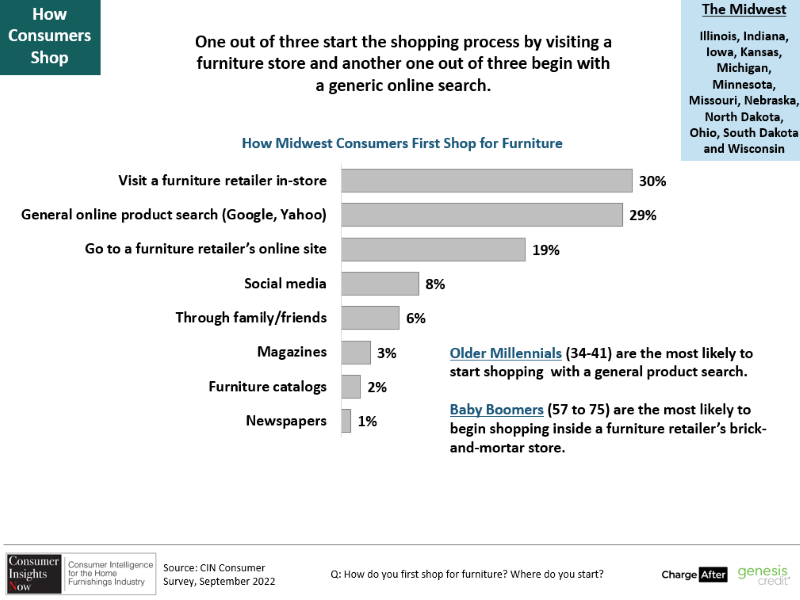 Obviously brick-and-mortar has a huge advantage in that it allows you to actually sit in a sofa or see up close the texture of a finish on a dining table. And that advantage shows up in the numbers.
However, people are obviously more comfortable shopping online, which was further validated with 37% and 35% seeking design inspiration online and through social media posts respectively compared to 45% who found inspiration at local furniture stores.
Again, the numbers speak to the advantage that brick-and-mortar stores have in allowing customers to actually experience the product first hand.
Yet the easy access of online resources should continue to alert retailers on how they can enhance their own online presence for the benefit of their consumer.
Here too the survey yields some possible lessons to be learned about the appeal of online shopping:
+ 68% of those surveyed said online shopping is more convenient
+ 58% said it saves them time
+ 54% said it's easy to find what they want
+ 49% said there is a wider selection of styles, fabrics, wood species and colors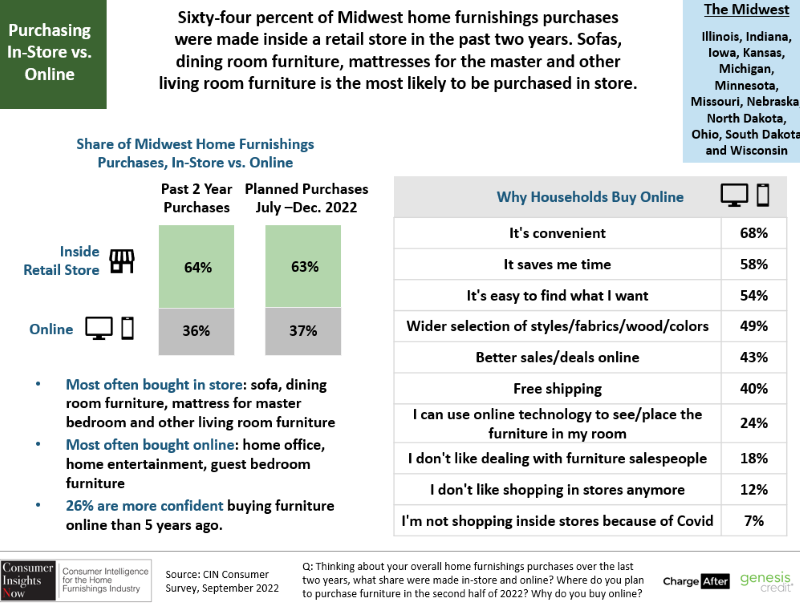 + 40% said because of free shipping
+ 24% said they can use online technology to see and arrange the furniture in their room.
Other reasons? I don't like dealing with furniture salespeople (18%); I don't like shopping in stores anymore (12%); and I'm not shopping in stores because of Covid (7%).
So some of these factors won't get a consumer going back into stores anytime soon. But retailers can look at the other reasons on the list and perhaps determine where they can improve the overall shopping experience.
Let's face it. There are plenty of days where we don't want to get outside the comfort of our homes. But on plenty of other days, getting out to a furniture store can be a fun experience. That's especially true for people who haven't shopped in a while and have no idea of what styles they are missing out on.
Plus many retailers have the digital tools consumers are seeking to help them with their selection, whether it be a room planner or tool to see what a sofa will look like in a different fabric. These are tools many retailers have had for years but that consumers simply aren't aware of.
That said, retailers have plenty of reasons to get consumers to shop and find what they want. We hope this research works to your benefit in bringing shoppers in and providing them a wealth of options they never knew existed — even if they have started their search online.
As our research indicates with the number of consumers still shopping physical stores, seeing and feeling what you are going to buy in person is almost always better than seeing it on a screen and hoping it looks that way when it arrives at your doorstep.