Conference call highlights some key initiatives to help boost sales, profitability of key division
MARTINSVILLE, Va. — Hooker's latest earnings call provided a window into the future of the company's Home Meridian segment, which has endured tough times during the pandemic, largely due to supply chain issues.
But during the call, the company took an optimistic view of its future with more of a concrete foundation versus the prior "quick sand" foundation as described by President and CEO Jeremy Hoff.
Establishing a more solid foundation has been a long tough road for Hooker, given it has had to make some difficult decisions along the way, including cutting some positions and exiting what it has described as an unprofitable Clubs channel business.
During the call, Hoff noted that some 40% of the segment's $28.3 million sales decline during the second quarter was due to the company's previously reported exit from this unprofitable sales channel. The decrease also was driven by what he described as "large retailers and its customer base who are rationalizing their inventory levels, along with some softening of e-commerce sales industry-wide."
For the full half, sales in the Home Meridian segment fell from $171.7 million last fiscal year to about $121.1 million, which still represents the company's largest percentage of overall sales at 40.3%, down from 52.8% as of the second half of last fiscal year.
Realize too that this is down from its peak sales of nearly $388 million for the fiscal year ended in early February 2019, as noted by analyst Anthony Lebiedzinski during the call.
But Hoff said that the company has taken steps to make the HMI segment more profitable — including reducing overhead — even if it's a $250 million to $260 million business overall.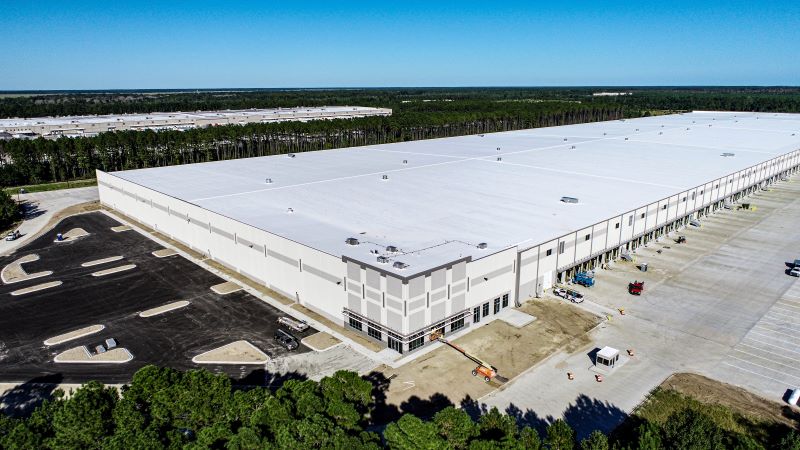 For one, the company is devoting significant space in its new Savannah, Georgia, warehouse to the Home Meridian line. This includes space its new Portfolio program to be launched at the October market, which is being shown in a newly revamped showroom for the fall High Point Market cycle. Right out of the gate, Portfolio offers some 1,000 ready-to-ship SKUs across four HMI brands with no order minimums.
"The rollout will enable us to further diversify our customer base and distribution channels at HMI, allowing us to reach a vast network of independent retailers," Hoff said during the call.
He also noted that thanks to this program, the "fast-growing interior design channel also will now be able to leverage these HMI brands and their products for the first time. The Portfolio program does not require additional overall inventory, but a change in the mix."
He added that the new distribution center also will allow the company to warehouse its new Sunset West outdoor product line by the end of the year, "giving Sunset West logistical support to East Cost Distribution for the first time."
Indeed the company is making a huge investment in inventory — estimated at $56 million — which contributed to a $57 million reduction in cash to $11.7 million at the end of the second quarter, noted Paul Huckfeldt, senior vice president and chief financial officer.
By the end of the second quarter, Huckfeldt noted, the company had $131 million in inventory, including $34 million en route to the domestic warehouse. Despite the drop in cash levels, the company said that much of this is sold orders, which it expects to soon convert to shipments, which in turn will boost cash balances by year end.
Hoff added that the higher inventory level "also positions us well for the typically stronger sales in the second half of the year."
This too will help the Home Meridian segment, which already is seeing significant reductions in its operational losses.
For example, as previously reported, the HMI segment has been beleaguered by high freight costs and exit costs from the RTA segment, along with "significant chargebacks" from Clubs channel, which contributed to its $21.3 million operating loss for the full year ended Jan. 30. This narrowed to a loss of just over $4 million for the first half of fiscal 2023 and $991,000 during the end of the second quarter ended July 30.
So it appears HMI is moving in the right direction, although it likely won't immediately reach the $18.8 million in annual profits it achieved by early 2019 when sales also peaked at nearly $388 million.
But Hoff was optimistic about HMI's ability to achieve a healthy profit margin based on the aforementioned initiatives. He also said the company overall, including its Hooker Legacy and Domestic Upholstery segments, is preparing for a strong second half of the year based on its healthy backlogs and solid inventory position. "We are on track to increase sales in all three segments and finish the fiscal year on a positive trajectory," he said.
And in response to one of Lebiedzinksi's questions during the call?
"So you expect ultimately the operating margins for HMI could be higher than they were at their historical peak…even with a smaller revenue base, is that fair to say?"
Hoff summed it up succinctly.
"Absolutely," he said.