HOUSTON — Exclusive Furniture will officially open its 65,000-square-foot North Houston showroom this week, its largest store to date featuring an outlet and other new elements.
The North Houston-area store at 16515 North Freeway, will have an in-store,  "photo friendly" mural by local artist @ofilidesign that highlights the story of Exclusive Furniture's city-wide expansion, according to the HNN 125 company.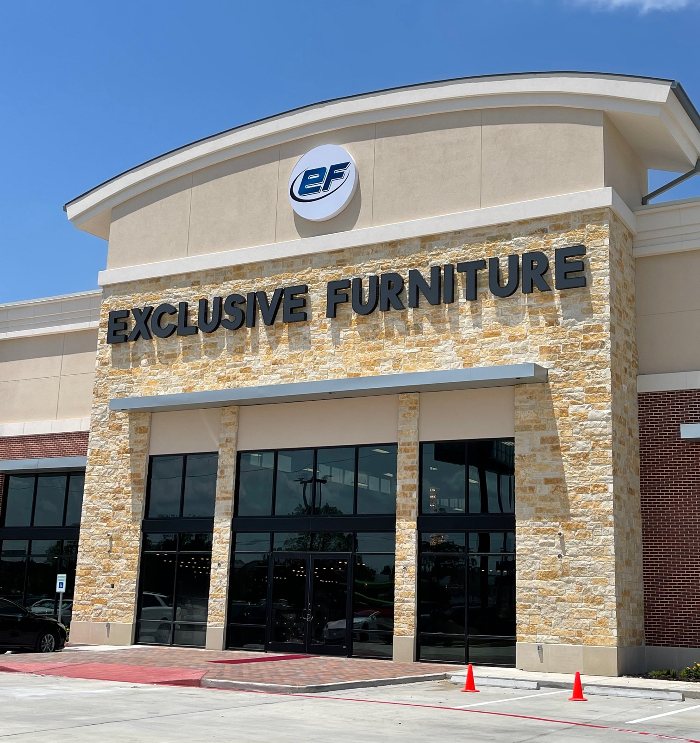 In a first for Exclusive, Rack 45, the retailer's 15,000-square-foot outlet concept inside the store, will be differentiated from the lifestyle experience that Exclusive offers elsewhere in the store by, among other things, offering consumers a chance to explore premium bargain offers, the retailer said. Other store-within-a-store concepts here include a mattress store and patio store.
The grand opening celebration begins Friday, July 22, with a VIP friends and family reception and a ribbon-cutting. Doors officially open to the public Saturday, July 23. There will be in-store activities, including face painting and caricature drawing experiences for guests, performances by violinist Demola and Vincent Powell from American Idol as well as guest appearances by local influencer/celebrities such as Indian Matchmaking Star Aparna Shewakramani and more.
Giveaways include $100 gift cards to the first 100 visitors and a chance to win a Tempur-Pedic mattress valued at $7,500. Exclusive also will offer discounts on Friday at the VIP showcase and discounts plus free delivery on Saturday.
Committed to giving back to the community, the retailer also will present a $2,000 check to Interfaith of the Woodlands in support of numerous programs and services to meet the needs of The Woodlands and the surrounding area.
"We love continuing to expand our community presence in the city especially in the North Houston area where there are a lot of home dwellers wanting quality, in-stock furniture," Exclusive President and CEO Sam Zavary said in a release. 
He added that, "One of the things that continues to be the most exciting to me is watching Exclusive Furniture continuing to grow over the last 24 years."