Independents stand to gain from the 'great human reconnection'
ORLANDO, Fla. — It wasn't the quick bump from an upcoming Memorial Day Weekend that was on the minds and in the conversations of retailers and suppliers at last month's Furniture First Symposium here. It was the long game everyone was thinking about.
How to move forward with heavy inventories and slowing demand. How to re-engage with the consumer after almost two years of easy order writing. It was a conference of tips and ideas on how to execute something that, perhaps, they hadn't thought of before for an easy win. Retailers checked in with suppliers to discuss ways forward from here, and speakers reminded everyone of the key blocking-and-tackling maneuvers they need to execute now that the world has changed so suddenly.
Bob Phibbs, aka "The Retail Doctor," may have said it best during his presentation on "How to Stop Getting Your Butt Kicked by Online Competitors," (which really was much more than just about that): "You've come out of this amazing abundance, where the sky is like Peloton and Uber and WeWork and it will never go down," he said.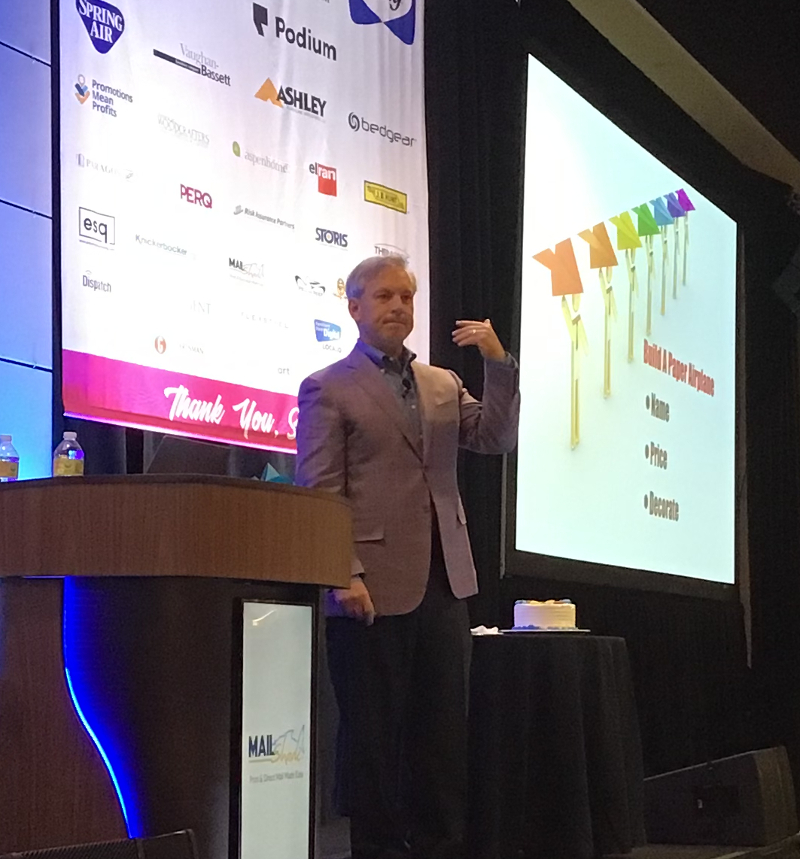 "But the reality is we're normalizing. Now is the time to really connect on that customer in front of us."
And later: "We are on the cusp of the great human reconnection, folks. And retail is the one that is driving it," he said. "So if we can understand that and understand if we just look for the opportunity wherever it is, life gets easier."
For now, let's jump to the end of Phibb's presentation, the part when he asked the audience to shoot back "what we learned," from him, concrete examples of ways to make these connections he was talking about and other ideas they would be taking back to their businesses.
One retailer mentioned the importance of spending more time on training and staff and less time "watching YouTube videos," a reference to the online diet of toxic anger and negativity many have been feasting on, Phibbs said.
Matt Huber of Dulles, Va.-based Belfort Furniture, liked the example Phibbs showed of an athletic shoe retailer, who affirmed its role as an authority and true customer partner by clearly laying out its process to consumers on a prominent sign near the entry: First we'll ask questions to understand your goals, the sign said. Then, we'll examine your feet, look at your running style and try on several suitable shoes. It ended with, "Together we'll find the perfect pair."
Huber said he planned to adapt something similar to illustrate the process of picking out the perfect sofa. Phibbs emphasized the importance of that last step — of moving through it together.
Another retailer liked Phibbs' remark about how retail is all about "being brilliant with the details," and another liked the idea of sending salespeople out on deliveries on slow days.
"If you're telling me you don't have enough customers walking in the door, then get your (salespeople) to go out on every delivery personally and see that it goes in the house," Phibbs said. "And then take a tour of their house and make suggestions."
Yes, it sounds like a lot of work, he added, and it is. "But for people who have said yes, it's much easier for them to say yes again. (You would) rather do it in the store, but if we create a relationship, we've got it for many years to come. That's the journey we're trying to bring them through."
Indeed, this gets to the heart of Phibbs' whole presentation. As one retailer picked out from his talk, "The era of the transaction is over, and it's now about relationships," and that's something Phibbs said brick-and-mortar retailers hold as a distinct advantage over online-only players.
"People buy people first," he said.
And, "You want to stop worrying about online retailers? Stop selling in your store like you're an online retailer." By that, he means stop limiting yourself to thinking you're selling to a customer who has figured it all out online and is coming in for one specific thing — a dinette in oak that seats six and at this set price.
"They don't do that," he said, at least not the majority of consumers visiting the store. "They just know they want to change something about their environment."
"The job goes to being curious about people," and opening what he called a "window of contact," by complimenting consumers with a question, sharing something about yourself and then continuing.
And it's got to be a good question, he added, something with a little substance to show your interest and connection, not something lame that can be answered with a simple "yes" or "no." So when a young man enters with a "Soccer Dad" T-shirt shirt on, it's not, "Does your kid play soccer?" It's, "Who's your favorite team?" or "How long has your kid been playing?" or something about winning.
"If you're just curious," he said, "life gets easier."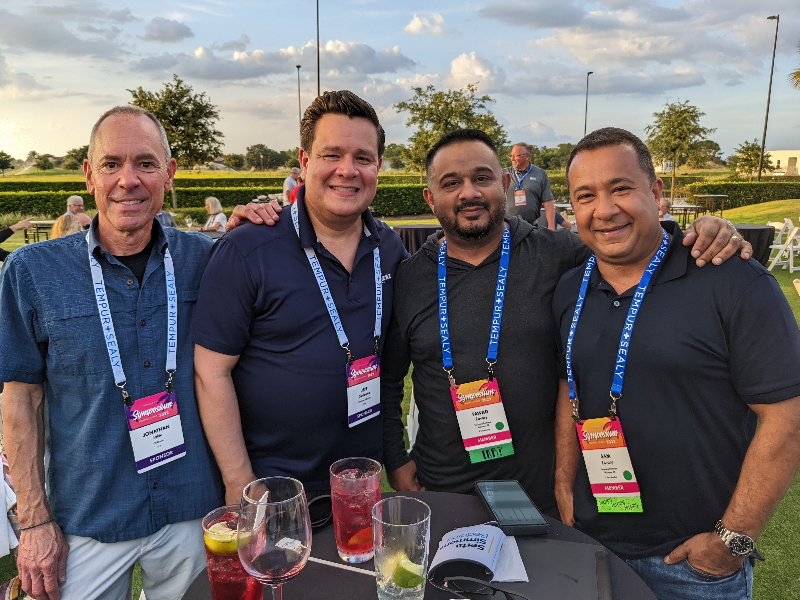 Phibbs drove this point home in his Retail Rx newsletter this week, which you can sign up for for free, noting, "No robot, no app, no algorithm touches the heart as much as another human who seeks to do so. If you want to thrive, you need to stop being antisocial and encourage connection with every person who walks into your store.
"The true retail disruption these days is the human element," (his emphasis).
Back on the Symposium show floor retailers and vendor partners were connecting just this way after two pandemic years with no Symposium and even though this one was hitting just as the retailer's appetite for more product was satiated.
"If you look at the landscape, whether they're a high-end, midpriced or promotional retailer, a mass merchant, rent-to-own, e-commerce or independent retailer, the conversation is the same," said Jay Quimby, executive vice president, sales for Lane Home Furnishings. "Warehouses are full, warehouses are disjointed — fragmented with two years of uneven supply chain.
"And what we preach at Lane to our sales organization is, 'Ok, what's the next 10 words?'"
Quimby said it's during these times that true partnerships are developed. "This is when both companies need each other more than ever."
For Lane's part, he said the company has been coming out with traffic builders to help retailers get those consumers through the door. It has come out with more choice programs, he said, and in High Point, Lane launched a program called "Ready to Roll," where it basically stocks certain SKUs very heavily so retailers can replenish on a weekly basis.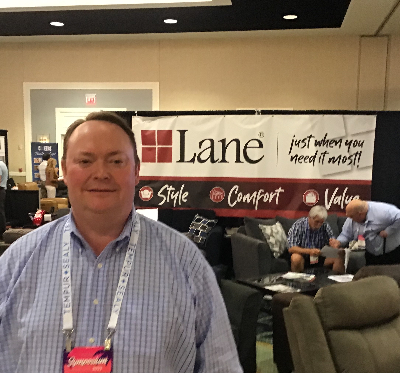 "At times like this you find buyers want to buy less but more frequently," Quimby said. As for that $399 sofa price point that all but disappeared from floors with the earliest wave of price increases? Quimby said Lane is giving retailers a few options at that price point to drive business this summer.
At the Symposium, the company was tying all these programs into a special discount for members.
And it sounds like it's going to take a nice discount to bring Furniture First members and other retailers to the table these days.
Bo Coconis of the four-store Coconis Furniture of South Zanesville, Ohio, said most would probably agree that the best business period is now behind us and that the next six months to a year — or maybe even two years — will be challenging. It's an odd time too, because while everyone craves and needs new business, they also know it's going to take a letup in demand to bring container rates down, he said.
And that seems to be what's happening. "For us, it stopped so quickly," he said of the customer rush. Fortunately, he added. Coconis has overflow warehouse capacity and extra cash from the great times to take advantage of the discounts he sees coming. He's seen a few here at the Symposium, he said, but for the most part, they haven't been deep enough to pull the trigger.
"But I think heading into the fall, you're going to run into more opportunity buys," he said. "I think that's what a lot of us are trying to prepare ourselves for. Manufacturers are going to have a lot of stock and they're going to have to get rid of it. We're trying to make sure we can manage our inventory, get rid of some stuff through the summer and get ready."