Purchase of Scarborough House brings new designs to the company's case goods portfolio
HIGH POINT – Maitland-Smith's planned acquisition of Scarborough House continues a strategy to expand the company's product portfolio with the design footprints of certain key brands.
Last year, for example, the company purchased the intellectual property for various Marge Carson's case goods collections produced in Asia. This opportunity arose after Marge Carson dropped those products to focus on developing a case goods line out of Mexico, alongside its long history of upholstery production also in Mexico.
Thus, while the Marge Carson brand continues with Mexican-sourced upholstery and case goods, Maitland-Smith's line has been broadened to include the Marge Carson designs, sold under the Maitland-Smith name. It started with a launch of four dining sets and a few occasional groups last fall and added bedroom and more dining this past April.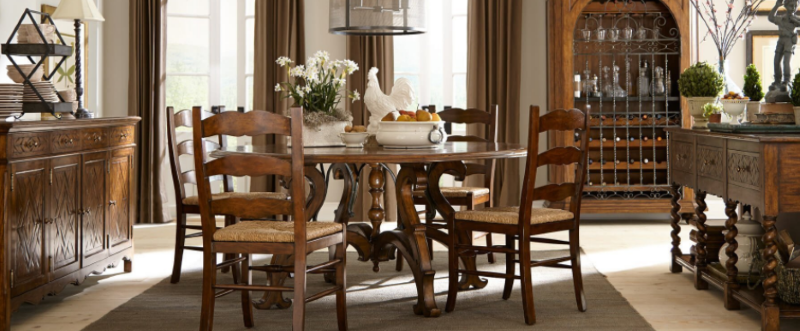 "We wanted to expand that and it was very well received by our customers," said Federico Contigiani, general manager of Maitland-Smith, noting that the product also is in stock in one finish and/or fabric.
"Which is very different from what (Marge Carson CEO) Jim LaBarge and Marge Carson used to do," he added of that company's custom approach in case goods. "We are streamlining the process where the product is stocked and shipped very quickly. It is working very well for us."
Produced in Indonesia and the Philippines, the former Marge Carson wood collections add a largely traditional aesthetic to the line.
The same can be said for the Scarborough House line, which features a mix of classic British, rustic European and 18th Century French designs featuring a mix of marquetry, gilded carvings and other exotic inlays. Contigiani said the acquisition, to be completed by June 1, will help establish Maitland-Smith as a good resource for high quality, traditional reproduction types of pieces.
"We see traditional is still a category that works for a lot of customers," Contigiani told Home News Now. "It works for a lot of customers and a lot of projects, but is hard to find options (in the marketplace)…What Jonathan Buxton makes with crotch mahogany, nobody else does. We love the look of what he is developing in Asia."

The line will continue to be produced in Buxton's factory in the Philippines city of Cebu, which Contigiani described as "unbelievable."
"He makes the best quality product that I have seen out of the Philippines…What he does is amazing."
"We want to work together," Contigiani added. "I want him to still be involved and invested in the brand he created 12 years ago."
While the line — as with the former Marge Carson product — will be branded as a collection of Maitland-Smith product, it is expected to compliment the current Maitland-Smith line, which is evolving into transitional and contemporary product that is being sourced in India along with countries including Vietnam and China as well as Italy, Spain and France to name several key source countries.
"When customers need something traditional, I want them to think of Maitland-Smith," Contigiani said. "It helps establish Maitland-Smith as a really good option for high quality, traditional reproduction types of pieces."
In time for the fall High Point Market, the line will be shown in a former Scarborough House showroom on the first floor of 200 Steele that will now bear the Maitland-Smith name. A separate Maitland-Smith showroom also will remain on the third floor of the same building.
Michael Uvanni, of Michael J. Uvanni Interiors called the purchase a "really good move for Maitland-Smith.
"Scarborough House does a great job, and I think their quality is beautiful and the look is good," he said, noting that their mix of product doesn't pigeonhole the company into any particular design aesthetic such as 18th Century. "I like the quality and I always buy it."
He added that the move also makes sense as each company has its own unique identity.
"I just think it's a great addition. They definitely aren't copies of each other," he said, noting that Scarborough House has collections and standalone pieces with unique details seen in the tops and bases of tables, for example. "The work is exquisite. These are the things that when you point it out to a client, help sell it."
"I like Maitland-Smith and I like Scarborough House," he added. "I think this is a super good marriage."