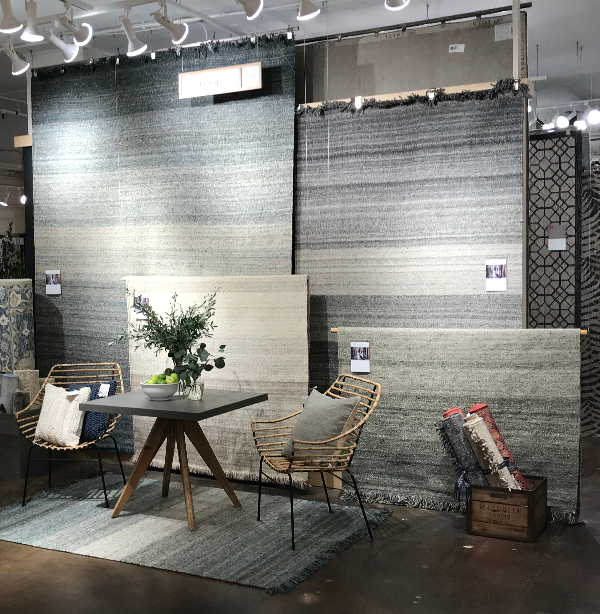 ATLANTA (April 20, 2021) — Loloi today announced it is opening two new showrooms at the AmericasMart in Atlanta, ahead of the annual Atlanta Market this summer.
Loloi's main showroom in Building 1 of AmericasMart was relocated from the 4th floor to the Lobby Level (rooms I-L-1 and I-L-2), and opened earlier this year. The second showroom, also in Building 1, is located on the 13th floor, room 13-C-1, and will open May 1 to showcase Loloi's Wall Art collections and one-of-a-kind pillows and rugs.
According to Cyrus Loloi, Principal, the new showroom space and relocation will increase visibility of the brand during the Atlanta Market while offering a better overall experience for visitors.
"We wanted to prioritize ease of navigation while encouraging discoverability in our new spaces," said Loloi. "Each space offers a simplified and relaxed atmosphere to browse and shop our rugs, pillows and wall art, including collections from all of our major brand partners. We're excited about this move and we invite everyone to drop by."
The showrooms will be open 10 a.m. – 5 p.m. EST, Monday – Friday. Appointments are available and walk-ins are welcome. Due to COVID-19 precautions, there will be no ribbon-cutting ceremonies or opening events planned.
About LOLOI RUGS
Founded in 2004, LOLOI has become a fashion leader specializing in medium- to high-end area rugs in every style category, and a premium producer of textiles. Under the expert direction of area rug veteran Amir Loloi, the company has been inducted into the ARTS Awards Hall of Fame, winning five ARTS Awards for "Best Rug Manufacturer" in 2010, 2011, 2015, 2016 and 2017, one in 2012 for "Best Outdoor Manufacturer," and one in 2013 for "Green Manufacturer." Its eight America's Magnificent Carpets Awards and three Atlanta Visual Display Awards for sophisticated showroom design attest to the company's commitment to innovation and quality.