HIGH POINT – Late last year, buyers in the U.S. market were introduced to Geniemode, an India-based B2B resource that sources and produces goods including furniture made in India and surrounding countries.
Since then, the company has raised more than $37 million in funding — including a recently announced $28 million in Series B funding from Tiger Global — to support its tech-based platform that provides a wide mix of products including furniture, apparel, footwear, accessories and other home décor.
The company, which has recently developed the brand Capiz for its home furnishings line, has established a warehouse presence just outside High Point in Archdale, N.C., where it stocks about 200 products available for quick delivery. The company said this will increase to about 1,000 in the next few months that can ship in as little as two days.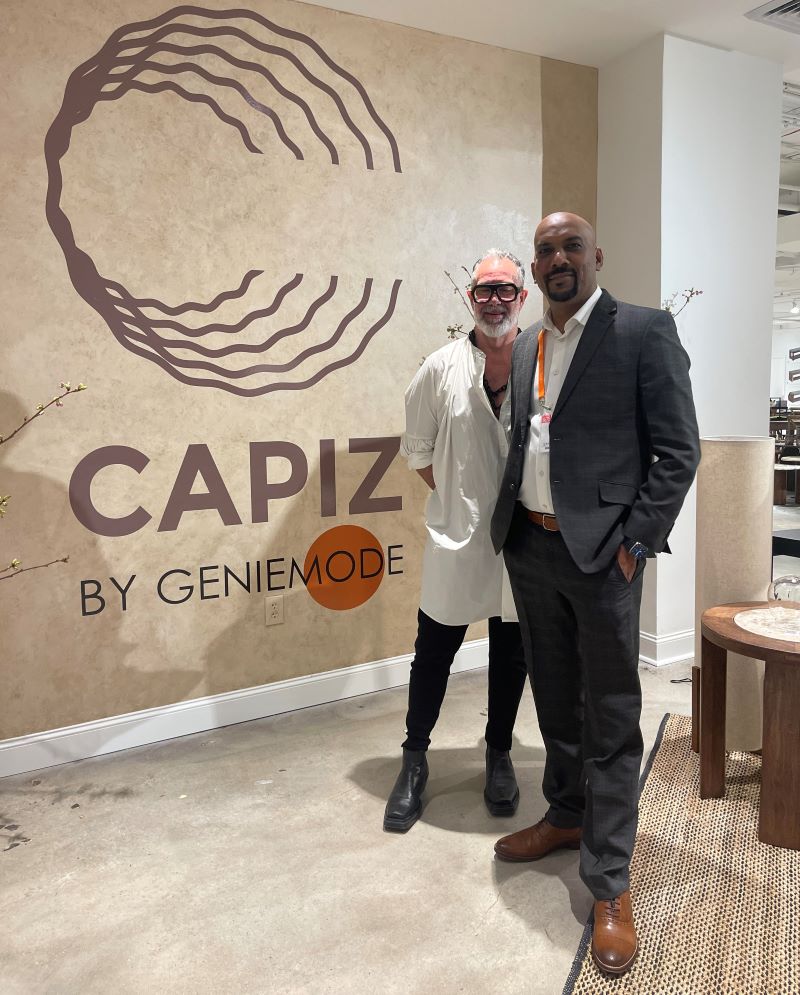 Geniemode President and CEO Amit Sharma recently addressed how the tech platform plans to distinguish itself in the U.S. market
The company also plans a West Coast warehouse by the end of this year, making goods available for quick shipment in the Western half of the U.S. as well.
At the April High Point Market, where Geniemode showed for the second time since October, company President and CEO Amit Sharma met with Home News Now to discuss the company's plans for the marketplace. After that meeting, he also answered more specific questions about the market and what the company expects to happen in the near future.
Below are Sharma's thoughts on the subject.
HNN: How was the April High Point Market for Geniemode? What types of customers did you see at market?
Sharma: Indian furniture is gaining popularity globally because of its rich handicraft and attractive traditional art and design. We saw pretty positive response from visitors at the market. They are really keen to add Indian furniture in their product range. We are also getting repeated orders from our existing customers, and there has been consistent growth in terms of new buyers.
What was the biggest question you heard from retail prospects at market?
Sharma: Most prospects asked about the designer and inspiration behind the collection. Customers were also curious about our tech platform and how it is going to help. We explained how we are different from other sourcing platforms…Unlike other platforms, we are not just offering what we already have in stock, but our focus is on design-led products. Hence, we are not just "a sourcing platform" but a tech-driven design led sourcing platform to be precise. On top of that, we provide the entire catalogue, presentations, order management and tracking, QC and cost transparency through our platform.
What was the main message you had about the Geniemode concept and product line?
Sharma: Geniemode is a B2B cross-border tech platform for lifestyle goods. We work with buyers and manufacturers to streamline and take control of end-to-end supply chain, from design to delivery. Our tech platform for buyers offers end-to-end transparency of cost, based on MOQs, quality assurance, a design library and complete order management including compliance, tracking, inspection, communication, information storage library, and logistics. By leveraging AI and big data, the platform offers an insightful, transparent, and hyper-efficient way for companies to work with the right suppliers.
During HPMKT Spring 2022, we launched our furniture and home textile brand, Capiz. The collection under Capiz is inspired from the belief that everything begins with the creation of a little ember of fire in one's mind — the action or process of bringing something into existence. To develop the Capiz collection, we worked alongside craft people creating pieces with them and listening to their generational history. We are creating timeless, transitional pieces for the home, evolving techniques that go back centuries to bring them to our current time.
How many products did you show at market?
Sharma: We displayed 223 products during the spring market.
Can you say when these will ship and if they will all be in the North Carolina warehouse?
Sharma: Products will start flowing in from June and should be available in warehouse by the end of July.
Your showroom seemed to have a whole home offering of furniture, accent pieces, home textiles and more. Did customers buy or make commitments across different categories?
Sharma: We received a terrific response from visitors at the showroom. They were overwhelmed to see visually appealing, aesthetically versatile products with flexible price points. It's very gratifying to see people look at your designs and say, "I love that." Approx. 40% of the visitors made commitments across categories.
Why should buyers buy from Geniemode at present? What is it you are offering them that you believe stands out in the marketplace or sets you apart?
Sharma: What separates us that we are trying to transform the global sourcing for small and medium brick and mortar stores by democratizing technology. We are empowering them by providing features, insights and a supplier network that only big brands could afford. Hence, we are building a powerful and transparent supply chain within everyone's reach. We are also playing with fresh designs with new capsule collections every two months which will be available at an affordable cost. Also, once buyers are onboarded on our platform, they have an option to place repeat orders with clear visibility of inventory and timelines along with new collections that will be launched.
What is your next big move in the U.S. market? In other words, what would you like to achieve next in your development here in the U.S.?
Sharma: Next we are participating in the Las Vegas and Atlanta shows. We plan to further expand our presence in U.S. market. After the East Coast, we'll be opening our warehouse in West Coast by year end. We are also coming up with a home textile showroom in Fifth Avenue, Manhattan, New York.
Any final thoughts on why the timing is right for Geniemode at present?
Sharma: The U.S. is the largest importer of furniture globally. Plus, Indian furniture marketing is currently booming and the opportunity for the industry is massive. With growth in demand, a capacity bottleneck in Vietnam, and reduced dependence on China, India can take the business of furniture exports from $2 billion to $20 billion. So, I think this is the golden time for us to enter the U.S market.