HIGH POINT — Full line Home Furnishings manufacturer AICO/Amini Innovation Corporation, recognized some of its key team members at a reception in the AICO showroom to honor the 2021 Sales Professional Awards.
VP of Sales, Jeff Santanello stated, "Getting together at High Point Market to celebrate our sales team with a lovely reception is one of the highlights of the market. These awards recognize our dynamic sales team members and their continued dedication to exemplary service."
Sean Rawlins was awarded the Pioneer Award for account development and his "never give up" attitude. This award was presented by Jeff Santanello, Vice President of Sales at AICO.
Martin Ploy, President at AICO, Amini Innovation, Corp. granted the President's Award to Michael LaCorte of the metro New York territory who can charm and win over just about everyone that he encounters.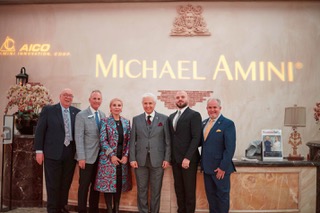 AICO EVP David Koehler presented the prestigious Spirit of Professionalism Award to Texas territory Sales Professional Van Smith. Van typically shies away from the spotlight but was touched and honored to have been recognized for his ability to never get his feathers ruffled, and to always remain even keeled and professional in any situation.
Founder and CEO, Michael Amini was able to recognize and award the mother and son team of Southern California, Gina Guseinova and Chris Guseinov, the 2021 Sales Professional of the year in a sincere, heart-felt speech highlighting the 19 years of dedication that the two have contributed to AICO, especially overcoming major hurdles in 2021 and coming out on top.
"Throughout the pandemic, especially, our teams have stepped up and creatively surpassed every challenge they've faced to better our customers experiences."
said Michael Amini, CEO at AICO. "Each of our award recipients represent the best of what the industry has to offer. They are all smart and hardworking, as well as extremely loyal to the company. And, of course, each had an outstanding sales performance last year."