Direct-to-consumer mattress brand sees opportunity where customers can see and feel the line in person
PLANTATION, Fla. — GhostBed's big splash with its licensed Venus Williams line at the January Las Vegas Market offers a glimpse of where the company is heading moving forward.
Since it first formed in 2015 as a division of Nature's Sleep, the bedding producer has made its mark as a direct-to-consumer brand sold exclusively online. But while it's been extremely successful with that business model, the company also knew its future was tied to sales at brick-and-mortar stores where consumers could actually see and feel the product.
"We always knew from the get-go that our GhostBeds were going to be in retail stores," said Alan Hirschhorn, executive vice president. "The Internet's a great place to shop … but the best place to buy a mattress is in a store where you can feel it, touch it and experience it."
Enter, the Venus Williams line, which company President and CEO Mark Werner designed with the international tennis star over the past year. Tailored to sell in both channels, it offers a D2C line and a wholesale line that's specifically targeted to brick-and-mortar retailers.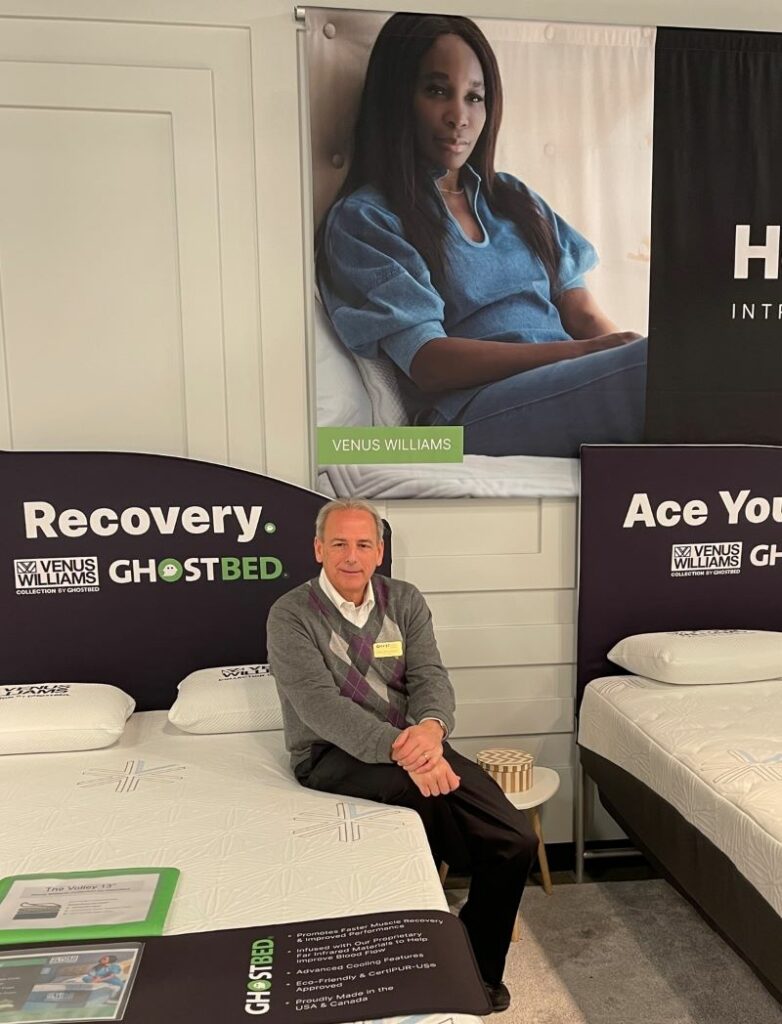 The wholesale line launched with four models in a 13-inch and a 14-inch profile and in either a hybrid or all-foam design. They also feature a proprietary and exclusive Venus FIT (far infrared technology) layer, which is a heat-activated technology that absorbs body temperature to stimulate blood vessels. Retailing from $1,799 to $2,999 in queen, the line also offers a specialized Ghost transition layer that offers pressure relief and support.
Describing the debut as a "major milestone for GhostBed," company Werner said at the time of the launch that "Retailers who floor the line can expect a huge lift to their traffic as Venus and GhostBed have a huge following across all marketing channels."
By comparison, the D2C part of the line sold on GhostBed.com, offers a 12-inch Legend model that features the Venus FIT layer which is combined with a soy-based bio foam layer and as a hybrid with individually wrapped springs. It also is available as an all-foam model.
The company said the line received a positive response at the market with dealers placing commitments and orders since the launch.
But it took some time to get to this point due to Covid-related stumbling blocks over the past two years.
The company debuted at the January 2020 Las Vegas Market, where it received looks and interest from many retailers. But its plans to establish a presence at brick and mortar retail stumbled as Covid temporarily shut down many of the same stores it planned on shipping in the weeks and months following market.
"Everybody that made commitments to us immediately said 'hold it' because they started to close in March and by April — all these stores were literally closed down," Hirschhorn said.
Fortunately for GhostBed, its online business continued to do well, even better than before as people were forced to stay at home and hence do much of their browsing, shopping and purchasing online.
But the company never let the retail shutdown get in the way of its plans. Instead, it kept the lines of communication open with potential customers, even helping them along the way when it could.
"The Internet business got really good because retail was closed and people were locked in their homes," Hirschhorn said. "So that side of our business got better. But we maintained the relationships we had and kept talking to the retailers that expressed interest. It was definitely a couple of months where all they wanted to do was get their stores back open — some of these guys were fearful they wouldn't survive at all. They weren't interested in new business. They were interested in staying afloat.
"But we kept the lines of communication open and with some of them we helped them with their websites … A couple of them just put us on their site because we had the ability to immediately drop ship. All they had to do was put us on their site and say 'this is available here' and we did some business. But it was without question tough times."
The company also maintained key relationships with its dedicated manufacturing partners and suppliers across the U.S. knowing that it was critical to have both the raw materials and the capacity in its six mattress manufacturing plants – five in the U.S. and one in Canada – to produce individual lines that are unique to both sets of sets of customers, D2C and brick and mortar.
"We have created two distinct lines — one that we sell online and then a wholesale line that we only sell to brick-and-mortar because again, we don't want to compete with our retailers," Hirschhorn said. "So we have exclusive lines for them that they can sell and get without the fear that they are going to find it online."
The company showed the line again at future High Point and Las Vegas Markets, again slowly but steadily gaining the attention of retailers it wanted to sell moving forward.
Despite the delays in getting momentum it wanted early on with its brick and mortar sales strategy, the company is optimistic moving forward, particularly with the recent addition of a licensed line it believes will resonate among consumers at retail.
"I think we can do as much on the retail side, if not more than we are doing on the direct to consumer side," Hirschhorn said, noting that brick and mortar stores can also sell a consumer a model they may want off the website as it can ship those to stores just as easily. "That is really our thrust. That is where we see the business growing."