Manufacturers report stronger than expected attendance and demand for both new and inline products
AT THE MARKET – Bedding business here remained relatively brisk early on during market as manufacturers showcased their latest innovations and licensed lines – along with still popular inline goods they can get on their floors quickly.
While most resources interviewed said that traffic was not quite yet to the level it was prepandemic – or roughly two years ago this month – it met or in some cases exceeded their expectations.
Therapedic International said it had received positive early response to its introductions at market, including its copper infused Immunity lineup, which featured six models retailing from $999-$2,499. A big selling point has been its high concentration of copper infused into the foam and the mattress cover, offering antimicrobial and antibacterial elements that are believed to help boost circulation and the immune system.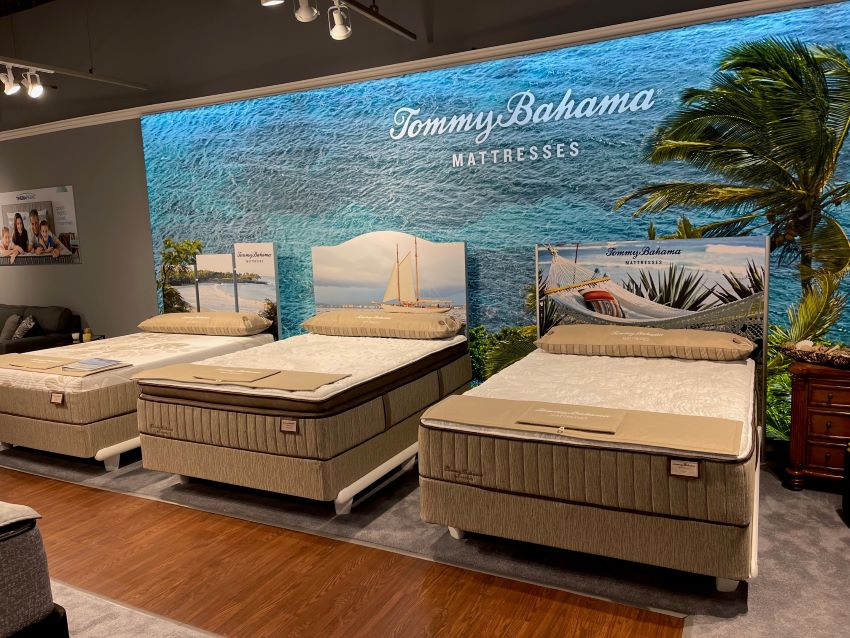 "This new line has struck a chord with people who have seen it," said Gerry Borreggine, president and CEO of Therapedic. "It looks like the right line for the right time."
The company also received strong early reaction on several new models in its licensed Tommy Bahama lineup, which features advance Glacier Touch textile technologies that provide cooler sleep. In addition, its Sanitize feature offered in the line provides antimicrobial protection, while its iFlex hybrid quilt incorporates more than 2,000 micro coils that provide comfort, durability and cooling properties.
"We're excited about the look and design of the new Tommy models," Borreggine told Home News Now. "They're fresh, updated and still have the heritage of the Tommy look that's immediately identifiable at the point of sale. The new collection has already been placed in key retailers this market, and we will continue to heavily promote it."
Englander said it saw interest across the line, including several new models in its Supreme collection that the company said round out the 19-model line, its largest product launch to date.
Retailing from $1,899 to $2,999, the step-up models offer one, two and three inch layers of 100% Talalay copper latex, that company President and CEO Mark Kinsley said offers dealers a compelling, yet simple step-up story their floors. Dealers responded well to the innovative nature of the line including the healing and anti-inflammatory properties of copper along with attributes such as "elevated pressure relief and contouring comfort."
"We gave them a lot of reasons to come to market," Kinsley told Home News Now, in reference not just to its new and inline products, but also to its latest digital marketing assets offered through its Englander Asset Manager, which he said offers videos and other tools to help dealers understand the line and "make informed buying decisions."
Bill Hammer, president of Shifman Mattress, said business got off to a slow start but picked up through Sunday, both with prospects and existing customers. Most of the buyers, he said, were from western states such as New Mexico, Washington and California, among others.
He said new and existing customers were drawn to the breadth of the lineup as well as features that combine traditional and new construction elements.
"People are looking for something different and better," he said, adding that dealers also have been drawn to its quick one to two week production times, plus the company's in-stock availability on bestselling styles.
GhostBed reported strong early response – including order writing with new and existing accounts – to its new licensed Venus Williams line. In addition to innovative features such as the Venus FIT (far infrared technology) layer that absorbs body temperature to stimulate blood vessels and increase circulation, dealers were drawn to other features in the six-model lineup. Retailing from $1,799 to $2,999, other features include a sustainable ultra-cooling cover that  consists of 25% recycled plastic bottles.
Spring Air was debuting in its new, 9,000 square-foot location in Building A that is 25% larger than its former showroom of more than 15 years. The move to the new location, which showcased some 40 different models, drew strong dealer attendance the first few days of market.
"On Sunday we got crushed – it has exceeded expectations," Spring Air President Nick Bates told Home News Now, adding that while early attendance had not yet reached full prepandemic attendance, it was the best its's been in some time.
Demand, he said was strong across the line, which features a good better best – and beyond story offering mattresses that start at $599 and top out between $3,000 and $7,000 in its luxury Chattam & Wells line.
"We have placed everything in the showroom," Bates said of order writing across the line at market.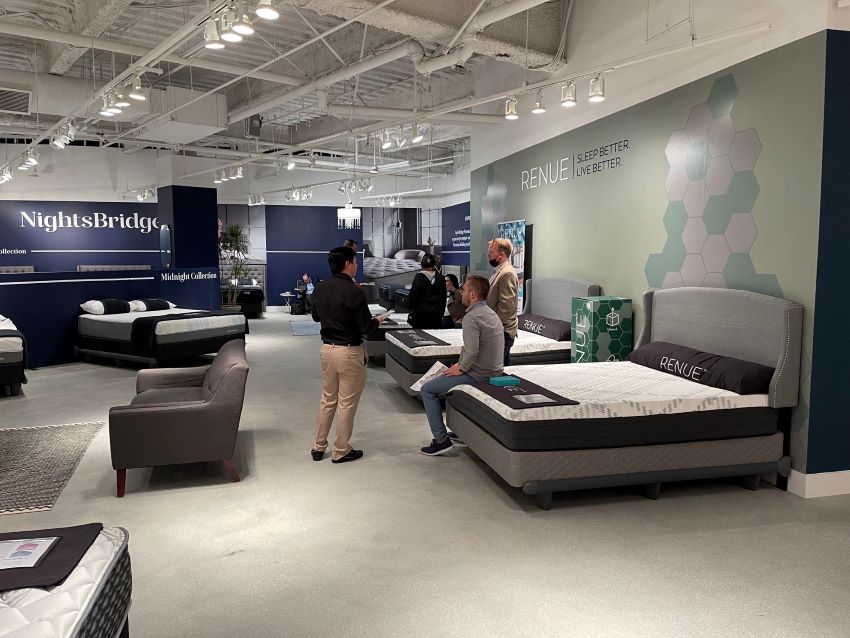 Corsicana also reported strong order writing early in the market and across eight different brands featuring 90 new products in its new 21,000 square foot showroom in Building B. Here too, the offerings included a good, better, best story across its "House of Brands," starting from $100 to $300 and going up to $1,500 to $2,000 for the NightsBridge and J. Beckon lines.
Its step-up American Bedding line, which falls in the mid-price points from $300 to $800, was seeing some of the most activity at market. 
"Market for us has been spectacular, well above expectations," Corsicana President and CEO Mike Thompson told Home News Now, noting that traffic was from all over the U.S. "Our traffic is obviously down versus last year, but the quality of people we are seeing is fantastic and the business that we're writing – and the new business – with new customers that have seen what we are presenting to the marketplace has been very, very receptive, so it has been great for us."