This week, furniture retailers are hoping to cash in on their last big holiday weekend promotion of the year — Black Friday. As with other holiday weekends during the year, they have been offering aggressive deals and discounts, as well as promotional financing to move the needle on traffic and sales before the end of the year. Before the big holiday sales weekend, Home News Now scoured the internet to see what major retailers are offering consumers across a broad range of categories from dining and living room furniture to mattresses.
Below is a glimpse of what we saw and thought was worth sharing with the industry. As everyone enjoys the holiday weekend, let's all give thanks to these and other furniture retailers that are working not just on Black Friday, but throughout the weekend to sell the goods that you also have worked hard to develop for consumers around the country.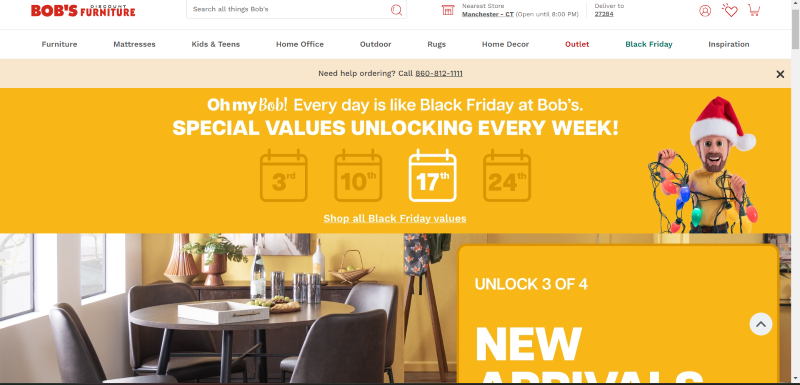 Bob's Discount Furniture's Black Friday promotion started weeks before the big event with a countdown that features values across product categories. Its website also touts new arrivals for customers to choose from as well as its everyday low prices on sofas, sectionals, power recliners, dining sets and more.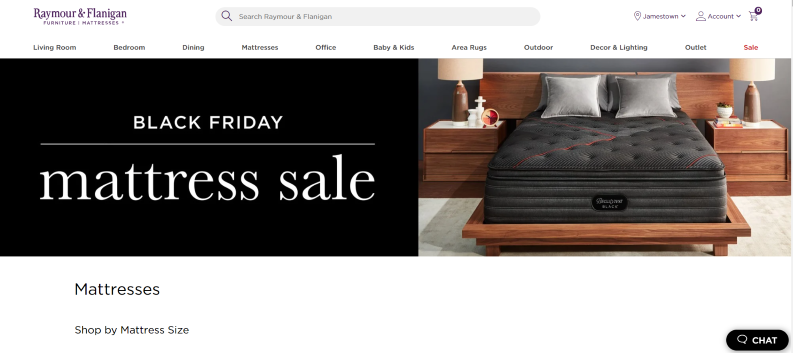 Among other categories, Raymour & Flanigan's website promotes bedding with its Black Friday mattress sale which featured deals across some two-dozen brands. But it also promotes savings of up to $1,000 on other categories including sectionals. Other deals are to be had with discounts on sofas, recliners, dining sets, bedroom sets, accent tables, youth bedroom and more.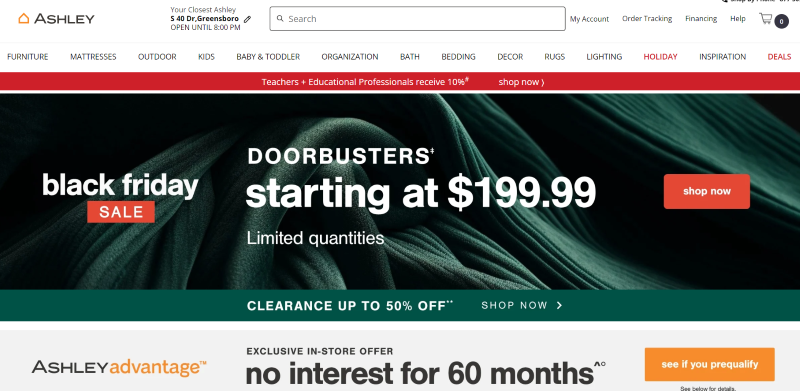 Ashley's Black Friday promotion features doorbuster deals starting at just under $200. The doorbusters also include special deals on a wide mix of product categories that are marked down from their original retail price. Ashley also is offering an in-store offer of no-interest financing for 60 months and a 12-months special financing offer online.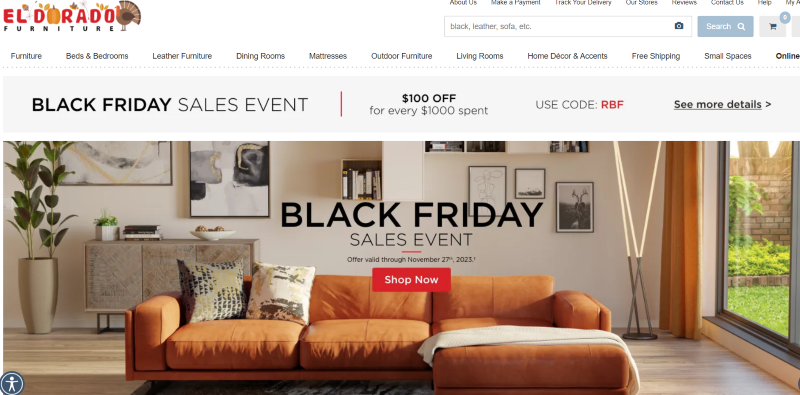 El Dorado Furniture's Black Friday promotion runs through Monday, Nov. 28, and offers $100 off every $1,000 spent. Buyers can also check online to see which items are in stock and ready to ship. And the ad remained true to the season with fall leaves and a turkey shown decorating its logo. Now that's what we call holiday spirit!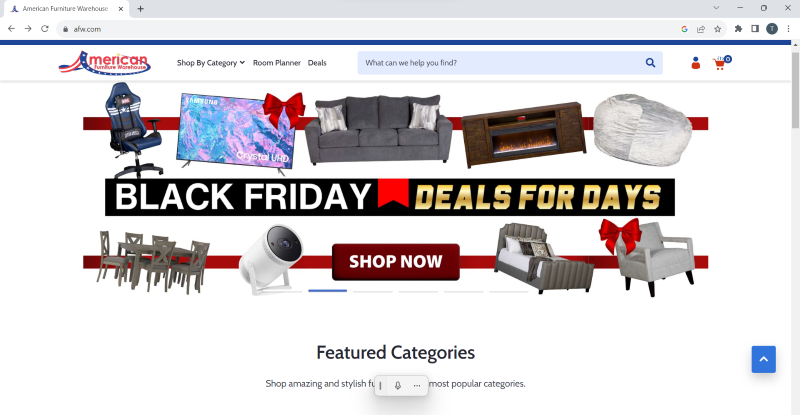 American Furniture Warehouse in Englewood, Colorado, features a wide range of products on its website that were hand-picked by its designers. In addition to these specials, the Black Friday offers include a host of other categories including gaming chairs, rugs, TVs, mattresses, desks, fireplace units and more.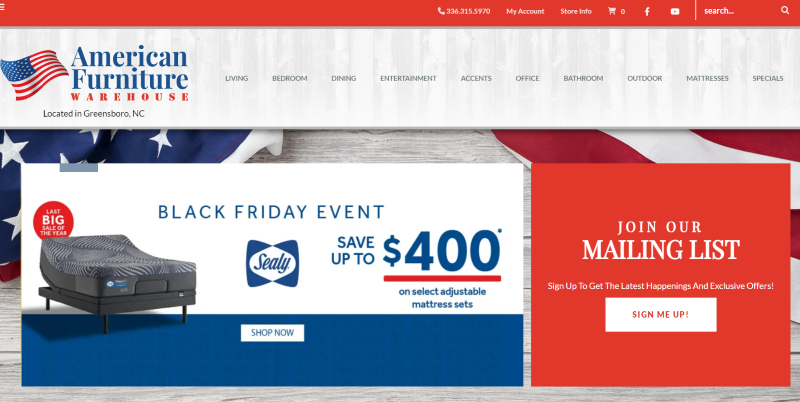 And here's an ad from the other American Furniture Warehouse — in Greensboro, North Carolina. Promoting the event as its last big sale of the year, it is offering up to $400 off select adjustable mattresses with a nearly monthlong offer that is valid from Nov. 7 to Dec. 5. Its website also showcases huge savings on other categories too, including sectionals, bedrooms and TV stands.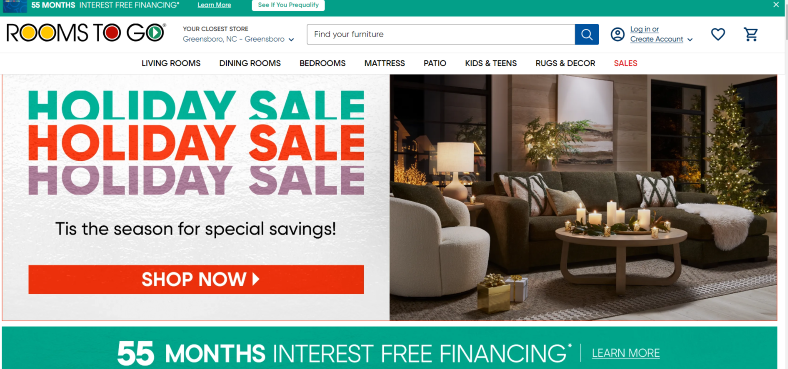 In case you miss that this is a holiday ad, Rooms To Go spells it out for you on the left side of the screen. Offers are to be had on many different products, showing the deals in bright (holiday) red with special financing also shown below each item — again in bright red. Now if all this doesn't get you in the spirit, we're not sure what will!
City Furniture's website features a pre-sale on nearly 1,300 items for its holiday promotion. Not only are these products marked down — the retailer also is offering special financing on these items of up to 60 months that includes a low monthly minimum payment shown with the offer.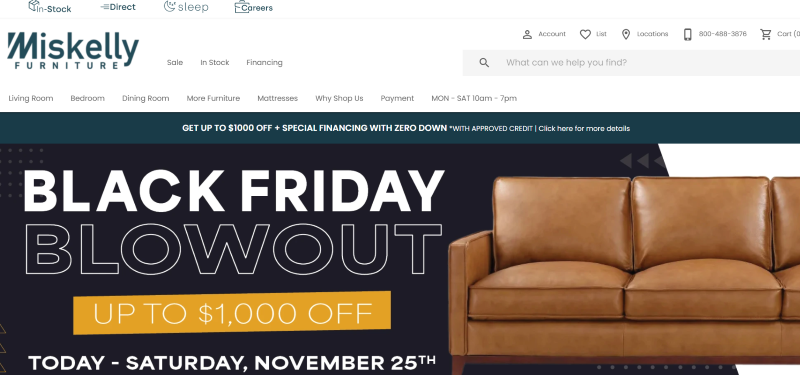 Miskelly Furniture's website touts its Black Friday Blowout sale, which includes offers of up to $1,000 off select items. The sale is running through Nov. 25. Customers visiting the site can shop by category and also check to see what special financing is available. Featuring same-day delivery in select service areas, the site also touts discounts that customers can receive, along with their total savings per items. And of course financing is available with the Miskelly Wells Fargo credit card. After a full-course Thanksgiving meal, customers are sure to be satisfied!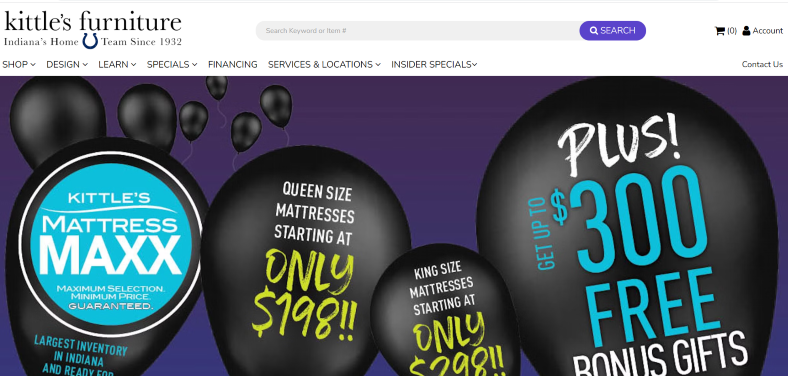 In case you didn't know it was Black Friday, these black balloons are sure to remind you on Kittle's Furniture website. Most importantly, they highlight some of the major deals which include doorbusters of 30%, 40% and 50% or more. The site makes it simple to shop by department and also highlights special 0% financing for four years on purchases of $1,999 or more on your Kittle's Synchrony credit card. In addition to next-day delivery, the site also touts that customers can receive up to $300 in bonus gifts with select purchases.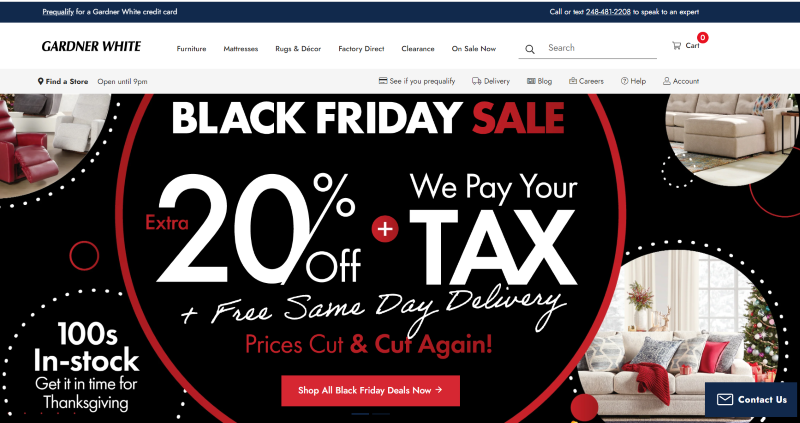 Gardner White's Black Friday promotion includes an extra 20% off and free same-day delivery on select items. To top things off, the retailer also offered to pay sales tax and 0% financing on purchases if paid in full in the first 12 months.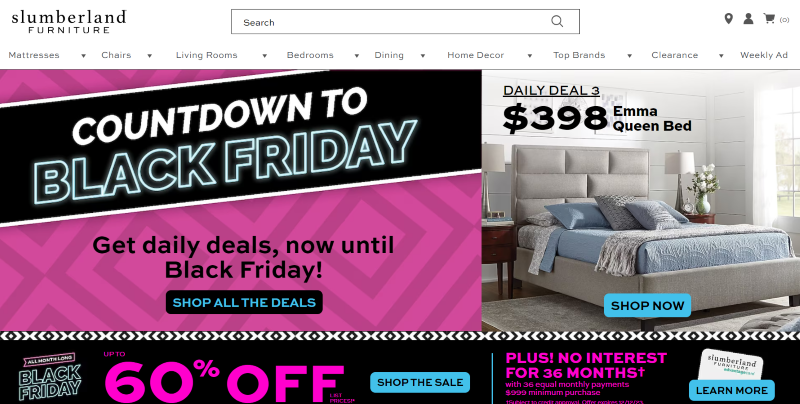 Slumberland Furniture is letting its customers in on some major savings with Black Friday deals up to 60% off as well as zero interest for 36 months. Other major deals were to be had on select La-Z-Boy recliners, Sealy mattresses and Nordic loungers with ottomans.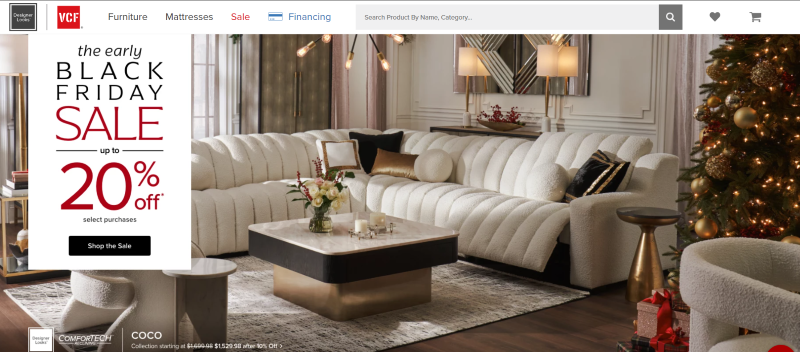 Value City's website gets us in the holiday spirit with this beautifully decorated living room vignette. Customers can shop the site for special deals including its Designer Looks section where customers can customize their sofa, sectional or even dining set with special fabrics and finishes. The site also showcases discounts in bright red, on bestsellers, along with new arrivals and quick-ship products.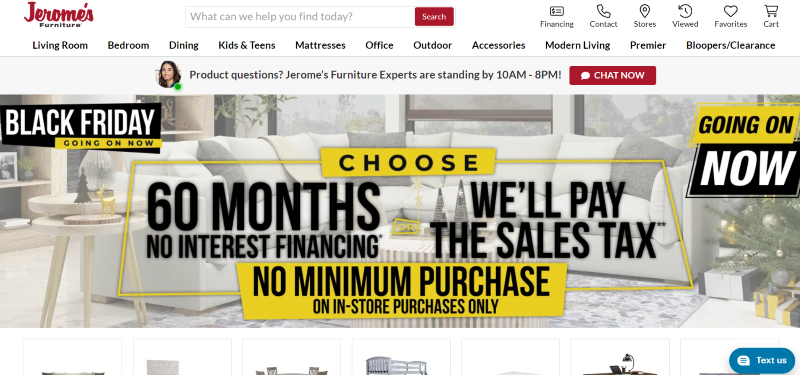 Jerome's website touts a Black Friday sales event that promotes both 60 months of zero interest financing and no sales tax with no minimum purchase. To drive foot traffic, the deal is good for in-store purchases only.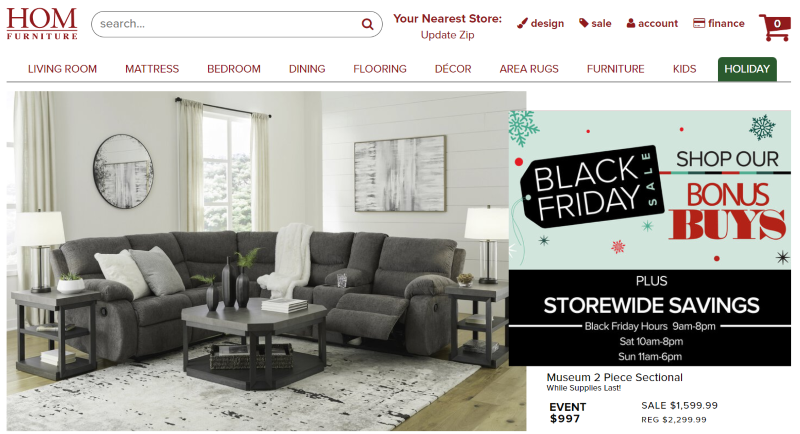 HOM Furniture's Black Friday sale included storewide savings including the featured Museum two-piece sectional which is available at just under $1,000. Bonus Buys touted on the site are available across every major category. Also available on the site are tools that let customers customize their pieces and also visualize a group in their rooms.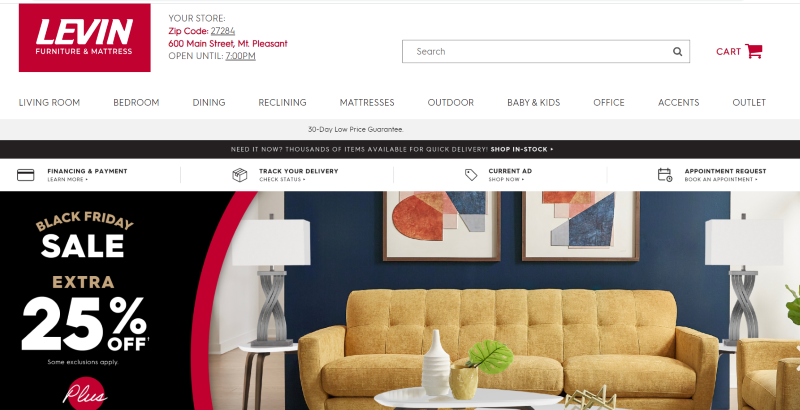 Levin Furniture & Mattress touts savings of an extra 25% on select merchandise. They also can receive deals of up to 50% or more on select products along with special financing options. Obviously there's a lot on the menu here over the holiday weekend!