Cost pressures mount as factories struggle to resume normal operations, including having to pay higher wages to get people back to work
HIGH POINT — The good news for case goods and upholstery suppliers bringing product out of Vietnam and Malaysia is that capacity appears to be rising each week as factories resume operations and get more people back to work.
But this will likely come at a cost for some wholesalers and retailers buying direct. Both factories and importers of product from those two countries in particular have told Home News Now that the industry should brace for more price hikes on finished goods — and soon.
The estimates on finished goods increases are now between 4-10%. But that could change depending on a variety of factors, from rising materials costs to rising labor costs as companies compete with many other industries in getting people back to work.
Several factory operators and importers alike believe price increases will occur between now the end of the year or soon after as the costs continue to mount.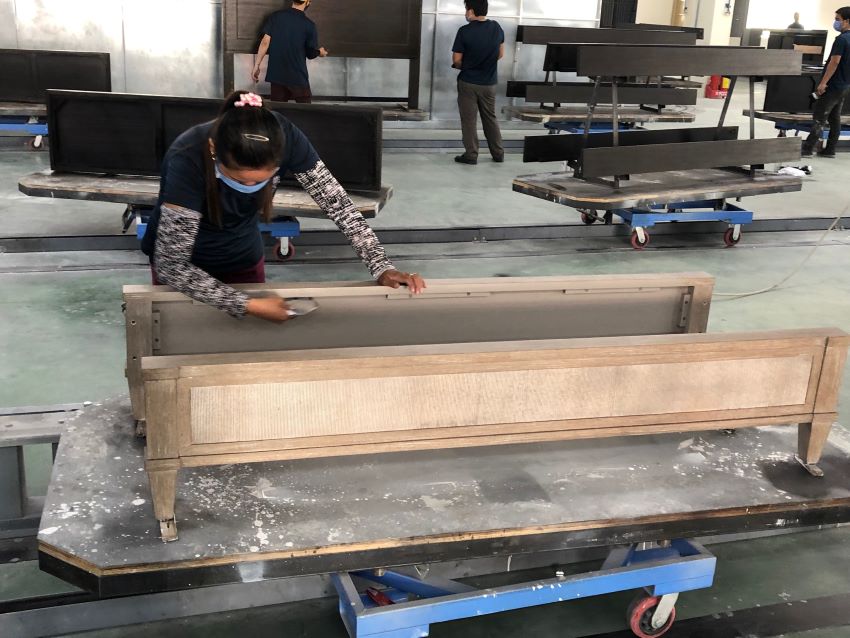 "Every factory will take action accordingly subject to their cost and margins, but in general the raw material prices keep rising and factories will have to increase if they have no room to absorb or did not raise pricing prior to shut down," one manufacturer told Home News Now.
Granted some have already taken price increases since the start of the year through the summer months. Thus, they aren't expecting any more for the third or fourth quarter. At least that's the hope. But they too are keeping their eyes and ears to the situation as the overseas price pressures mount.
Here is a breakdown of some of the major cost pressures factories are facing or continue to face as they reopen.
+ In both Malaysia and Vietnam, many factories are said to have paid workers on lockdown some of their previous wages in order to keep them on the payroll. That results in weeks and in some cases months' worth of expenses for little return, although some may be receiving government incentives to help pay those wages. But one source noted most factories will have to recoup that expense somehow, particularly if they aren't receiving government support.
+ Factories also are paying to have medical staff on site to get workers vaccinated with both doses in order to prevent a Covid outbreak as they reopen. While the vaccines are said to be free, one Vietnam factory owner estimated the cost of having the medical workers on site at $2.20 per person. While not a particularly high expense, factories also are having to pay the cost of testing workers each month, or around eight times per individual. The same factory operator said this amounts to $11 per person, significantly higher than the cost of simply administering the doses.
+ Both during and after the lockdown, some Vietnam factories have operated under the "3 on site" rule of employees working, sleeping and eating meals on site. While the number of plants still operating under this scenario has dwindled as more employees are getting fully vaccinated, many have still borne the cost of feeding people three or four times a day, compared to just lunch during normal times. As with everything else, factory operators are having to recoup some of this cost.
+ Raw materials prices also continue to rise, ranging from plywood, upholstery foam and packaging materials to glue, oil, and chemicals that go into finishing materials, affecting manufacturers in both Malaysia and Vietnam. "This could result in price increases from some factories, but for us we are still addressing the situation before making any moves," one factory owner told Home News Now.
+ Perhaps the biggest factor that could move the needle on further price hikes could be the cost of labor. While one observer noted that the government in Vietnam has not mandated a wage hike during Covid, market forces could decide the issue moving forward. That's because many factories are competing for labor on a level not seen to this point as they are having to rehire workers to bring their plants up to near full capacity in the next several months. "The bidding up of labor prices has begun with companies offering tremendous financial incentives to come back to work," another source told Home News Now, adding that many workers that have returned to their hometowns around the country could stay there until after Tet, the Vietnamese lunar new year. The same source noted that many of the "20 and 30 somethings" may return sooner as the social scene in and around Ho Chi Minh City opens up.
The situation is not all bleak. Some factories have reportedly paid for raw materials such as wood or things like chair frames produced by subcontractors months before receiving them. By doing so, they are avoiding current price spikes on goods they are receiving or expect to receive soon. Other importers said they already have paid significant price increases from the start of the year through the summer months, where some others may have put them off.
"We have helped our factories and made sure they are taken care of," one importer said. "If we don't take care of the factories, we can't take care of our customers."
Regardless, of whether they are paying sooner or later, sources said that cost pressures have been a reality for months now with many taking record numbers of price increases compared to pre-Covid periods. One company told Home News Now they have taken five increases since December, compared to about five total in the 10 years prior.
Another said you can choose to say no or put them off indefinitely. But that won't necessarily help in the long run.
"You cannot tell the factory to not raise the price," the source said. "You can, but you won't get shipments…Right now it is a supplier's market."