MARTINSVILLE, Va. – Building on the success of its recent Drew & Jonathan Home debut, Hooker Furnishings' HMI segment will expand the multi-collection brand by Drew and Jonathan Scott this Fall with several new upholstery additions at the upcoming High Point market, October 16-20.
"Our new Drew and Jonathan Home collection has been tremendously well-received by our retail partners," said Page Wilson, President of HMI's Pulaski division and chief merchant for the Drew & Jonathan Home Brand. "Building on this success, we've partnered with the brothers to expand our upholstery offerings this fall with additional silhouettes and special-order textile options, all available as mixed shipments direct from the factory or ordered from our domestic warehouse in Savannah. At a critical time in our industry as our retail partners are coping with supply-chain challenges, this hybrid approach adds value for retailers looking to bridge the gap in delivery times."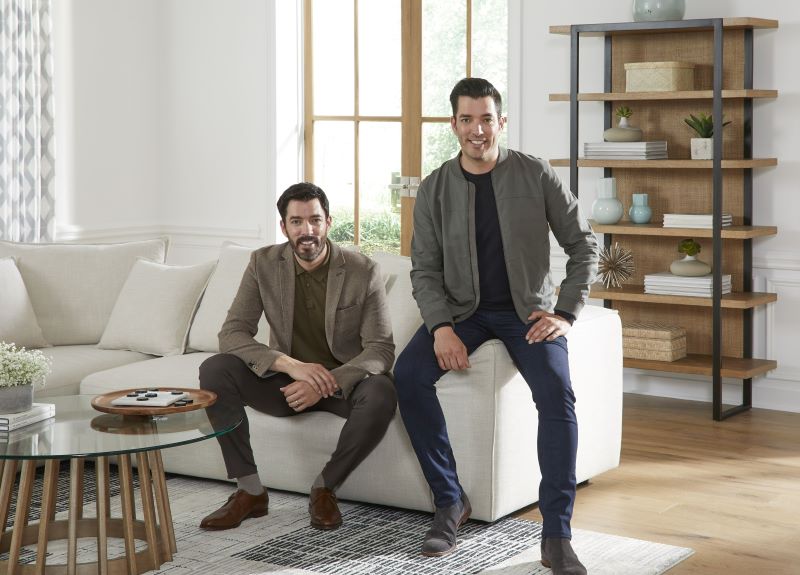 "To prepare for the collection's upcoming debut at retail, it was important for us to develop a strong package of retail sales materials to help support the launch of this incredible new brand to consumers," said Mary-Price Furr, vice president of marketing/corporate communications and licensing for Hooker Furnishings. "Carefully designed to support the brothers' visions of helping enhance homes across America with thoughtful pieces for every lifestyle, these materials will help retailers further generate excitement on the retail floor with one of the most popular celebrity lifestyle brands in the home furnishings industry."
The Drew & Jonathan Home Essex collection, which is characterized by its clean, sleek lines and gray finishes, will expand to include two new groups. Additions include a transitional sectional and a new sofa group featuring a sleek track arm that converges into the back rail, giving the silhouette a modern vibe. Each is available in a coordinated selection of special-order colorways in a combination of both fabric and leather. Several existing seating groupings in the Essex collection will also be expanded to include leather this Market.
Expanding on the success of the casually styled, Drew & Jonathan Home Catalina upholstery collection, the company will offer several new special-order covers for three seating groups. Each is available in a coordinated selection of fabric colorways. Several additional sectional and accent seating pieces will also be added to the Catalina lineup.
The company will also offer refreshed covers for its Drew & Jonathan Home Denman collection, as well as several new seating options to coordinate with the collection's already existing pieces. Denman is larger in scale, with lower and deeper profiles, inspired by the classic arts and crafts design movement.
Previously offered solely in fabric, the luxuriously designed Drew & Jonathan Home Boulevard Penelope seating collection will be expanded to include two new leather covers this Market.
In addition to the new upholstery items, the company has also developed a robust set of in-store sales materials to help promote the product on retail floors. The materials include a life-size standee of the brothers, a large wall mounted sign that includes the brand's logo, window clings for the entrances of stores, tent cards to place alongside the product on the sales floor and branded swatch handles with alternate cover options for upholstered products. On-product branding will also be included along with a vast amount of assets for retailers to use in their advertising efforts throughout the year.
Produced in Mexico and available in a curated selection of special-order upholstery options, all Drew & Jonathan Home upholstery pieces are available as mixed shipments direct from the factory or ordered from the company's domestic warehouse in Savannah. Special order containers are available in a six-to-eight-week lead time, while in-stock domestic warehouse orders ship to U.S. customers within one week.