Solid wood furniture made in Martinsville and Bassett, Va. has become a major part of the company's wood assortment
MARTINSVILLE, Va. – In recent years, Bassett Furniture Industries has revamped its domestic wood manufacturing segment in a way that has made it an increasingly important part of the company's case goods business.
So important in fact that its plants here produce most of the company's wood mix, including bedroom, dining room and occasional.
Today officials estimate that the company's domestically produced BenchMade assortment represents about two-thirds of the overall wood sales, with imports representing the remainder. Roughly 10-15 years ago, the wood mix was more than 50% imports.
"This part of our business is really growing, just like our (domestic) upholstery," said Bruce Cohenour, senior vice president of Bassett Furniture Inds. "It is a very substantial part of our business and has exceeded our expectations and exceeded the growth of imports."
Some of this has to do with the cost of the line, estimated at roughly 30% higher than the imported product. This is due largely to the construction and materials used. BenchMade features solid North American grown hardwoods such as red leaf maple and white oak, seen in one to two-inch thick tops, while the imports primarily use veneers and wood substrates for table and case tops, for example.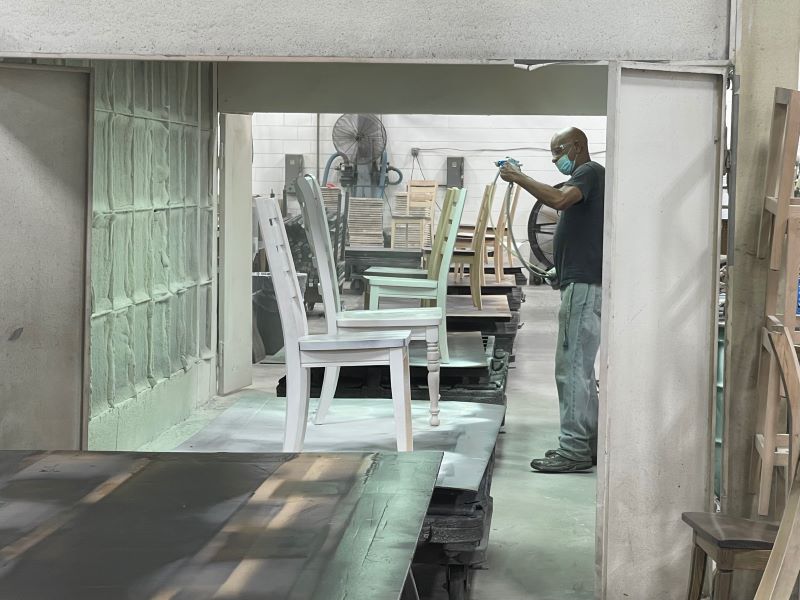 Home News Now recently visited Bassett's domestic operations including its 105,000-square-foot plant in Martinsville, Va. that produces mostly dining chairs and occasional tables, and its 100,000-square-foot – soon to be 125,000-square-foot BenchMade plant in nearby Bassett Va. Located next to the company's headquarters, the Bassett plant produces beds, dining tables and case pieces ranging from nightstands and chests to dressers and sideboards/credenzas.
Both facilities have expanded in recent years, although the changes at Martinsville have been largely due to the addition of the BenchMade line into that facility.
The Martinsville facility once produced the company's Simply Yours veneer casual dining line, which offered three sizes of tables and three different post or leg styles. Starting out with a few custom finishes, the number of finishes eventually grew to 54.
However, the facility also relied mostly on imported components such as Asian hardwoods that became increasingly difficult to source, particularly as it was difficult to match finishes on some of the Asian hardwoods and U.S. veneers.
"With the different species, it was a challenge," said John E. (Jeb) Bassett III, senior vice president and chief operations officer, noting that the company added white oak in the Fall of 2020. "Now, everything is either red leaf maple from the Appalachian region or white oak."
Carter Underwood, vice president, domestic wood manufacturing at Bassett Furniture, said it also became a challenge to flow the materials from Asia.
"As you deal with trying to buy whitewood from Asia, there are minimum batch sizes and you are trying to fill a container," he said. "And this was before the bottom dropped out and containers were costing $22,000. To try to get the quantities you need and make it a viable thing for the overseas factory to run and fill up a container, it just doesn't make sense. When you deal with domestic (suppliers) our quantities are a lot smaller."
The wood for table tops and bases, chair frames, bed panels and companion case pieces come from resources all within about a half a day drive of the plants, Bassett noted.
"We can visit all of our supply mills in the course of about two days," Underwood said. "It used to be a two-day trip just to get to Vietnam."
The wood parts also come in machined to the desired shapes and sizes and also are glued up, featuring live edge or straight edges for items such as table tops and panel headboards and footboards to name a few.
The key value-added process at either of the plants includes things like the cutting of fabrics, the assembly and upholstering of dining chairs, some assembly of tables and bases and some assembly on beds and cases.
As the Martinsville plant specializes in dining chairs, the company also in recent years added a 5,000-square-foot cut and sew area that is supplied with a just in time inventory of fabrics for custom orders. A major fabric supplier is Glen Raven in South Carolina, about a five-hour drive from southern Virginia.
Finishing is another key aspect of the custom program. While nowhere near as expansive as the former 54 finishes in Simply Yours, BenchMade offers eight maple finishes and eight oak finishes, each of which compliments the wood species.
Here too, the company upgraded its finishing process at Martinsville from a UV coating process that applied nitrocellulose lacquer finishes. Underwood described these finishes as very production friendly, but not very consumer friendly as they are not as durable as the conversion varnish used on its BenchMade products.
"As we comingled the products between the plants, we really redid the whole finishing room," Underwood said, noting that the upgrades to the finishing area in Martinsville took place in late 2018. "There is a lot more handwork in all of this – some of the finishes we use we achieve the look through techniques like dry brushing, whereas the old way we would spray a wiping glaze or filler material on it and then you would wipe it clean. A lot of the finishes we do now, you don't want to wipe them off clean. You want to leave some on there and use a dry brush to push some brush strokes in there and leave a little on to authenticate it and make it look like an heirloom piece. And then our top coat is what enables the furniture to last and be protected for a long time."
Lead times are extremely short, particularly when compared not only to plants in Asia, but also some domestic operations that operate on 12-14 week or longer lead times.
Both producing only sold orders, the Martinsville plant product is ready to ship in about 13.5 working days from the time of order, while the Bassett plant produces product within just over 17 days from the time of the order.
Bassett and Underwood attribute this speed to the skill and flexibility of the work force of about 110 workers in Martinsville and 54 in Bassett.
"With everything we make being something that is already sold, there is no way to predict what is coming in 13 days from now," Underwood said. "So when you have a work force that is versatile, where if we had an influx of occasional tables, to be able to take them and move them around to satisfy the demand so one product line doesn't get out of line versus the rest, that is a key part of our being able to service our customer – by being so flexible."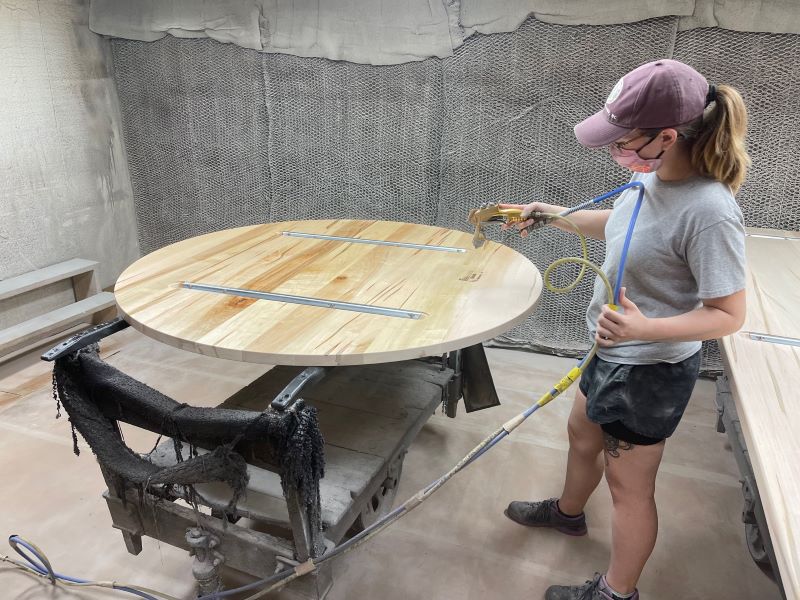 The dining chair line in Martinsville is one area where the company has expanded its productivity significantly, particularly as it has shifted workers to that area of the business as demand has risen. Today, it produces about 150 dining chairs a day, up from 30 about eight years ago.
"The head count is the same, they are just more heavily concentrated in upholstery than they were," Underwood said, noting that today about 30 of the 110 workers are in the upholstery department, compared to about a dozen seven or eight years ago.
"And they are more productive," Bassett added.
Today officials attribute the success of the BenchMade program to a renewed interest in the quality, construction and selection available from some U.S.-made products including furniture.
"You are going to pay more for a domestic product, but you are getting a premium service, shorter lead times and you get to pick the size you want as our dining tables come in a variety of lengths or if it's a round table, a variety of diameters," Bassett said, adding that there also are custom hardware and fabric options.
The company sells much of the line through its own company stores, but also has had some success on the open market, Bassett added. The selection is also available on the company website where customers can view different categories and options.
"A significant amount is sold in the open market," Bassett said, adding, "We have excellent sales and product training that highlights how consumers are investing in something that is going to last, investing in something that is sustainable, investing in heirloom furniture to pass down, investing in made in the U.S.A. and investing in choice given the number of options."
Bassett said the quick lead times have helped too, particularly as many consumers have to wait extended periods on some imported product.
"The three-to-four-week lead time certainly hasn't hurt in taking market share as well," he said, relating to the entire process, from the time of order to when a product can finally get on a truck and shipped to a customer. "Again, all things considered, if you can get a custom product from us with a great story and made in America, and you can get it in a month versus some time in 2022, I think that sways the pendulum a lot."
Bruce Cohenour, Bassett's senior vice president of Bassett, said that while imports remain an important part of the overall wood business, Bench Made offers a good domestic alternative in the marketplace.
"This part of our business is really growing just like our domestic upholstery is growing and just like our domestic motion is growing," he said. "Not everybody can do what we are doing here, especially with the execution of finishes and the selection of materials. It is that premium stuff that sets us apart."
To view a related slideshow featuring more images from the Martinsville and Bassett, Va. plants, click here.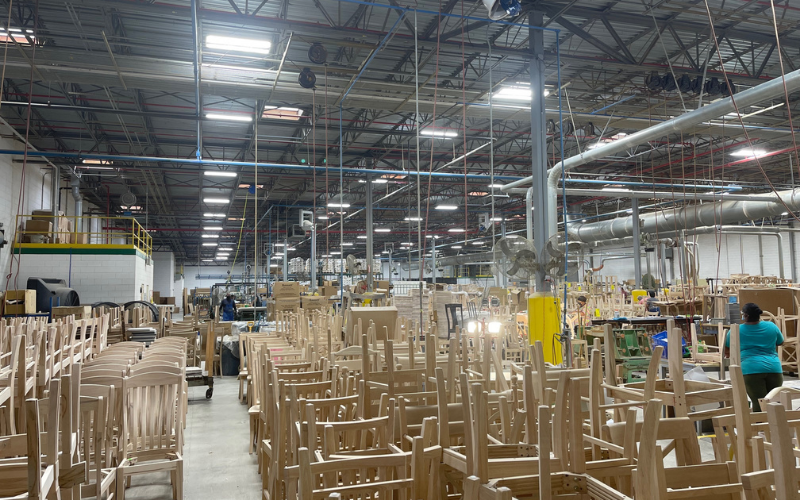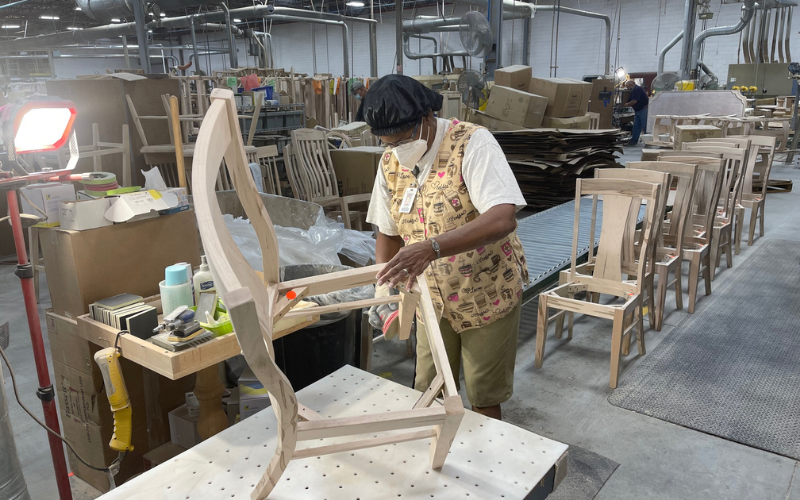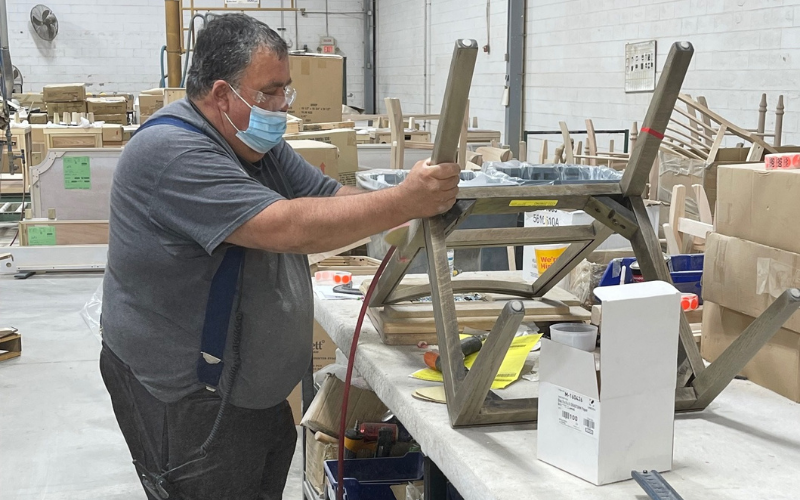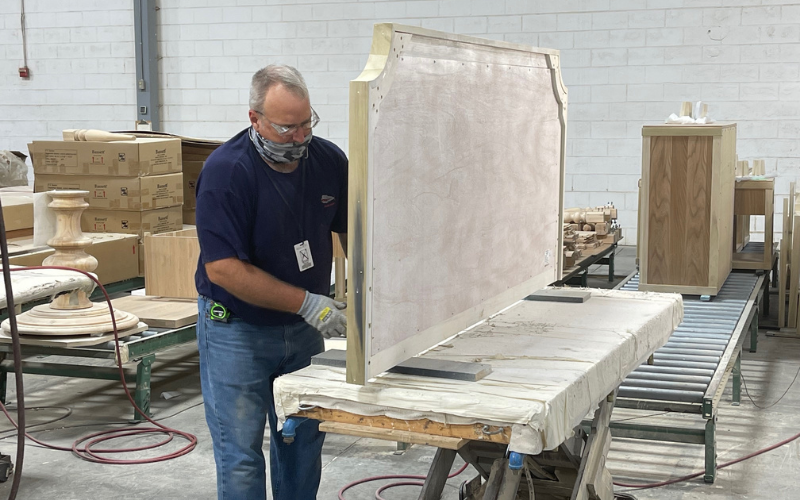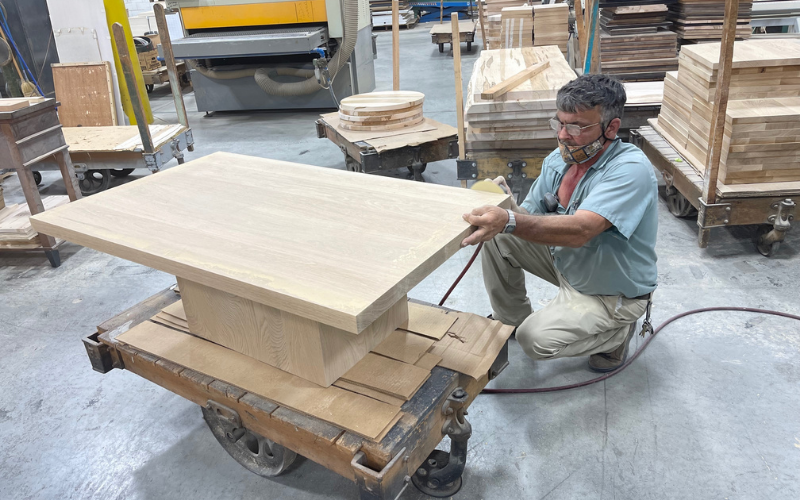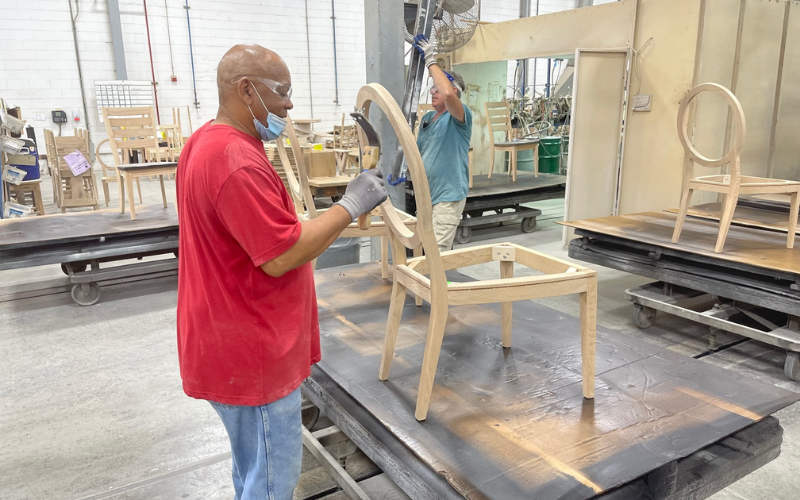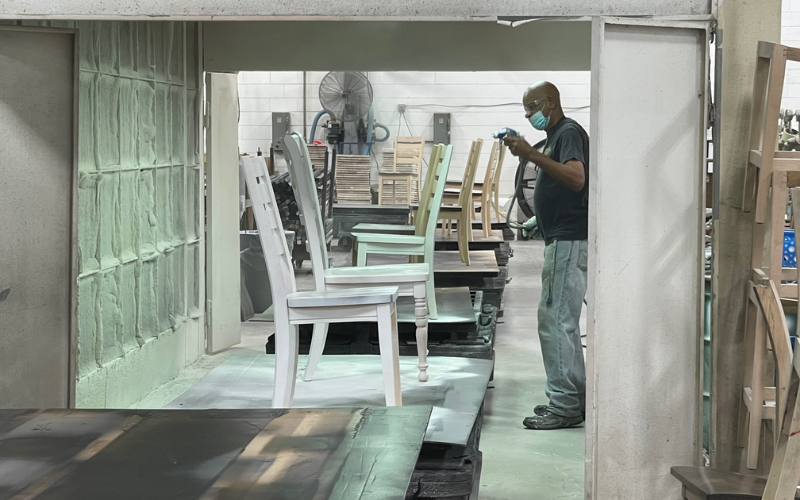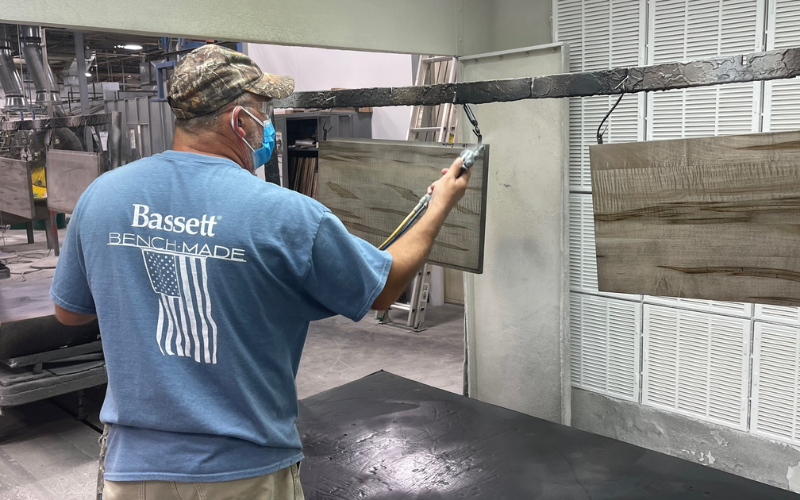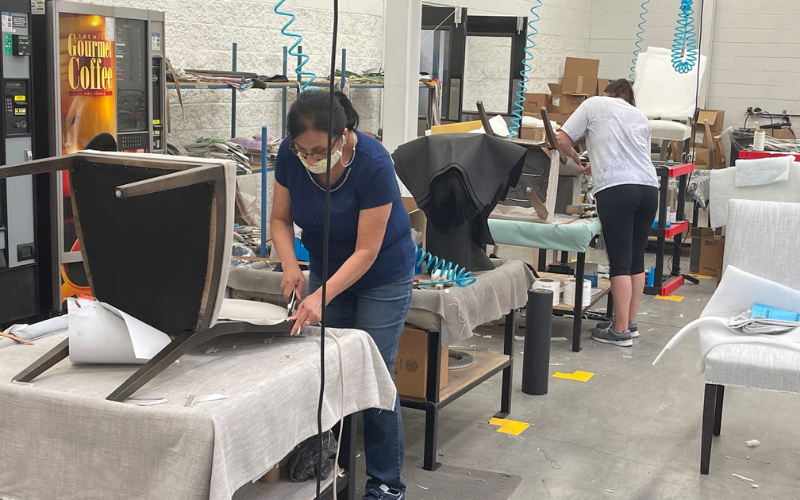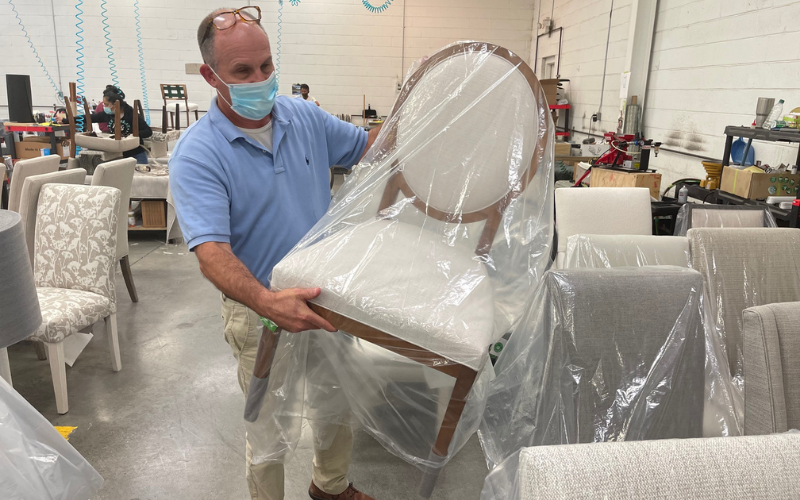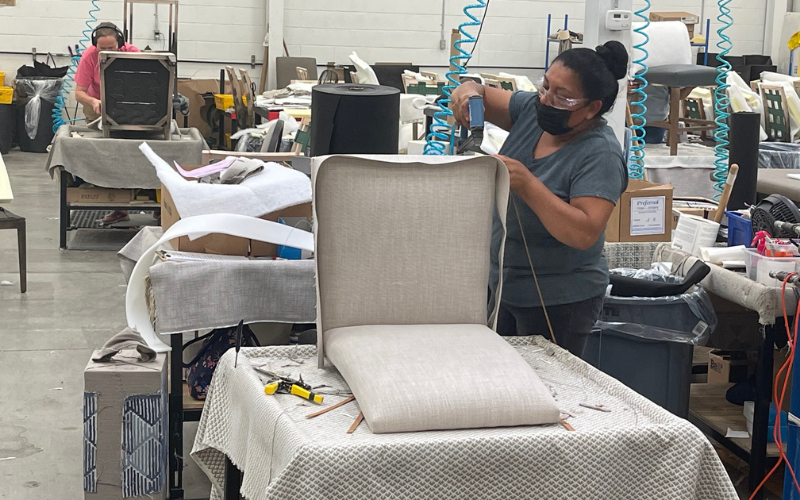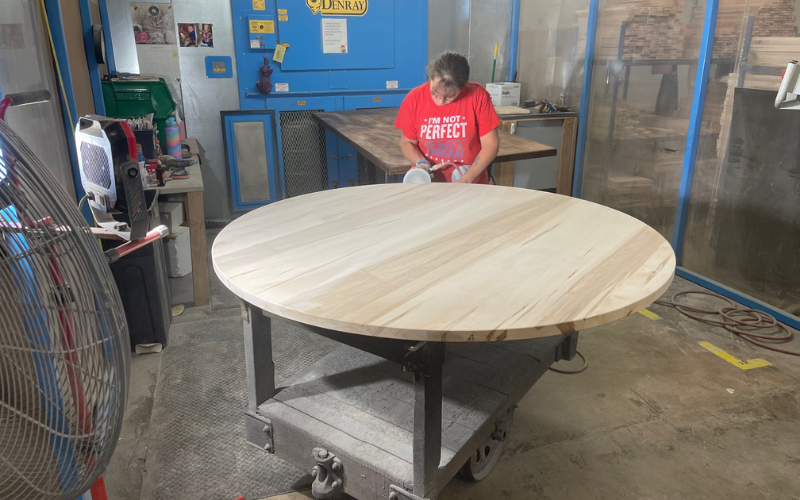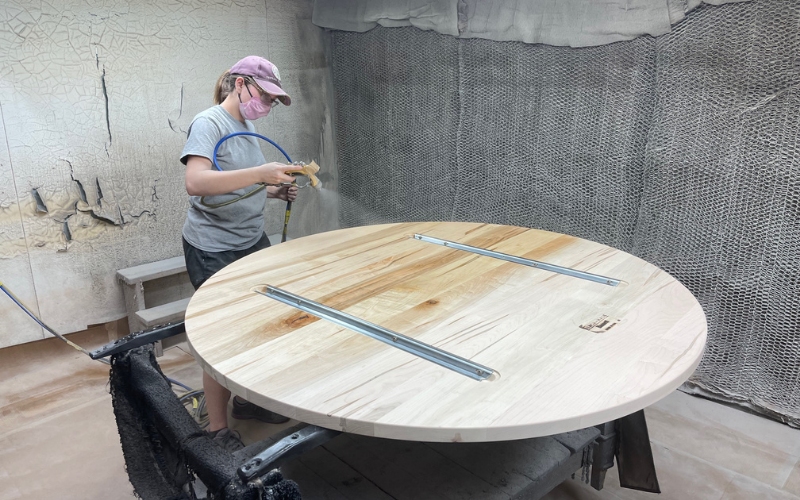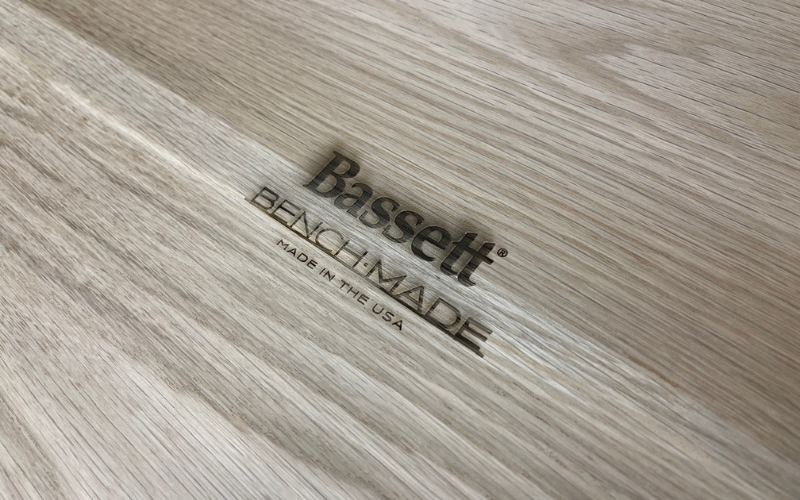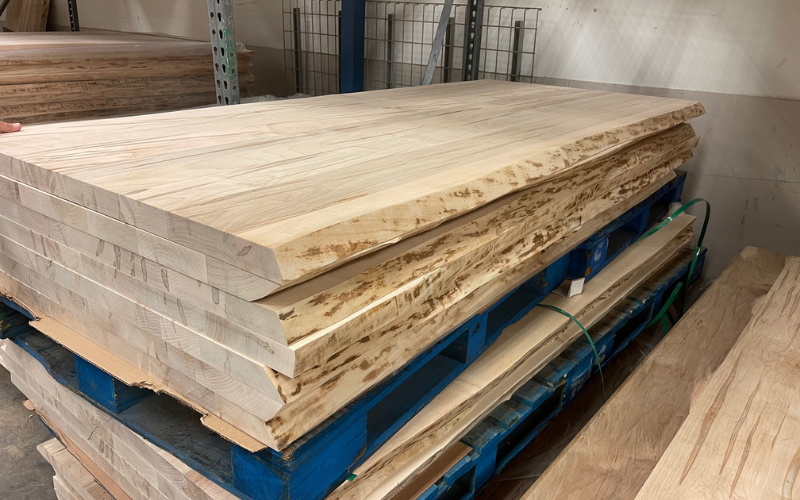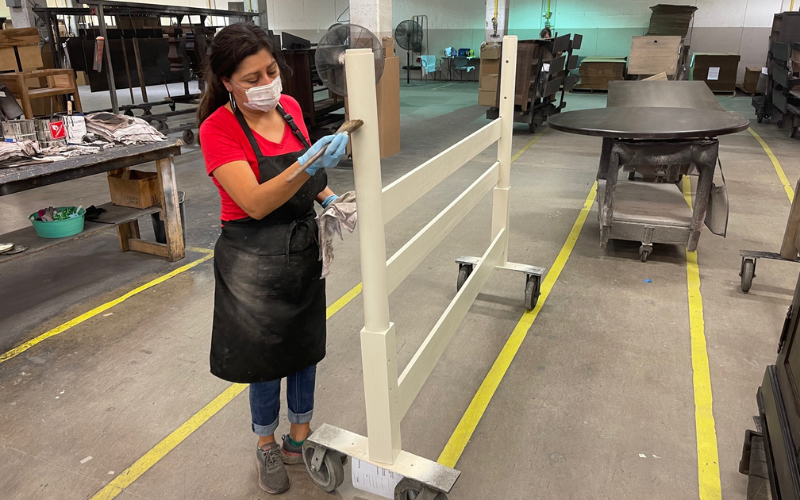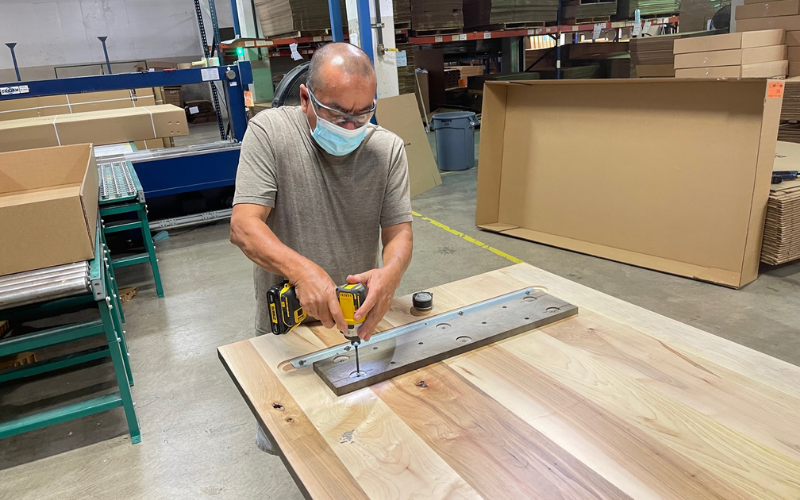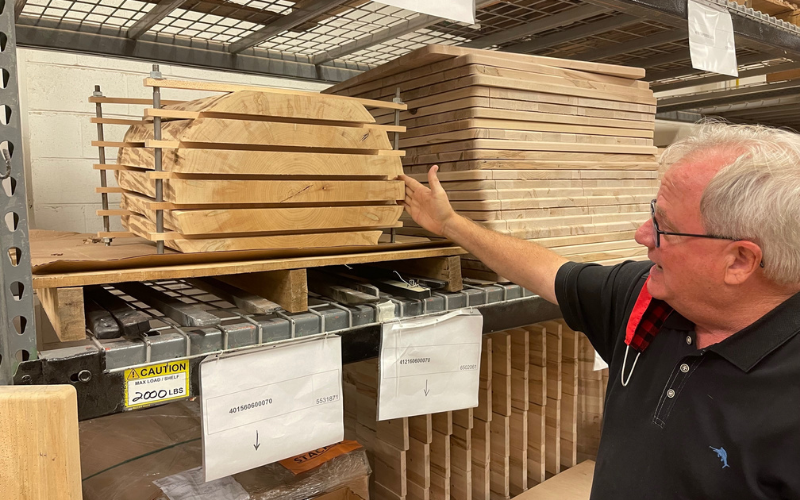 Previous
Next