Kittle's Furniture exited the outdoor category for several years back in the mid-1990s, but about five years ago—after looking for a category that would help differentiate them and answer customer requests—they got back into it in a big way.
Chris Nordhoff, Kittles' senior buyer and corporate visual director, has been buying outdoor furniture for Kittle's for the last five years, and the store is having its best year yet—up 82% over last year.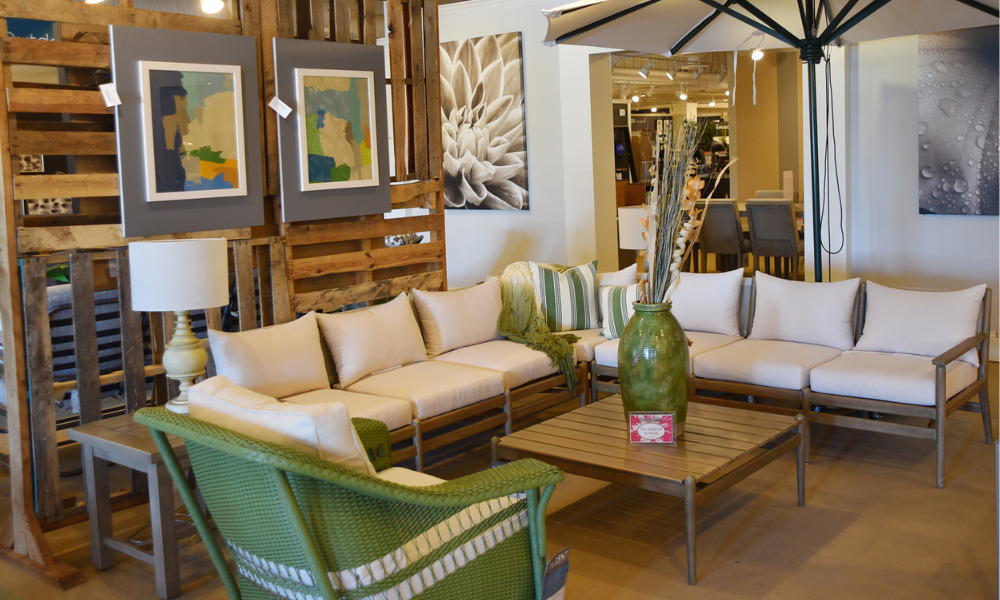 "That isn't quite apples to apples because we were closed for some of March, all of April, and half of May, but even so, we are also up 35% over 2019," Nordhoff explains.
Since Kittle's does have a good, better, best assortment in all categories, with a focus on better, Nordhoff says he's followed that philosophy in patio, too. "I've got a little bit of good, a lot of better, and a little bit of best," he says.
When the store reopened after the pandemic, a company-wide vision was to look at the performance and relationship with each vendor to see how many vendors they really need. They ended up reducing their vendor and slot count in all categories to help create a more open shopping environment.
"We focused on being the best we could be with the reduced vendors and reduced slot count," Nordhoff says. "A process designed to simplify the selling process, beginning with the sale consultant and the way through to the customer purchase."
"With demand being so high, we also focused on anything that could potentially be stocked in these categories. I had 11 vendors for outdoor, and now we have seven. It simplifies the assortment, and it helps the sales team as it is easier to learn seven vendors' features/benefits and price lists versus 11. I think that laser focus has been good."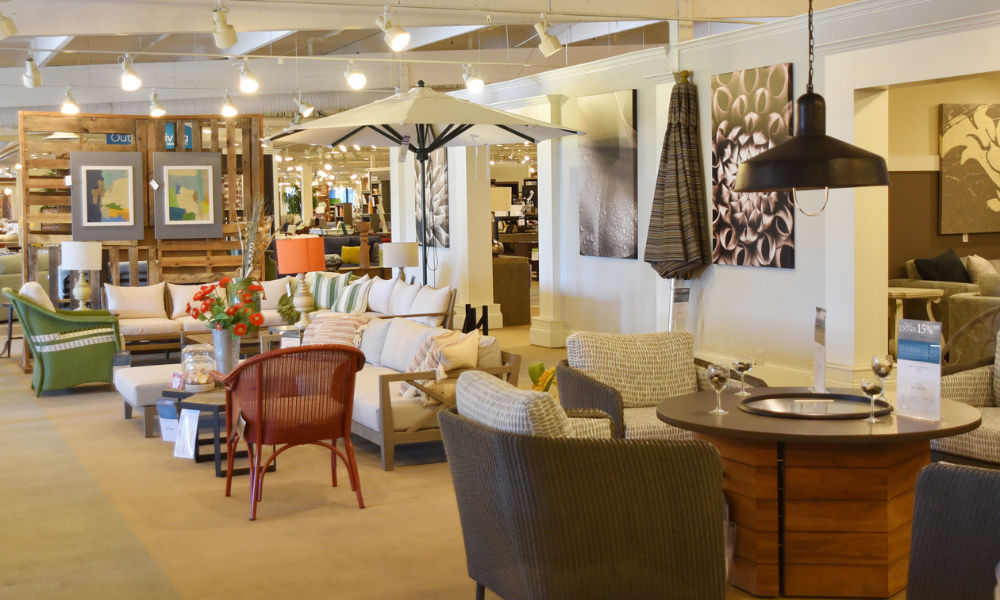 Kittle's now stocks furniture from Woodard, Lloyd Flanders, Jensen Outdoor Living, Castelle, Armen Living, Bernhardt and Polywood, and Nordhoff says the decision of which vendors to stick with was made by looking at sales, profit margins, lead times, quality, and differentiation in the marketplace.
"Our return rate is super low in outdoor, lower than the company's overall return rate," he says. "I think a big part of that is that we're a big special order company. Even with $999 sofas, 50-60% of our customers special order, and in outdoor it changes every month, but I'm averaging about 80-90% special order. I think that's one reason the return rate is low – as the customer is invested in their own custom creation."
About 25% of the store's patio sales are recycled plastic, another 25% are in aluminum, and woven is huge—40% of their sales. The other 10% is wood and wood-alternative.
Kittle's also made the decision to keep outdoor on display year-round.
"Historically, we used to enter our early buys in September/October, then get them shipped in December/January and have the department set up by February," he explains. "But with the pandemic, people staying at home more and investing in interiors/exteriors, we have already processed the early buys. And Casual Market hasn't even happened yet. If we didn't order right away, we wouldn't have it for spring."
Nordhoff says the big elephant in the room is the lead time issues, but Kittle's has pivoted with an upfront open communication policy with the customers. "When they ask questions we are honest, and I think that's another reason our return rates are low," he adds. 
One thing that Nordhoff says helps the company communicate that message to its customers is the frequent communication from vendors. "Vendors have been good about sending weekly updates about lead times and fabric outages," he says. "With that, our sales team can use that information to know what to guide a customer to. That weekly information is key."
And of course, fabric outages are another big issue in the casual industry. Nordhoff says a major outdoor fabric vendor has had trouble keeping up with demand and that he's seen a lot of his vendors sourcing alternative vendors for fabrics.
"We had a vendor visit recently who referenced that his company has ordered all of their fabrics for 2022 and it was hundreds of thousands of yards more than usual," he says. "Just hearing that puts our minds at ease, maybe next year we'll have better lead times."
As the pandemic continues, Kittle's is setting itself apart from other retailers by offering to store customers' furniture in their warehouse until they're ready for it. "When winter breaks and consumers are ready to plan setting up their outdoor space, they just let us know and we will set delivery of the stored furniture."
"I foresee the business continuing throughout the fall and winter, and I believe special orders will remain strong as customers want to order sooner than later and have confidence their furniture will be delivered for spring."