Hybrid line replicates the feel of pure Talalay latex cores at a more attainable price point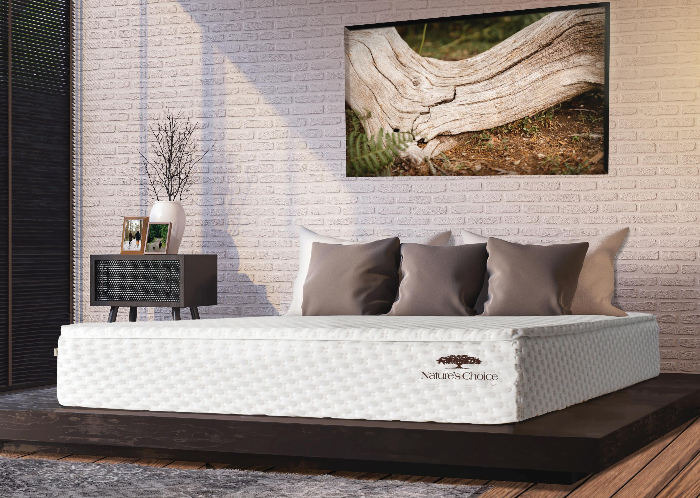 WOBURN, Mass. – Spring Air International, one of the nation's top mattress manufacturers, is adding a six-model mattress collection to its portfolio, called Nature's Choice. The new line complements its highly successful sister brand, Nature's Rest, which is constructed with all-natural Talalay latex cores and linen fabrics. The difference is that Nature's Choice has been designed with a hybrid construction that replicates the feel of latex at a more attainable price point. Nature's Choice will debut this summer virtually and will be on display at the upcoming Las Vegas Market, Aug. 22-26.
"As one of our best-selling legacy brands, Nature's Rest has been extremely popular with consumers who are looking for a healthier night's sleep through mattresses that include sustainable components. However, some consumers simply have a smaller budget than the premiere price point of an all-Talalay latex construction," said Nick Bates, president of Spring Air International. "With this new line, we have replaced the latex cores from Nature's Rest with foam cores and encased coils, yet still offer latex as a comfort layer, ensuring a natural element is included in the line."
Developed in conjunction with Spring Air's Tennessee-based licensee that distributes in Tennessee, Kentucky, Ohio, Alabama and Georgia, Nature's Choice was created in response to the void in the market for a hybrid alternative that replicates the latex feel, yet still provides some natural benefits at more value-focused price point.
"Nature's Choice provides a terrific sleep surface with a comfort level that is matched to the individual with the added benefit of a latex comfort layer at a more affordable price," said Mark Campbell, executive vice president at Spring Air licensee, Johnson City Bedding. "The line offers pressure relief by conforming closely to the body to align the spine for a level sleep position while absorbing the curves in the body to relieve pressure from the hips and shoulders. The build also makes it easier to move during sleep, offering less disturbance."
The six-models in the program are: Orion Cushion Firm and Orion Plush, both foam-encased coil models; Apollo Plush and Apollo Firm, with six-inch foam cores; and Cirrus Luxury Firm and Cirrus Luxury Plush, both with six-inch Talalay latex cores. The hybrid program offers retailers a full portfolio of products across a variety of price points and materials under the Nature's Choice brand umbrella, each with a one- to two-inch latex comfort layer. Each model is upholstered in a hybrid-styled white fabric cover that mimics the classic style of Nature's Rest, but at an entry level price point. The line ranges from $1,599 – $2,599in queen.
Four of the six models in the collection will be on display at the Las Vegas Summer market in the Spring Air showroom located in B-1126.
Founded in 1926, Woburn, Massachusetts-based Spring Air International is a Top 20 U.S. bedding manufacturer and widely recognized consumer brand. The company boasts of its ability to service retail customers from north to south and coast to coast in the U.S. and is produced in more than 40 countries through its international network. The company is committed to helping retailers drive business while leveraging its reputation for trust and integrity inspired by its name.