GM Jason Fletcher talks about "going deep" and other lessons learned in the "School of Pandemic"
GREENSBORO, N.C. — Jason Fletcher was at the beach with his family last July when the wheels on the industry's supply chain train started falling off.
The general manager of American Furniture Warehouse here (not the Colorado-based Top 100 giant, but the Greensboro-based independent) was taking a much-needed break from the crush of post-lockdown business that AFW and most furniture stores began seeing late last spring. He had promised his wife he'd take some downtime, but there was this little thing called a smartphone that kept calling him back to store business.
"I'm sitting on the porch. I've got my phone out. I get an email from my Fusion rep that says: 'Just so you know, we're now shipping in October.'" Meaning any order AFW placed now — in July — wouldn't ship for three months That was the first indication to Fletcher that things were starting to get a little dicey. So he decided to do a little work.
He replied back, telling the rep to put him down for another order, and just copy his previous order to make things simple. The very next day, Fletcher got another email from the rep saying, "We're now shipping in November." In a day's time, Fusion had sold out a month's worth of production.
So Fletcher replies again: "Put me down for another truckload," he said. The next day's message from Fusion: "We're now shipping in December."
"This has never happened before and with something that's domestically produced," the third-generation furniture store operator told Home News Now. "We're in July and we're already talking about how the rest of the year is gone.
"It was that fast. No one really knew what to do. It's not like I could call my dad and say, 'Hey, the last time you went through a pandemic like this, what did you all do?'"
Fletcher has had to learn quickly from what he calls "The School of the Pandemic." He's learned to pivot to a deeper vs. wider assortment. He's cut back on the special order side of the business and eliminated layaway. And while it never really did so before, he's making sure AFW is not relying too heavily on any single source, because, at some point, everyone misses on that promised delivery date.
American Furniture Warehouse is a sprawling, roughly 100,000-square-foot store on West Gate City Boulevard at the corner of Merritt Drive. There are large elephant and giraffe sculptures from a former Putt-Putt golf course at the entrance to the parking lot. Inside, the showroom is laid out simply, like a warehouse, not so much emphasizing display as the sea of furniture lined up by category, available and ready to deliver. Signage throughout the store promises to meet or beat any advertised price and promotes "everyday savings," big savings on market samples and factory closeouts and the area's largest selection.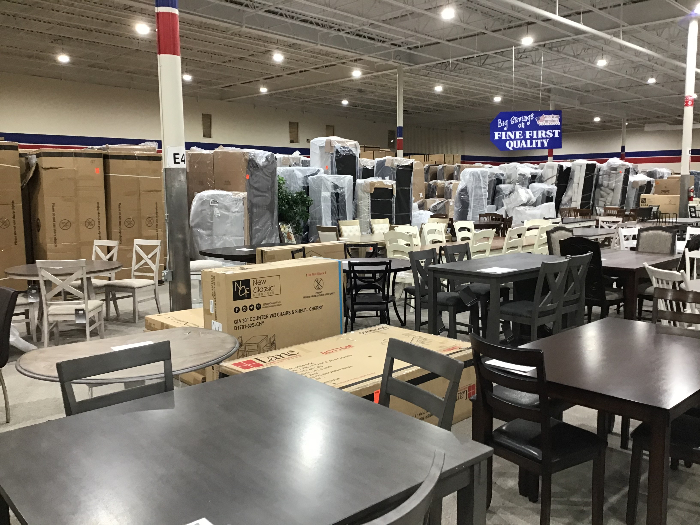 There's so much furniture here that inventory is spilling out from the back-end warehouse onto the showroom floor. Still-wrapped sofas tipped up on one end along with other merchandise still in boxes line the back and perimeter walls.
Before the pandemic we were really like the rest of the industry," Fletcher said, "trying to have as little inventory as possible." Indeed, that's what most of his vendors were preaching back then: Let us be your warehouse. Watch your gross margin return on inventory (GMROI). Only order exactly what you need.
But by July 2020, around the time the Fusion rep was emailing Fletcher with the rapidly changing delivery updates, most vendors were realizing, "We can't feed everyone like that anymore," he said. Supply was quickly falling behind the unexpectedly high consumer demand.
"We had to adapt to overcome the situation, so we upped our game, by buying deeper and buying more containers," Fletcher said. And early on, when the shutdown sent everyone into panic mode, AFW wisely didn't cancel orders, either. That was Fletcher's first lesson in the School of Pandemic, he said. "When you tell your sales rep you don't want to cancel those containers, you just want to put them on hold, that means you canceled them. And when you call back to say you're ready for them, you're at the back of the line.
"But because we didn't do that with anything, our shipments early in the pandemic shipped. By the time everyone realized there was a massive shortage, we had stocked up."
To say AFW has successfully navigated the ongoing industry disruption to date may be an understatement. While Fletcher declined to disclose sales figures and noted that the retailer is a small independent, 2020, turned out to be the best year in its history, with sales double what the stores did the year before, despite six weeks last year when the store was closed to walk-in-traffic.
AFW received its "essential designation," from the state of North Carolina fairly early on during the lockdown — about two weeks in, he recalled — but decided to remain closed longer for the sake of the community and team members until Covid infection rates had stabilized. Everyone stayed on the payroll, and Fletcher and a small team still came occasionally during that time to handle receiving and other tasks. And even then he was noticing the pent-up demand.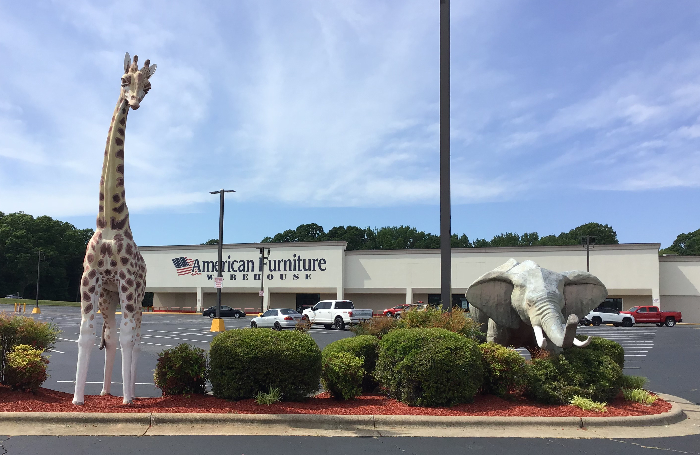 "Even with all the lights off and everything saying we were closed, people were banging on the door to come in," he said. "So I knew once we opened back up it was going to be strong."
Here are some of the steps AFW took to ensure business would remain on track even as the supply chain was convulsing:
It eliminated its layaway plan. The pay-in-advance plans typically ran 90 days or longer. That's not a problem in normal business times when, even if a retailer has sold out of the customer's item, it can quickly get it back in stock, but that's not the case today and not the risk the retailer is willing to take as it strives never to disappoint a customer.
AFW greatly reduced special orders and for similar reasons. Lines that were offering custom colors, fabrics and other options and delivering in six to eight weeks were now talking about six- to eight-month lead times. That's too many days and too many opportunities to disappoint, Fletcher said. 
"Most people at our mid-price-point level really aren't interested in waiting that long," he said. "They just bought a house after moving down here from up North. They didn't bring any furniture with them. They don't need something in eight months; they need it now."
AFW went deeper, not wider. To manage the surging demand and limited supply, AFW simplified an already pretty straightforward business model. "By the time we were heading into fall Premarket, which was the real Market, I realized those who can containerize will survive," Fletcher said. And instead of mixing a lot of SKUs on a single order or container, he would pick, say, four items to go deep.
"I don't sell it unless I have it, and when it gets here, I price it (based on) what it lands for." That way, Fletcher said, he's not overly consumed with the ever-rising container and freight costs, surcharges and product price increases. He's selling to the consumer based on his actual cost, not the price quoted a few months ago, and so far, demand has not ebbed. It's a flexible strategy that gives a smaller independent a bit of an edge over the larger player adhering to stricter merchandising programs.
"We haven't given up any margin, and we've grown our market share because we've stayed in stock," he said. That's said, with the continuing rise in container prices, Fletcher said he's recently had to hold off on a couple of containers in cases where the freight now costs more than the goods.
Advertising shifted to in-stock vs. on-sale items. Fletcher told a story about having to finalize a mailer a month in advance (as usual) last year. He knew he had a truckload of Fusion upholstery coming in about two weeks, so he figured he'd have plenty still available by the time the mailer hit. It was one of those deep orders, a truckload of about four items, plenty to go round.
The truck came in, and two weeks later the mailer hit. By the time the first shopper walked in with her copy of the mailer, "I was down to just one piece of that Fusion stationary," Fletcher recalled. "We had sold the entire truckload in two weeks.
"That's when I said, 'not anymore.'" He stopped advertising product and price and went to a strictly in-stock message. "Because if you look around, we're in stock," he said. There are no holes on the floor. "I don't know exactly which SKUs I'm going to be in stock on on any given day, but you can buy anything in here."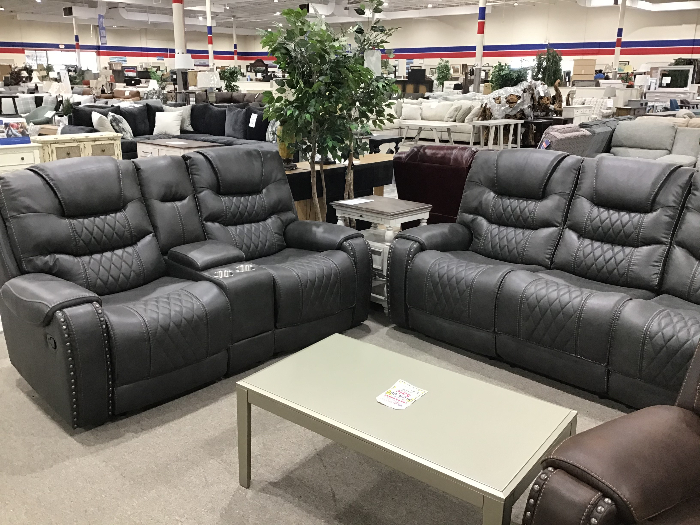 Interestingly, AFW didn't trim back its advertising budget even as many retailers report demand was surging regardless of ad spend. But it did do some shifting — primarily moving newspaper spend into digital, TV and its other media channels.
Diversification was key. There were times, Fletcher said the pandemic reinforced the importance of not putting all your eggs in one basket. There were times when the store would barely get through a weekend before its stationary department was looking pretty depleted. But then Monday would roll around and with it, another truckload of upholstery from, say, Cornithinan, Catnapper or Homestretch. But if AFW had been relying on only one or two suppliers during this time, the holes would have gotten a lot harder to fill as every vendor has delayed shipments at one time or another.
There are certain suppliers, in particular, that stand out for praise from Fletcher during this crisis for the industry, and for various reasons:
Starting with Corinthian: The Mississippi upholstery producer was among the best at keeping goods flowing, both imported motion and domestic stationary upholstery, on a regular basis. Corinthian is at the top of his list for consistency. "They've been tremendous," Fletcher said. He also credited Fusion, Catnapper and Ashley for keeping the goods flowing, as well as Lamps Per Se for accessories and AFW's top bedding resource Kingsdown.
Vaughan-Bassett: Fletcher has long been an admirer of Chairman John Bassett and said very early on, "he saw what was happening." During the pandemic, the company cut the number of collections it offered by more than half — from 24 down to 11 (soon to be 10) — and scaled back to two to three finish options per collection, too.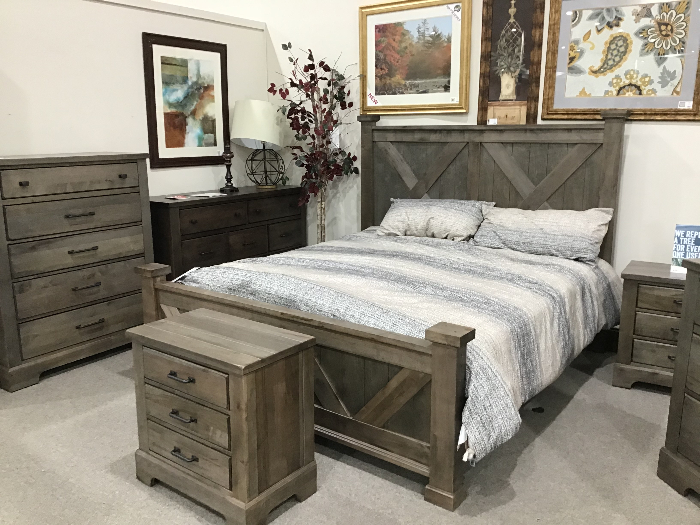 "They went into wartime mentality," Fletcher said. It cost him a couple of strong-selling SKUs, but when he surveys his floor today, Fletcher can report healthy backlogs of orders he's waiting on from every vendor save one: Vaughan-Bassett.
"They've been able to keep up. They've had some delays, but they've been in the best shape of anyone out there, especially anyone in case goods."
Homestretch, when, "You want to talk about a vendor that was above board," Fletcher said.
By now, we've all heard the stories about certain vendors cutting back on, or cutting off their smaller accounts in order to keep the giant chains supplied. Homestretch wasn't one of them. When demand started outstripping supply, the upholstery producer went to its retail partners in each territory and allotted future shipments based on that retailer's percentage of its production in 2019.
"They've shipped us as good as anybody, and it was the fairest system," Fletcher said.
Fortunately, American Furniture Warehouse wasn't completely relying on quick pivots and reliable vendors as the supply chain began unraveling last year. The company had taken steps even before the pandemic that would prove crucial to its success, too, including the introduction of lines that stepped it up beyond promotional and solid middle prices and into better-end goods. When Fletcher rejoined the family business about five years ago, he began noticing how customers were getting approved for $5,000 in credit through Synchrony, "and the most I could sell them was about $2,000," he said.
"I felt like I was doing them a disservice because I didn't have anything better for them, and they had more room left."
Shortly after, AFW cautiously began carrying Vaughan-Basset's Artisan & Post bedroom furniture, which moved the company into bedroom groups retailing for up to $5,000; Tempur-Pedic mattresses; and then Flexsteel, the latter pushing AFW's power motion upholstery offering up to about $1,000 to the $3,000 range.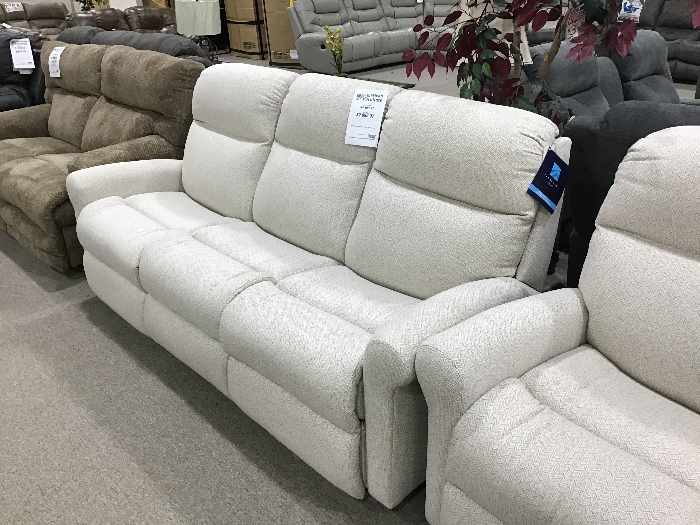 Fletcher made the Flexsteel move right after the upholstery producer and buying group Nationwide Marketing Group announced the launch of their first program together a couple of years ago just before a PrimeTime event. Customers had been asking for it, and although Fletcher thought the price would be a stretch for his store, he figured the showroom was large enough to test three groups and "worse case, it will help me sell more Corinthian." But Just like the Artisan & Post bedroom and Tempur-Pedic, the line has grown and continues to sell well, feeding that voracious consumer demand.
In the few weeks that passed since Fletcher's interview with HNN and this posting, the volatile industry conditions have only worsened. Foot traffic has, indeed, declined though sales remain strong, partly because the retailer remains in stock and partly because the buyer profile has changed. The ones who came in earlier with stimulus money were buying as a luxury, he said. The ones buying now are buying more out of necessity.
Container prices continue to skyrocket, and labor and foam shortages have made it impossible for some domestic factories to operate week-long shifts
When and if things do finally return to normal, when the housing market finally cools, consumer demand ebbs and the supply chain catches up, there are some things Fletcher said won't be changing for American Furniture Warehouse.
"I never want to be out," he said. "That's one way I grew through this. I'm not going back to being really … light on inventory. What I've learned is the more things I can go deep on, the more confident my sales team is selling those (items). They don't have to stress or worry.
"You can take this home today. We can deliver it tomorrow. That brings a lot of confidence."