Hooker's various divisions worked together on the new Drew & Jonathan Home collection for Home Meridian Furniture while Hooker also introduced two new brands for higher- and lower-end consumers.
The recently concluded High Point Market was a busy one Hooker Furnishings. Home Meridian International (HMI), a division of Hooker, introduced the Drew & Jonathan Home line—created in partnership with HGTV stars Drew and Jonathan Scott—and Hooker also launched two other new brands aimed at the higher-end consumer and younger generations.
The partnership with Scott Brothers Company is a step in a new direction for HMI, which doesn't normally do partnerships. However, when they were approached by the company and understood what the Scott Brothers bring to the table, they realized how it could change the game.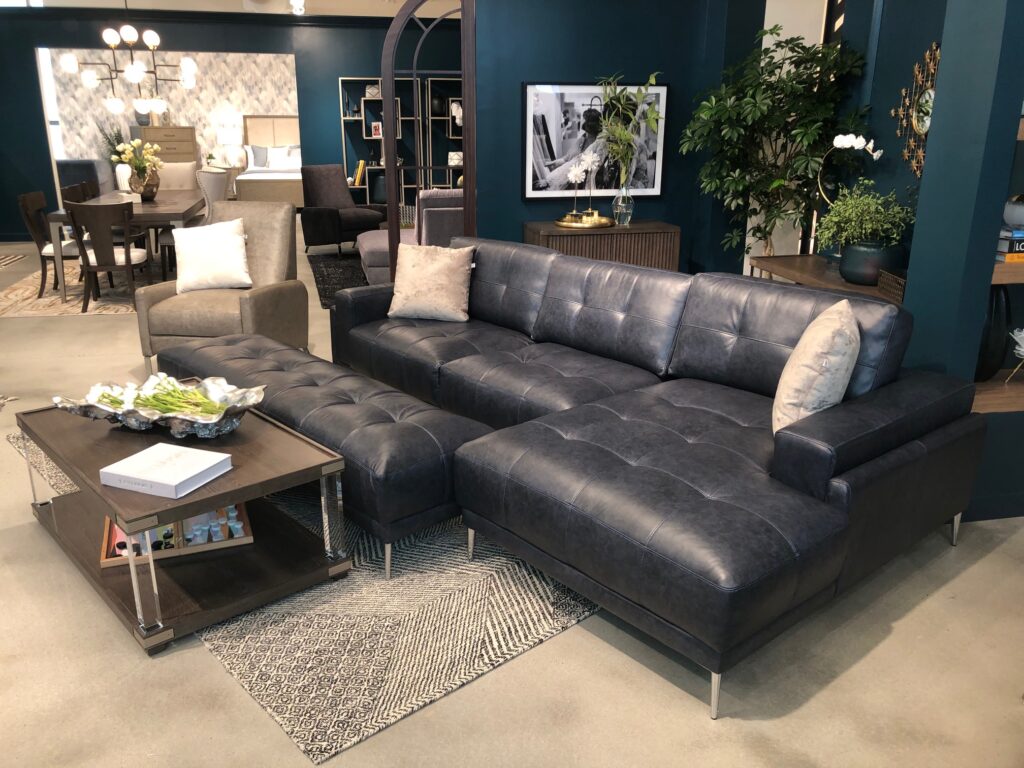 "These guys haven't peaked yet," said Mary-Price Furr, vice president of marketing and corporate communications & licensing for Hooker. "They have five TV shows, a magazine, and they came to the showroom in our initial talks before their company took it any further. It was nice them wanting us, and when we truly understood how we could use all of our divisions for this line, we found out that we could do a lot."
Many of Hooker's divisions contributed to the collection, which is sold under the HMI name. Hooker division Pulaski created the higher-end case goods for the collection, Samuel Lawrence took on the lower-end case goods and PRI provided the upholstery. And the existing Scott Living line now serves as HMI's ready-to-assemble collection for e-commerce.
At High Point Market, HMI introduced four whole-home collections in four different brand styles that range high-end to value-oriented price points.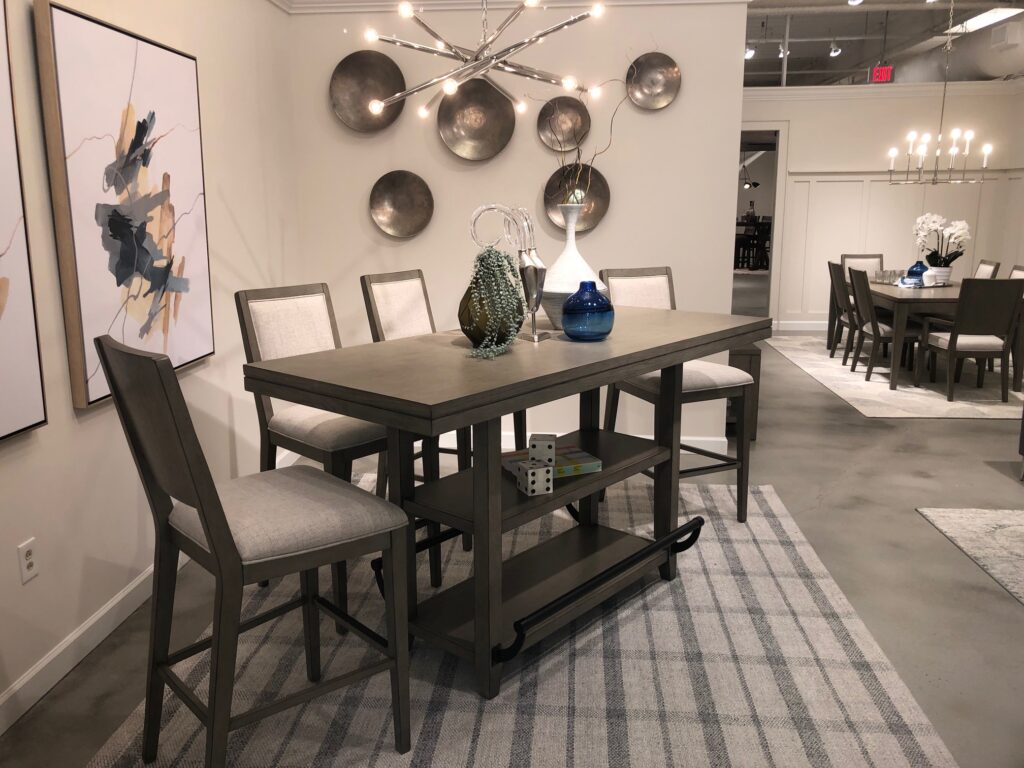 Catalina is a higher-end coastal California collection that features lighter fabrics and an organic fee, while the Boulevard collection—the highest-end of the four—is inspired by metallic and modern designs. In the lower price point tier, the urban-inspired Essex collection and contemporary Denman line have pieces aimed at a younger generation of consumers.
Furr says the company is hoping to be at retail early to late fall and that they've already had commitments from major retailers to the Drew & Jonathan collection.
"We had a great response even before we showed furniture as well," Furr adds. "We've never heard of that before, but that's the power of the brand. Eventually, I'd love to see this as a separate company within our company."
In Hooker's main showroom, they carved out a significant amount of space for two new brands—Commerce & Market and Aspire.
C&M features smaller-scale case goods for the living room that would work well in an apartment or first home. The line includes 75 pieces and comes in at a slightly lower price point compared to Hooker's usual case good offerings—retail price points range from $149 to $1,499. Aimed at a younger audience, Hooker is going after mIllennials and Gen X consumers with this eclectic collection.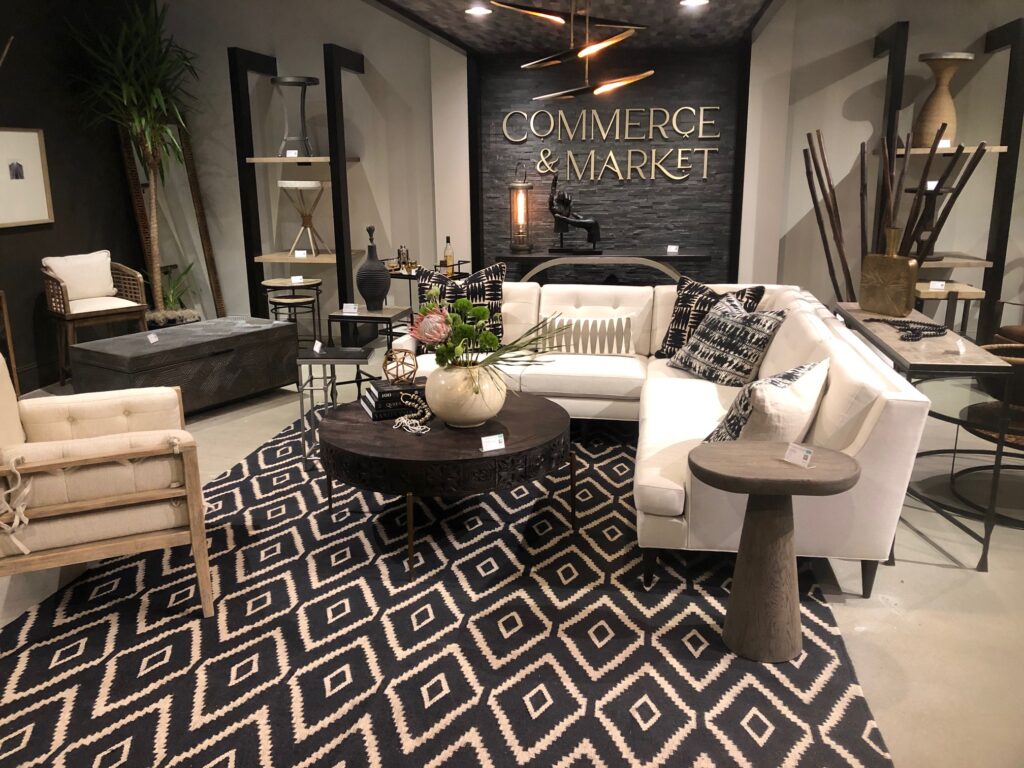 The brand uses mixed materials such as cast metals, bone inlay, marble other unique materials, as well as a variety of finishes.The intricate carvings and woven details give an organic feel to the products in the line, which include bookcases, cocktails, entertainment consoles, decorative consoles, and storage trunks.
Five years ago, Hooker introduced its Savion motion sofa. And though it's one of their highest priced sofas, it also became a best seller. This gave the company insight that there was a market for luxury motion upholstery, so they stepped in to try and fill it with Aspire.
The premium upholstery brand features full-power recline and independent motion mechanisms that control the head, back, and footrest. The control panel is also hidden next to the seat, which adds to Hooker's idea to make motion seating that doesn't look like seating. Sofas in the collection feature low-profile silhouettes and unique design elements like horizontal channeled upholstery details.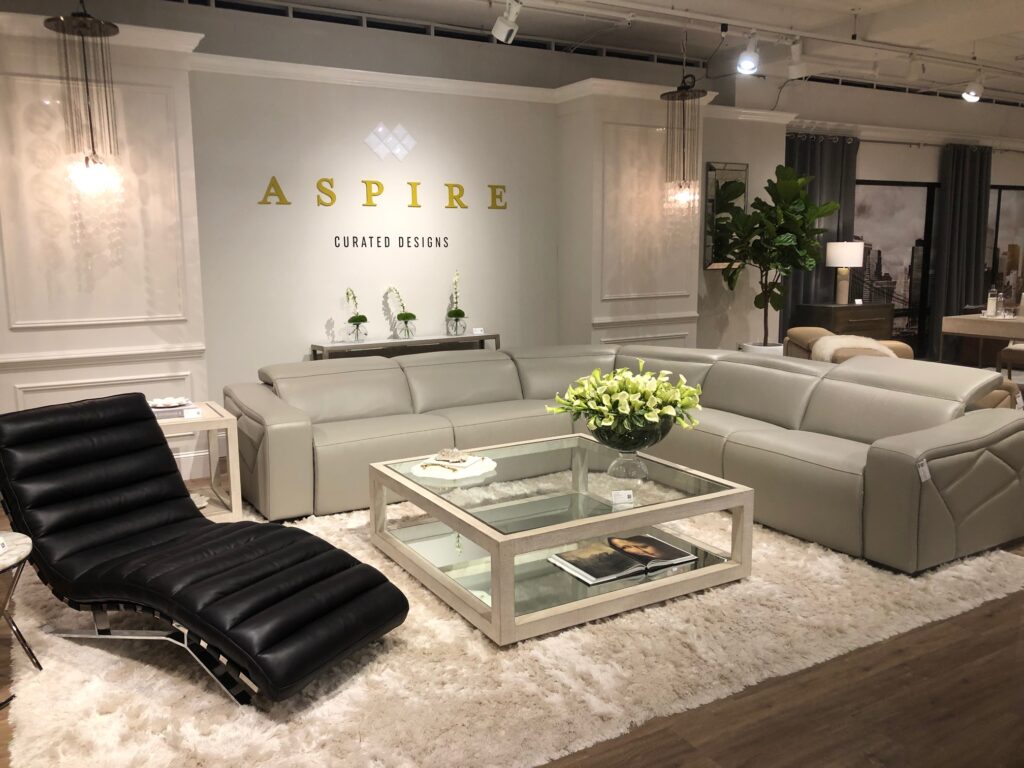 The sofas are all available in two premium leather options, and pieces in the collection range from $2,999 and up at retail depending on the features and materials of the item.
There are plans to expand both lines in the future, and new pieces in the Aspire line are available as part of the company's domestic warehouse program.