MARTINSVILLE, Va. – Hooker Furnishings' HMI segment will unveil its recently announced multi-collection brand by Drew and Jonathan Scott, Drew & Jonathan Home, at the upcoming High Point market. The 250-piece assortment, one of the largest introductions in company history, will be on display in its newly renovated showroom located at 220 Elm, Space 200.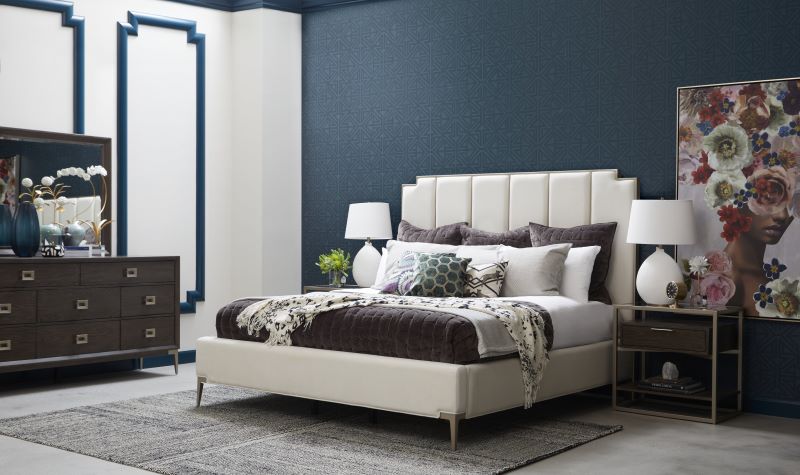 Completely transformed with new construction, the 10,000 square-foot dedicated space will showcase four whole-home collections merchandised in specially curated vignettes that feature architectural details and tailored accessories that all tie back to the brothers' signature design aesthetic.
"The showroom's incredible aura really conveys the personality of the new Drew & Jonathan Home brand," said Mary-Price Furr, vice president of marketing, corporate communications and licensing for Hooker Furnishings. "The design styles for each collection are inspired by the brothers' personal experiences, and we've really captured that in our showroom presentation."
Drew & Jonathan Home features four design styles through the Boulevard, Essex, Catalina, and Denman collections. The collections include bedroom, dining room, occasional furniture, and upholstery silhouettes, marking the first time the company's HMI segment has collaborated on a whole-home collection across its brands to include both case goods and upholstery.
"This collaboration combines the broad-ranging design, product development and sourcing capabilities of HMI with Scott Brothers Global, a household name in the home furnishings industry that reaches millions of fans every day through its highly acclaimed television shows, publications and social media presence," said Lee Boone, president of HMI. "Together we have created a new lifestyle furniture line that enables consumers to furnish their homes with a variety of styles, all crafted with quality materials and at attainable price points with the approachable and signature style of Drew and Jonathan Scott."
A nod to Jonathan's longtime Las Vegas roots, as well as Drew and Linda Scott's renovated, historic 1920s Hancock Park home, Boulevard includes a sophisticated mix of materials, including oak in a dark, glossy finish; metal accents; luxurious velvets; and custom hardware. Highlights of the bedroom pieces include an upholstered bed and a panel bed, each with coordinating storage pieces accented with distinctive metal hardware. Dining room options include two tables – rectangular and round styles – a coordinating buffet, and upholstered dining chairs, including a wing-style "host" chair. The living room offerings includes coffee tables with metal, acrylic and stone accents, as well as a variety of accent chests and an etagere. Coordinating upholstery pieces include a sofa group with loveseat and a variety of accent seating options, including upholstered chairs and ottomans, a leather chaise with metal legs, and upholstered accent chairs covered in Italian leather.
Essex offers sleek lines with a gray finish on quartered and split heart oak veneers. Reflective of Drew and Jonathan's on-the-move work lives and scaled more for a metro area or smaller home, pieces in this collection feature streamlined silhouettes and a variety of textured surfaces. Highlights of the bedroom pieces include an upholstered bed with a classic, neutral fabric and a coordinating dresser with contemporary hardware in a satin nickel finish. Dining pieces include a small-scale rectangular table and a bar height table with metal footrests and a storage shelf. Several dining chair options are also offered, including upholstered arm- and side chairs and a dining stool. Highlights of the occasional offering include a cocktail table and end table, each with convenient storage drawers. Velvet upholstery is interjected throughout to provide additional color and texture.
The Catalina collection offers a casual design profile that mirrors Drew and Jonathan's current Southern California lifestyles. The collection includes low profiles with classic angles and natural finishes. Highlights of the bedroom pieces include an upholstered, low platform-style bed with a fabric headboard and a wood-panel bed. Coordinating case pieces include a dresser with linear metal hardware and metal base, an accompanying mirror, and a two-drawer nightstand. Highlights of the dining pieces include three tables: a round style with an open slatted base, a casual style with a "racetrack-shaped" top and open pedestal base, and a bar-height table. Dining chair choices include an upholstered pub armchair, an upholstered dining bench, and upholstered arm- and side chairs. Rounding out the case good assortment is a buffet and accent cabinet, a coffee table with glass top and two etagere styles.
Upholstery pieces that coordinate with Catalina are covered in relaxed linens in warm, neutral tones. The sofa group includes a variety of seating options such as sofas, chairs, a chaise and ottoman, as well as a sectional with modular pieces. A 360-degree swivel glider with an exposed wood arm rounds out the assortment.
Inspired by Drew and Jonathan's upbringing in the Pacific Northwest, Denman is larger in scale, with lower and deeper profiles. Providing a classic look that translates well across the country, the group includes a panel-upholstered bed, along with a coordinating dresser, mirror and nightstand. The dining group includes a rectangular table with two 18" leaves and a bar-height table and sideboard. Coordinating dining seating options include a side chair and stool with leather upholstery.
Denman's occasional and accent category offers a series of tables, including cocktail, end and console sizes. A display bookcase and writing desk, along with a unique sofa table with a workstation, round out the group. Upholstery offerings include a sofa group, available in both leather and fabric, and two accent chairs.
Based in Martinsville, Va., Hooker Furnishings Corporation is ranked among the nation's largest publicly traded furniture sources and encompasses twelve discrete operating businesses. These brands include: Hooker Furniture, Hooker Upholstery, Bradington-Young, Sam Moore Furniture, Shenandoah Furniture, H Contract, Accentrics Home, Pulaski Furniture, Samuel Lawrence Furniture, Prime Resource International, Samuel Lawrence Hospitality and HMIdea. Hooker Furnishings Corporation's corporate offices and upholstery manufacturing facilities located in Virginia and North Carolina, with showrooms in High Point, N.C. and Ho Chi Minh City, Vietnam. Hooker Furnishings operates distribution centers in the United States, China, and Vietnam. The company's stock is listed on the Nasdaq Global Select Market under the symbol HOFT.