CHARLOTTE, N.C. – May 24, 2021 – MicroD, with its nearly three decades of leading web technology and product visualization for the home furnishings industry, announced the launch of Hooker Furniture's new product visualization initiative for its Bradington-Young, Sam Moore and MARQ brands.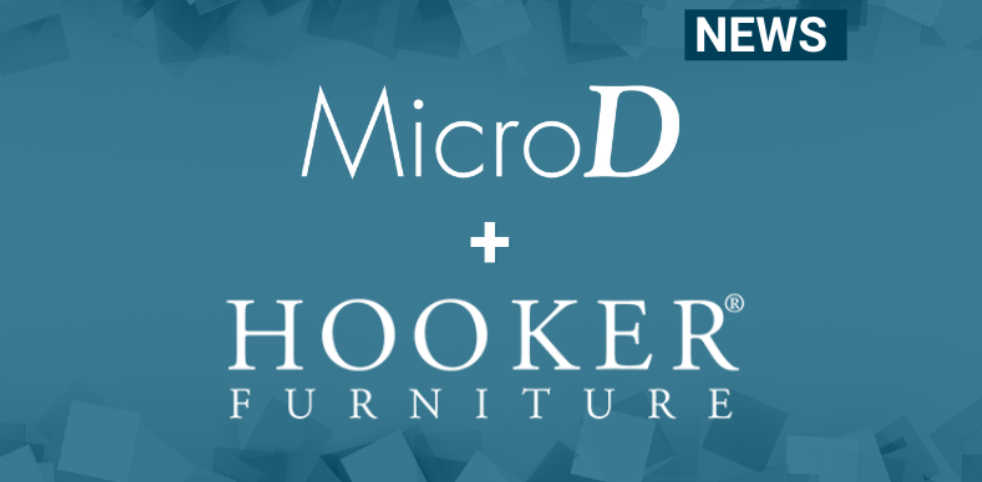 MicroD's new ePreVue 3D+ product visualization solution for upholstery visualization presents the best-of-breed combination of 2D and 3D visualization, offering an unlimited choice of fabrics, and trims with both photorealistic rendering and full 3D results in seconds.
"The importance of good product visualization on custom upholstery has never been more important," said Johne Albanese, Chief Marketing Officer at Hooker Furniture Corporation. "Many of our competitors are already offering rendering of their lines via their websites, with mixed quality results. After reviewing multiple companies to partner with, we have come to the conclusion that the new, improved product offered by MicroD is the best for speed and quality."
MicroD started its foundation in the home furnishings industry nearly 30 years ago building customized product visualization for furniture manufacturers and large custom retailers. Over the last 28 years, the Charlotte-based technology company has expanded its dynamic product visualization technology to leverage the fastest 2D and 3D visualization along with real-time Augmented Reality. Making it the highest quality photorealistic renderings of home furnishings products in the industry. With its product visualization suite, MicroD incorporates configuration and pricing to enable manufacturers and retailers the capabilities to deliver fast, high quality product experiences with customization and pricing at their fingertips.
"We are excited about Hooker Furniture's next step on their journey to offer the best online and in-store product presentation experiences to their customers. The compatibility of our vision for the future of product visualization and Hooker Furniture's vision for their business makes this an incredible partnership," said MicroD CEO, Manoj Nigam. "Our unique experience in both 2D and 3D visualization enables us to deliver a high-quality in-page experience leveraging both of these technologies dynamically and quickly. Along with customization and configuration with pricing, this solution makes for an unparalleled experience for both the end consumer and a manufacturer's client base."
For more information about MicroD, visit www.microdinc.com
About MicroD
MicroD is a leading web technology partner in the home furnishings industry. The complete suite of solutions offers both manufacturer brands and retailers the opportunity to grow their home furnishings business with an omnichannel approach. This suite combines an ecommerce website platform, product catalog data, digital marketing, 3D visualization technology, interactive product visualization, electronic data interchange, and customer engagement solutions.
About Hooker Furnishings Corporation
Based in Martinsville, Va., Hooker Furnishings Corporation is ranked among the nation's largest publicly traded furniture sources and encompasses twelve discrete operating businesses. These brands include: Hooker Furniture, Hooker Upholstery, Bradington-Young, Sam Moore Furniture, Shenandoah Furniture, H Contract, Accentrics Home, Pulaski Furniture, Samuel Lawrence Furniture, Prime Resource International, Samuel Lawrence Hospitality and HMIdea. Hooker Furnishings Corporation's corporate offices and upholstery manufacturing facilities located in Virginia and North Carolina, with showrooms in High Point, N.C. and Ho Chi Minh City, Vietnam. Hooker Furnishings operates distribution centers in the United States, China, and Vietnam. The company's stock is listed on the Nasdaq Global Select Market under the symbol HOFT.