Massachusetts retailer's high-impact sale drives Vystar's topline
WORCESTER, Mass. — First-quarter revenue for Vystar, the parent company of Rotmans here, more than doubled, and the company swung to a profit on the strength of Rotmans' high-impact sale and increased sales of its RxAir air purifiers.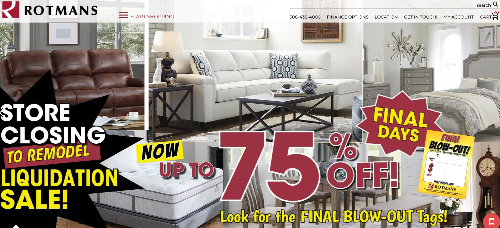 Total revenue for the period ended March 31 increased to $12.9 million, up from $6.0 million of the same period a year ago. Net income was $918,127, up from a loss of $1.4 million, and gross profit soared to $6.8 million from $3.0 million. The gross profit jump was due primarily to a change in purchasing at Rotmans that occurred when the store reopened in May 2020, and because of "a reduction in special offers," it said in a release. "Merchandising is now being purchased in large quantities from fewer vendors," it said.
In the release, Vystar and Rotmans CEO Steve Rotman attributed the revenue increase to three factors: Rotmans' high impact "Closing to Remodel" sale event, which he said surpassed every quarter in the retailer's more than 50-year history; increased sales of Vystar's RxAir UV light air purification units; and the PPP forgivable government loan, which helped Rotmans reopen following the March 24, 2020, pandemic-related shutdown.
"The Covid pandemic has increased commercial and consumer demand for RXAir units as they seek solutions to reduce airborne viruses," Rotmans said.
Vystar's year-ago first quarter business was "negatively impacted as Covid caused store traffic to decrease then shut down," he added. "We've emerged stronger than ever with multiple revenue streams, promising new product development and a greatly enhanced cash balance sheet.
While much of the release highlighted results and prospects for those non-furniture businesses — RxAir and the company's patented Vytex latex raw material — the bulk of Vystar's business is clearly coming from the established Rotmans' business. More than $11 million of the $12.9 million in first-quarter revenue came from furniture categories, vs. $1.2 million from air purifier units (though that number was up from $66,334 in the first quarter last year), $265,772 from warranties and $431,602 for "accessories and other."
Sales of upholstery, Rotmans' largest product category at 34.2% of total sales, were $4.4 million in the quarter, up from $1.6 million a year ago when it accounted for 27.3% of all sales.
Vystar said Rotmans is expected to add about $20 million annually to its topline.
In January, Rotmans began a major liquidation sale to clear out inventory in preparation for a store renovation slated to begin in March. The name of the high-impact event has changed over its course and is currently referred to online as a "Store Closing to Remodel Liquidation Sale," now in its final days. The retailer has said the sale "will facilitate Rotman's shift to a smaller curated product offering that is expected to reduce overhead and generate increased margin."
Steve Rotman previously told Home News Now the company will likely scale back the roughly 200,000-square-foot showroom to about 130,000 to 140,000 square feet when the remodeling begins and may look to sublease the unused space to other retailers. He could not be reached immediately for an update on the plans.
Vystar's quarterly filing with the Securities and Exchange Commission describes Rotmans as "one of the largest furniture retailers in the U.S. encompassing over 170,000 square feet …"